2020 Hess Scholar in Residence Winona LaDuke
The Ethyle R. Wolfe Institute for the Humanities, in cooperation with the Robert L. Hess Scholar-in-Residence Planning Committee, presents the Robert L. Hess Memorial Lecture:
Lighting the 8th Fire, Economics for the 7th Generation
Robert L. Hess Memorial Lecture
Thursday, September 24, 2020
5-6:30 p.m.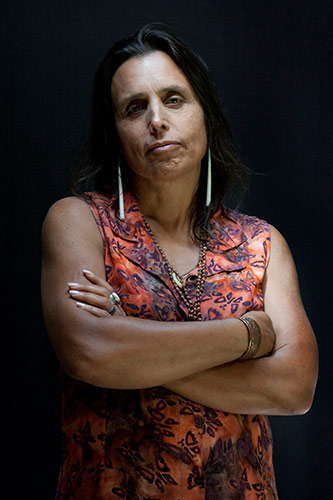 Winona LaDuke
Winona LaDuke is a rural development economist working on issues of economic, food, and energy sovereignty. She lives and works on the White Earth reservation in northern Minnesota, and leads several organizations including Honor the Earth, Anishinaabe Agriculture Institute, Akiing, and Winona's Hemp. These organizations develop and model cultural-based sustainable development strategies utilizing renewable energy and sustainable food systems. She is an international thought leader in the areas of climate justice, renewable energy, and environmental justice. She is also a leader in the work of protecting Indigenous plants and heritage foods from patenting and genetic engineering. She has authored six books including: Recovering the Sacred, All our Relations, Last Standing Woman, and her newest work The Winona LaDuke Chronicles.
2020 Hess Scholar-in-Residence Program
Additional presentations for the Hess Scholar-in-Residence Program will take place Monday, September 21 through Friday, September 25, and are open to the public. Please register via the Zoom links once posted. Please e-mail the Wolfe Institute if you would like to bring a class to any of the events.
Monday, September 21, 2020
Native / Indigenous Studies, Here & Now: Conversation with Jaskiran Dhillon and Winona LaDuke
An introduction to the Native peoples in the New York region and Indigenous Studies in the 21st century
Preceded by a land acknowledgement and blessing by elder George Stonefish
11 a.m. to 12:15 p.m.
Tuesday, September 22, 2020
The I in BIPOC: Racial Justice and Indigenous People
A class visit with Winona LaDuke discussing historical and recent activism by Native American/Indigenous people
9:30 to 10:45 a.m.
Civil Rights and Resistance: Uprising for Planetary Justice
Panel discussion with anthropologists Christopher Loperena and Rhea Rahman, with response from Winona LaDuke on environmental justice, including issues of climate, water, and pollution
2:15 to 3:30 p.m.
Wednesday, September 23, 2020
The Citizen Artist: Performing Resistance
A discussion with Brooklyn College faculty and alumni from the Department of Theater on addressing environmental and social issues.
2:15 to 3:30 p.m.
Countering Colonialism in the Classroom
Panel featuring cultural anthropologist Victoria Stone-Cadena, sociologist Lawrence Johnson, and Winona LaDuke, moderated by Naomi Schiller
6 to 7:30 p.m.
Thursday, September 24, 2020
Sustainability in the 21st Century
Panel featuring Science and Resilience Institute at Jamaica Bay director Brett Branco, sociologist Tammy L. Lewis, high school principal and activist John Mussington, and Winona LaDuke
11 a.m. to 12:15 p.m.
Lighting the 8th Fire, Economics for the 7th Generation
Robert L. Hess Memorial Lecture, by Winona LaDuke, 2020 Robert L. Hess Scholar in Residence
Musical prelude: "Wood that Sings" composed by Brent Michael Davids, musical selection by Malcolm J. Merriweather, performed by Elena Ruiz, violin, Conservatory of Music
5 to 6:30 p.m.
Friday, September 25, 2020
Where Does Culture Belong? Indigenous Artifacts in Museums and Universities
Conversation with Winona LaDuke and cultural anthropologist and member of the Delaware Nation of Oklahoma Nekole Parton Alligood about decolonization as it relates to Native American/Indigenous artifacts, bones, burial sites, and how these are used by universities, museums, and researchers
11 a.m. to 12:15 p.m.
Asynchronous, "Evergreen" Events
Campus Podwalk and Discussion
A guided tour of the Brooklyn College campus created by students in Urban Sustainability. Take a virtual podwalk and learn about Brooklyn College through a sustainability lens. Students in urban sustainability created this interactive virtual podwalk, as well as several other virtual tours of various neighborhoods in Brooklyn. There is also a downloadable map and audio to use on a walking tour of the campus.
Brooklyn College Student and Faculty Collaborative Research Posters