Faculty Day Conference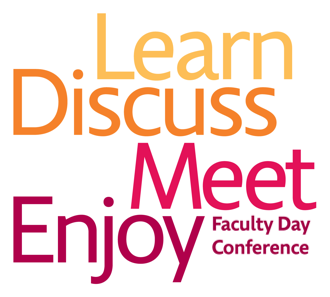 Sneak Peek!
The global pandemic forced us to shift all of our attention to the remote learning transition, which ultimately meant we had to cancel the conference last spring. However, Faculty Day was always in the back of the conference committee's minds and we have reimagined a wonderful conference 'series' for our current virtual environment.
In addition to some of the workshops, panels and roundtables that we did not have the chance to experience last year, we brought together faculty from all around the college to present events during the spring semester, culminating in a two-day virtual conference in May. The first of these will be five workshops on Wednesdays through the end of February, co-sponsored by the Roberta S. Matthews Center for Teaching and Learning.
Making it Work: Strategies for the 2020+ At-home Academic
Wednesday, January 27, 2021 at 3:30 p.m.
Workshop Zoom Link
Meeting ID: 819 3496 2412 Passcode: FD2021
Tech That's Worth the Trouble: Two Digital Tools that Engage Students and Transform Learning
Wednesday, February 3, 2021 at 3:30 p.m.
Workshop Zoom Link
Meeting ID: 886 7114 7963 Passcode: FD2021
Dealing with Death in the Classroom (and other places)
Wednesday, February 10, 2021 at 3:30 p.m.
Workshop Zoom Link
Meeting ID: 850 2048 5694 Passcode: FD2021
Pedagogies of Play
Wednesday, February 17, 2021 at 3:30 p.m.
Workshop Zoom Link
Meeting ID: 815 2914 8561 Passcode: FD2021
Academic Integrity in the Time of COVID
Wednesday, February 24, 2021 at 3:30 p.m.
Workshop Zoom Link
Meeting ID: 836 5187 2409 Passcode: FD2021
Faculty Day Virtual Conference and Award Ceremony
Keep an eye on your inbox for more information about these events!
Call for Nominations - 2021 Faculty Awards
The upheaval last spring unfortunately prevented us from proceeding with the previous round of awards, but we are moving forward with the 2021 Faculty Awards! Exceptional Brooklyn College faculty will be once again recognized at the end of the Faculty Day Conference in May. We are pleased to invite nominations for this year's awards. There are many Brooklyn College faculty worthy of recognition for their accomplishments and we greatly appreciate your help identifying them.
Click on the following links for application details and eligibility information for each of the six awards. The supporting materials links (Dropbox file request) are specific to each award.
Award Nomination Deadline
Friday, February 19, 2021 (11:59 p.m.)
When the nomination period closes, we will contact the nominees and nominators about the required supporting materials due by March 17. However, if you are nominating someone, don't keep it a secret! Let your colleague know so they have more time to prepare their materials.
If you have questions about the awards, please e-mail the Office of the Associate Provost for Faculty and Administration or call 718.951.5024.