Faculty Day Conference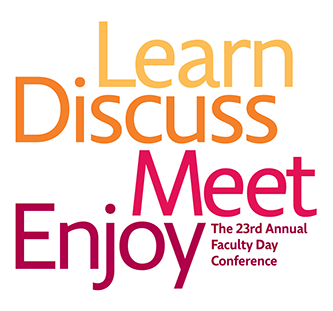 Call for Proposals
23rd Annual Faculty Day Conference
Student Center
Thursday, May 16, 2019
We invite you to participate in an exchange of ideas – a day filled with thought-provoking, absorbing, and sometimes controversial topics. The faculty presentations and contributions at the conference are what make it such a wonderful experience each year.
Given the wide variety of academic backgrounds at the college, we strongly encourage proposals considered from an interdisciplinary perspective and contributions from a range of viewpoints. All faculty (full- and part-time) and professional staff are invited to submit proposals for the conference.
We welcome presentations in all disciplines and covering any topic. This year the committee is particularly interested in receiving proposals on the following:
Climate Change, Pedagogy and Technology, Social Justice Movements, Politics and Public Education, Mental Health and Trauma, Business and the Public Good, Teaching Controversial Topics, Big Data, Interdisciplinarity and Intersectionality, Freedom of Speech, Intellectual Diversity
Proposals should be submitted by Sunday, December 9, 2018 using the online form.
Deadline – December 9, 2018
Please e-mail Myra Kogen with any questions or preliminary ideas. Take a look at previous years' conferences for inspiration!
2019 Faculty Awards - Call for Nominations