Faculty Day Conference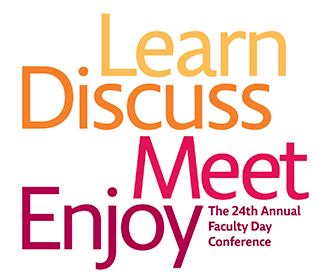 24th Annual
Faculty Day Conference and Awards Ceremony
Tuesday, May 19, 2020
Call for Proposals - Conference Presentations
The multitude of presentations and dynamic discussions at the Faculty Day Conference are what make it such a wonderful experience each year. We invite you to participate in this exchange of ideas.
We anticipate this to be a day filled with thought-provoking, absorbing, and sometimes controversial topics. Given the wide variety of academic backgrounds at the college, proposals considered from an interdisciplinary perspective and contributions from a range of viewpoints are strongly encouraged. All faculty (full- and part-time) and professional staff are invited to submit proposals for the conference.
Conference Proposal Deadline
PROPOSAL SUBMISSION IS NOW CLOSED
Questions or preliminary ideas should be sent via e-mail to Myra Kogen. Please take a look at last year's conference for inspiration!
Call for Nominations - Faculty Awards
Each year we recognize exceptional Brooklyn College faculty with several awards, presented at the end of the Faculty Day Conference in May. We are pleased to invite nominations for this year's awards. There are many Brooklyn College faculty worthy of recognition for their accomplishments and we greatly appreciate your help identifying them.
Online Faculty Award Nomination Form
NOMINATIONS ARE NOW CLOSED
Click on the following links for application details and eligibility information for each of the nine awards.
Award Nomination Deadline
Tuesday, February 11, 2020 (11:59 p.m.)
When the nomination period closes, we will contact the nominees and nominators about the required supporting materials due by March 6. However, if you are nominating someone, don't keep it a secret! Let your colleague know so they have more time to prepare their materials.
If you have questions about the awards, please e-mail the Office of the Associate Provost for Faculty and Administration or call 718.951.5024.