Common Reading Selection
The Immortal Life of Henrietta Lacks, by Rebecca Skloot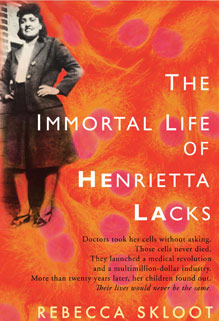 When you pick up your copy of this fall's First-Year Common Reading selection, you'll immediately become a part of Brooklyn College's rich intellectual life. Join all entering first-year students and many faculty members in a semester-long endeavor involving conversation, discovery and reflection. In addition to attending Common Reading events, you'll also have the opportunity to see your writing published in our annual student anthology.
This year's First-Year Common Reading selection — Rebecca Skloot's The Immortal Life of Henrietta Lacks — is an exciting story of a family of poor, black tobacco farmers and their unwitting intersection with the science of cell-culture in the 1950s, which resulted in some of the most important medical discoveries of the 20th century.
About the Author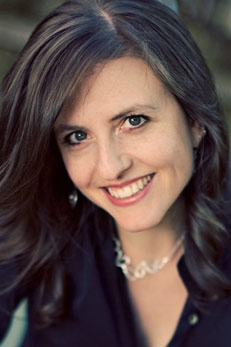 Rebecca Skloot is an award-winning writer who specializes in narrative science writing and has explored topics including tissue ownership rights, race and medicine, and food politics. She has a B.S. in biological sciences and an M.F.A. in creative nonfiction. Her work has appeared in The New York Times Magazine; O, The Oprah Magazine; Discover; and many other publications. She has taught creative writing and science journalism at the University of Memphis, the University of Pittsburgh and New York University. Skloot is the founder and president of The Henrietta Lacks Foundation, and she lives in Chicago.
Faculty Reflections
In preparation for this year's Common Reading events and discussion, many faculty and staff read and reflected on The Immortal Life of Henrietta Lacks. Read their responses below.
Sheldon Krimsky, Carol Zicklin Professor
Author Rebecca Skloot has written a nonfiction book in the genre of Truman Capote's In Cold Blood and Norman Mailer's Armies of the Night. She uses all the techniques of literary fiction such as drama, tragedy, empathy, conflict, dialogue and detailed descriptions of human interactions and motivations to tell a story about the life of Henrietta Lacks, whose cancerous cells provided science with a remarkable research tool.
Four of Skloot's principal characters exhibit an indomitable human spirit, each in their unique ways.
Henrietta Lacks was stricken with an aggressive case of cervical cancer at age 31. She showed unusual courage and dignity trying to protect her family from the dire consequences and personal suffering of her disease. Always optimistic and stoic, she navigated through a racist health care system that eventually found scientific and commercial value in her tumor cells.
A second principal in the story was George Gey, head of tissue culture research at Johns Hopkins University Medical School, who was described as "reckless and visionary." Gey was singularly persistent in his effort to culture human cells. Recurrent failure never dampened his resolve to find the right cells and the ideal culture media to keep them growing in perpetuity. His dream was eventually realized from the HeLa cells from Henrietta Lacks's tumors.
Deborah Lacks, Henrietta's daughter, devoted her life to seeking meaning and uncovering memories from her mother's untimely death. She was largely self-educated and filled with psychological insights about how white elites functioned in a racist society. She refused to remain quiescent amidst the hypocrisy that her mother's cells helped prevent and cure disease for millions of people, while her own family had no access to health care. Her intuitions about the injustice and indignities of the health care disparities she witnessed during her life and the commercial exploitation of her mother's cells resonate today among bioethicists. Who, other than the patient, has the right to benefit commercially from their cells, tissues or DNA?
The fourth principal in the book is the author herself. Undaunted by recurrent rejections for interviews, dead ends and recalcitrant bureaucrats, Rebecca Skloot persisted for a decade to tell a story about the Lacks family. She uncovered information embarrassing to the highly respected medical establishment, which revealed unethical treatments of human subjects.
The book raises questions about the meaning of "immortality," the idea of which provides a thematic lens for the motivations and actions of the book's major figures. The scientific community wanted the immortal cell line that could be used in scientific research. Deborah Lacks wanted her mother's memories and the contributions of her cells to last forever. The young Henrietta not only gained "immortality" from her HeLa cells, but her children (as do all children) provide the continuity of life that gives immortality to the human species. And for the writer and artist, there is the hope that her creative works live on for future generations. Lastly, we cannot neglect the fact that religious views of immortality have palliative value in easing the pain of losing a loved one.
It is difficult to complete this book without giving serious consideration to our health care system, particularly, how we provide health care for the most vulnerable in our society. The gift of Henrietta Lacks to medical science at no compensation to her family is surely a fair exchange for a national health care system that welcomes all those in need. No society can claim to have fully realized its humanity if it hasn't provided for the care of its sick and its elderly.
Peter Lipke, Professor of Biology
I have never read another book like The Immortal Life of Henrietta Lacks. This fascinating biography of an obscure African-American woman also describes her family, the times they lived in, and a remarkable change in the history of the country. Furthermore, the history and science of her harvested cancer cells changed not only modern medicine, but also concepts of ethical research. This is a story of evil and good, poverty and wealth, selfishness and altruism, racism and love, capitalist exploitation and self-sacrifice. The story is a pendulum, swinging from one extreme to another, asking the reader to think about the meaning of education, basic human rights and immortality.
Henrietta Lacks set out to escape the abject poverty of the Great Depression, even deeper in the racism of rural Virginia. Her life ended in the Baltimore slums, in pain and bewilderment. Her family, the focus of her life, was left in disarray. Yet, she was the beneficiary of the best free medical care that the best charitable hospital in America could provide, from a group of dedicated and altruistic physicians. The cells cultured from the tumor that killed her (HeLa cells) provided the first critical tool in our 60-year campaign to understand and prevent polio and treat the cancers that affect billions of people worldwide. The scientists who cultured HeLa cells distributed them free to labs around the world. As the demand grew, the distribution required commercial scale and became a for-profit enterprise reaping enormous profits, but not for either the scientists who first grew the cells or the Lacks family.
Ironically, the cells were also a detriment to science. HeLa cells grow so well that for years they contaminated thousands of cultures worldwide and invalidated many experiments. Eventually, it was discovered that HeLa cells have a specific DNA sequence unique to some African-Americans, so scientists could look for this sequence and determine whether they had HeLa or other cells in their cultures.
Henrietta Lacks's tumor cells originally were thought to belong to everyone and no one. The cells have been used in research in more than 70,000 scientific papers since 1953. Ms. Lacks herself has been mentioned in these papers only 13 times. In a Google search, the cells have 205 million hits, while Ms. Lacks herself only one million, mostly in reference to Rebecca Skloot's book.
The pendulum has swung many times: from a single woman to health research that benefits all humans; from science done in basements by underpaid scientists to multibillion-dollar commercial anti-cancer programs; from "stolen" cells taken without consent from a patient seen as a scientific subject to our current informed consent laws for all medical procedures. We see in this book the human cost of denied access to decent education and health care, and also the amorality of science and medical research. The Immortal Life of Henrietta Lacks tells us how important it is to take care of each other, and I think reading this story makes the pendulum swing a little less wildly.
Charlene Forest, Associate Professor of Biology
Our lives begin with one cell, which then divides in a highly controlled fashion to produce each one of us. However, if a single cell in our body loses that control, it can begin dividing wildly and lead to cancer. This happened to Henrietta Lacks as a result of a virus. A sample of her tumor, taken without her knowledge, proved to contain the first human cells that medical scientists were able to grow in a lab. The Immortal Life of Henrietta Lacks interweaves the story of these HeLa cells with the life of the woman whose cancerous cells became the basis of many medical breakthroughs, including a vaccine to prevent the cancer she died from. 
In the 1920s, when the stories in this book began, America was different, especially in Virginia, where Henrietta Lacks and her family lived. She grew up in former slave housing with little access to medicine and minimal education. While medical science was expanding in America, medical ethics lagged. We first learn about Henrietta's life and death and then about Deborah Lacks, her daughter, whose search for answers provides a bridge between the past and the present. Because Deborah was only four when her mother died, she needed to understand how her mother lived, how her mother died, how her cells became immortal, and how they became indispensible for so much of medical science. Many in the Lacks family wanted compensation for the cells Henrietta unknowingly provided to researchers, but Deborah just wanted knowledge. The author helps us piece together these stories, showing us the rapid development of new fields of biology, the slow development of medical ethics, and the difficult lives of a family trying to discover what happened to Henrietta.
Donna Wilson, Associate Professor of Classics and Associate Provost for Academic Programs 
I have written, and have even told many of you, that the fall 2012 freshman common reading is "the story of a family of poor black tobacco farmers and their unwitting intersection with the science of cell culture in the 1950s." But that is not quite true. Or it is simply a reduction of The Immortal Life of Henrietta Lacks, an entrée into a network of stories by and about people trying to make meaning from raw experiences in life and death. What all the participants have in common is a relentlessly complicated relationship to a woman named Henrietta Lacks and/or to her cells named HeLa. In fact, the most complicated relationship in the story may be that of Henrietta and HeLa. The medical community, Henrietta and her family, and the author have different interpretive resources at their disposal for grasping and weaving a story of these raw experiences and their relationships: scientific research, race, religion, economics, politics, family experiences and the art of narrative itself. The Immortal Life of Henrietta Lacks explores and exploits the meanings of Henrietta and HeLa that emerge from those strategies.
Genre matters, and it is significant that Skloot, the managing narrator of Henrietta's, HeLa's, Deborah's, George Gey's and others' stories, tells the reader on the first page that this is a work of nonfiction, a claim immediately buttressed by reference to a host of authorities, documentation and first-person narrative. It also matters that Skloot tells the framing story not in the voice of an omniscient third-person narrator, but in her own voice — the voice of a woman who spent years staring at a photo of Henrietta on her wall, of a kid who failed ninth grade, of a researcher who wants the reader to know that one of Henrietta's great-grandsons calls out to her one day that he loves her, of a storyteller who comments on all the others' stories by weaving her own through them from beginning to end. The resulting text, with its fictions and nonfictions, rewards both reading for the pleasure of the tapestry and picking critically at the threads.
It also matters that Henrietta's relationship to HeLa is ambiguous and is understood or marshaled by different participants in the stories for different interests at different times. HeLa is viewed sometimes as an intruder killing Henrietta, notwithstanding the best efforts of medical science; sometimes as Henrietta, living some strange and beneficial existence, but isolated from and powerless to benefit her family. George Gey is said to have leaned over Henrietta as she lay dying to tell her, "Your cells will make you immortal." In a particularly vivid passage, Skloot shows us the perspective of Dr. Gey's assistant, Mary, a scientist who had constructed distance between HeLa cells and their original source. But during the autopsy, a glance at Henrietta's chipped red polish raises the specter, Mary recalls, of a real human being sitting on the edge of a bathtub polishing her toenails.
I hope you enjoy reading and discussing The Immortal Life of Henrietta Lacks as much as I did. I hope you will bring to the reading your intellectual curiosity, persistent questioning, and your various interpretive tools for making meaning of these stories and, most importantly, of your own.
Alycia Sellie, Media and Cultural Studies Librarian
I'd never heard of HeLa cells before I read Rebecca Skloot's The Immortal Life of Henrietta Lacks. Further complicating my reading was the fact that I had just finished Aldous Huxley's Brave New World. I found myself juggling images of dystopian Huxley test tube babies with the concepts of real-life HeLa cells. I went back to pages from Brave New World and imagined what scientists like George Gey were contemplating in their labs in the 1950s:  "But a bokanovskified egg will bud, will proliferate, will divide. From eight to ninety-six buds, and every bud will grow into a perfectly formed embryo, and every embryo into a full-sized adult. Making ninety-six human beings grow where only one grew before. Progress."
Skloot's book shows the pains of scientific progress through the history of Henrietta, her cells and the impact they have had upon her family. The book moves between Henrietta's story and the lives of her surviving family members, while also incorporating Skloot's dogged pursuit of the history of the woman hidden behind the science. I was caught by the intense disparity between the immensity of HeLa (in its reach, its prevalence and its scientific impact), and the locality of the Lacks family, who have remained a struggling but tight-knit community, inhabiting the same spaces — culturally, geographically and socioeconomically — in the time since Henrietta first visited Johns Hopkins. The isolation that the Lacks felt from the scientific impact of Henrietta's cancer cells is brutal, especially when combined with the particular sorrow that Deborah and Zakariyya continued to express over the loss of their mother.
As someone for whom the science behind Henrietta Lacks's history was wholly new, Skloot provides a detailed and understandable history of the significance of HeLa cells. Skloot's book brings to light medical practices that seem ethically archaic, but happened so recently that they still feel raw and unbelievable. The Immortal Life of Henrietta Lacks unravels the mystery of a collection of cells, but it also uncovers their human story. Both the cells and the story have been contested, traded, shared, commodified and hidden in plain sight for too many years.
Ilene Tannenbaum, Director of the Health Clinic
From the perspective of a healthcare practitioner, one of the most vital issues raised in The Immortal Life of Henrietta Lacks is the importance of clear and effective communication between provider and patient.
The biopsy from Henrietta Lacks' aggressive cervical cancer produced billions of cells that enabled the research necessary to develop the treatments and immunizations that resulted in millions of saved and healthier lives. Yet these cells were obtained without her permission or even her awareness, and her own family did not know about Henrietta's contribution to science for decades after her death. Despite the eventual corporate profits that resulted from the sale of the eponymous HeLa cells, her family remains too impoverished to afford their own health insurance.
At the time that Henrietta Lacks was a patient, "informed consent" laws did not exist. Medical providers were not required to discuss the benefits, risks and alternatives of any test, procedure or treatment performed on patients. Neither law nor social custom required them to convey any information or provide options for patients. For instance, Henrietta was not even told about the medical condition for which she was being treated. If she had been told intense radiation would char her skin and cause infertility, Henrietta might not have consented to treatment. Despite wariness about her care, neither Henrietta nor her family members felt they could voice their concerns with her doctor: The social inequities inherent in race, class, education and economic standing made the authority of physicians too great to be questioned.
Patients today are savvier and more empowered healthcare consumers and are generally able to engage in more meaningful discussions with their practitioners than Henrietta was. Though an imbalance between physician and patient typically continues to exist in many healthcare settings, it is the goal of all practitioners at the Brooklyn College Health Clinic to ensure that student-patients play an integral part in their care. An important part of Henrietta's indirect legacy is not only truer informed consent for research, but the emergence of improved communication and a more empathic, patient-centered approach to clinical care. 
Beth Evans, Associate Professor, Brooklyn College Library
Students should find great encouragement when considering the familiar, if not immortal, life of the author Rebecca Skloot, who writes in the prologue to her best-selling The Immortal Life of Henrietta Lacks:
"I was a kid who'd failed freshman year at the regular public high school because she never showed up. I'd transferred to an alternative school that offered dream studies instead of biology, so I was taking [a community college biology] class for high-school credit, which meant that I was sitting in a college lecture hall at sixteen with words like mitosis and kinase inhibitors flying around. I was completely lost."
Skloot's development into a tenacious science journalist with the drive and compassion of a seeker of social justice is no small part of the even larger story she tackles in this book: an examination of how racial and class inequities came to collide with the drive to engineer human biology.
Read the book through and consider it from all angles — scientific, philosophical, journalistic, sociological — and never again fail to consider how the mention of one person's name, one short sentence about a person's life, might lead you on your own adventure to dig deep, uncover, discover and liberate information and ideas that will change the society in which we live.
Ken Estey, Assistant Professor and Coordinator, Studies in Religion Program, Department of Political Science
A woman who "died" but continues to offer life to others? Amazing achievements of science? The benevolent work of God? Which description best fits this highly readable account of Henrietta Lacks and author Rebecca Skloot's confrontation with questions about race, class and religious belief?
Studies in religion is the academic study about religion. Not beholden to any religion or religious dogma, the goal is to pose critical questions about the answers that various religions provide to believers and nonbelievers alike. In a compelling account near the end of the book, Skloot invites us to experience with her an encounter where competing explanations — religious belief and science — vied for her attention. Skloot and Deborah, Henrietta's daughter and a major character in this book, visit Henrietta's former home in Clover, Va., to see Henrietta's sister, Gladys, and her son Gary, a lay minister with the habit of channeling the Lord (page 290). Deborah was in particular anguish, given recent discoveries about her long-deceased mother and older sister, Elsie. Gary ministered to Deborah through prophesy and a laying on of hands, and also had words for our author. Skloot, in many moments of this book, does not only tell but becomes the story as well. This was one of those moments. After giving Skloot a Bible, Gary says that "[Jesus] died for us that we might have the right to eternal life. A lot of people don't believe that. But you can have eternal life. Just look at Henrietta." He then asks Skloot to read out loud from her new Bible: "Someone will ask, 'How can the dead be raised to life? What kind of body will they have?' You fool! When you plant a seed in the ground, it does not sprout to life unless it dies. And what you plant is a bare seed… not the full-bodied plant that will later grow up. God provides that seed with the body he wishes; he gives each seed its own proper body" (page 295).
Gary concludes that "Henrietta was chosen…when the Lord chooses an angel to do his work, you never know what they going to come back looking like." Skloot asks and Gary affirms that the cells currently reproducing throughout the world are, in fact, "her spiritual body." In these moments, Skloot comprehends how some members of the Lacks family believe that "Henrietta had been chosen by the Lord to become an immortal being." She notes that "If you believe the Bible is the literal truth, the immortality of Henrietta's cells makes perfect sense…The Bible tells us so."
Skloot remains unconvinced of this account of the origin of Henrietta's "immortal life." Yet, it is an explanation many believers find not only plausible but central to their faith — God works in this world in mysterious ways. Does this mean scientific method and religion are incompatible? Not the answer, but the very question, is one of many topics raised in the academic study of religion.
Jill Cirasella, Assistant Professor, Brooklyn College Library
In The Immortal Life of Henrietta Lacks, Rebecca Skloot weaves together the story of what grew inside Henrietta Lacks — the indomitable HeLa cells — and the story of what surrounded Henrietta and her family: a world of poverty and struggle, segregation and racism, insensitivity and dismissiveness. Skloot researched and reports these stories with the humanity and patience that the Lacks family always deserved and almost never received.
Different readers will be most engaged by different aspects of the story: the wonders of genetic research, the enduring inequities of America's healthcare system, the mind-bending complexities of medical ethics, the puzzles of personhood and tissue ownership, the textured portrayal of a struggling family, or something else entirely.
But I hope that every student will also take note of a smaller story slipped into the prologue: the story of Skloot's first exposure, at age 16, to the subjects of her book. After learning the tiniest bit about Henrietta Lacks and HeLa in a community college biology class, Skloot's reaction was, "That's it? That's all we get? There has to be more to the story." Class ended, and a major chapter of Skloot's life began; she had heard something about which she had to know more.
It is my wish for every student to have a moment like that at Brooklyn College — a passage you can't stop reading, a discussion you can't stop having, a topic you can't stop researching, a curiosity you can't stop feeding. That experience might shape your life, as it did for Skloot, or it might teach you what it feels like to be intellectually afire — a feeling that, once you know it, you can't stop seeking.