Murray Koppelman School of Business
Sophomore Summit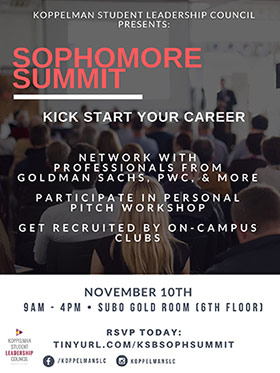 Presented by the Koppelman Student Leadership Council
Kick Start Your Career
Network with professionals from Goldman Sachs, PWC, and more
Participate in a personal pitch workshop
Get recruited by on-campus clubs
November 10, 2017
9 a.m. - 4 p.m.
Subo Gold Room (6th Floor)
RSVP
Through its four departments — Accounting, Business Management, Economics and Finance — the Murray Koppelman School of Business offers both undergraduate and graduate degree programs. At the undergraduate level, students completing degree programs graduate with the bachelor of business administration (B.B.A.) degree or the bachelor of science (B.S.) degree. At the graduate level, students completing the degree program graduate with the master of science (M.S.) degree.
Four important factors are responsible for the success of our programs:
We have highly qualified faculty members who are committed to teaching well, publishing high-quality research papers, and developing excellent programs for our students.
We have caring staff members who are student-centered and faculty-sensitive.
We have bright students who are well-prepared and can perform well both inside and outside of the classroom.
We have alumni who are actively engaged in the life of the school and committed to ensuring its success.
These are the factors that will inspire you to reach for the unimaginable!