Murray Koppelman School of Business
We're in the business of graduating students who will be leaders dedicated to making a positive difference in society.
The Murray Koppelman School of Business is in a unique position to deliver a distinctive business education experience through world-class faculty who are committed to excellence in teaching and research, a location that provides exceptional access to the world's financial and marketing capital, and a supportive network of high-achieving alumni and corporate and organizational partners.
We're now offering undergraduate and graduate programs in accounting, business management, economics, and finance.
Conversation on Leadership, Diversity, and Women in Business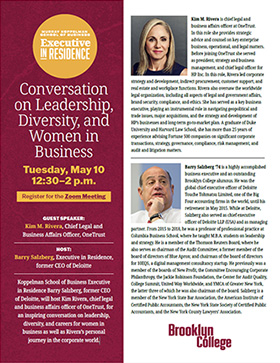 Guest Speaker: Kim M. Rivera, Chief Legal and Business Affairs Officer, OneTrust
Host: Barry Salzberg '74, Executive in Residence, former CEO of Deloitte
Koppelman School of Business Executive in Residence Barry Salzberg, former CEO of Deloitte, will host Kim Rivera, chief legal and business affairs officer of OneTrust, for an inspiring conversation on leadership, diversity, and careers for women in business as well as Rivera's personal journey in the corporate world.
Tuesday, May 10, 2022
12:30-2 p.m.
Register via Zoom
Meet Our Alumni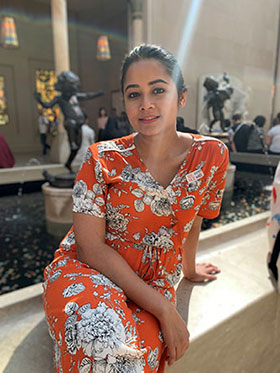 Arviee H.
M.S. Business Administration - Accounting, Class of 2020
AACSB Accreditation

The Koppelman School is accredited by the Association to Advance Collegiate Schools of Business (AACSB) International, representing the highest standard of achievement for business schools worldwide. As the only accredited business school in Brooklyn, we now join an elite group —fewer than 5 percent of worldwide schools granting business degrees have earned AACSB accreditation.