Murray Koppelman School of Business
Through its four departments — Accounting, Business Management, Economics and Finance — the Murray Koppelman School of Business offers both undergraduate and graduate degree programs. At the undergraduate level, students completing degree programs graduate with the bachelor of business administration (B.B.A.) degree or the bachelor of science (B.S.) degree. At the graduate level, students completing the degree program graduate with the master of science (M.S.) degree.
Four important factors are responsible for the success of our programs:
We have highly qualified faculty members who are committed to teaching well, publishing high-quality research papers, and developing excellent programs for our students.
We have caring staff members who are student-centered and faculty-sensitive.
We have bright students who are well-prepared and can perform well both inside and outside of the classroom.
We have alumni who are actively engaged in the life of the school and committed to ensuring its success.
These are the factors that will inspire you to reach for the unimaginable!
The Business Matters! Speakers Series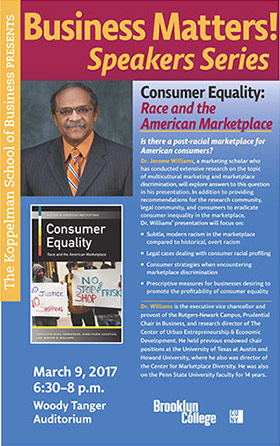 Consumer Equality: Race and the American Marketplace
Is there a post-racial marketplace for American consumers?
Thursday, March 9, 2017
Woody Tanger Auditorium, Brooklyn College Library
6:30 - 8 p.m.
Presenter: Dr. Jerome Williams
Dr. Williams is the executive vice chancellor and provost of the Rutgers-Newark Campus, Prudential Chair in Business, and research director of The Center of Urban Entrepreneurship & Economic Development. He held previous endowed chair positions at the University of Texas at Austin and Howard University, where he also was director of the Center for Marketplace Diversity. He was also on the Penn State University faculty for 14 years.
The Herbert Kurz Business Consortium in Rockland County
How to Become an Entrepreneurial Non-profit
Wednesday, March 15, 2017
5 - 8 p.m.
Nyack Library
Presenter: Herb Rubenstein
Lead Author, Breakthrough, Inc: High Growth Strategies for Entrepreneurial Organizations
Lecturer, Graduate School of Business, University of Colorado Denver
RSVP by March 1 to brooklynksb@gmail.com.