Murray Koppelman School of Business
Through its four departments — Accounting, Business Management, Economics and Finance — the Murray Koppelman School of Business offers both undergraduate and graduate degree programs. At the undergraduate level, students completing degree programs graduate with the bachelor of business administration (B.B.A.) degree or the bachelor of science (B.S.) degree. At the graduate level, students completing the degree program graduate with the master of science (M.S.) degree.
Four important factors are responsible for the success of our programs:
We have highly qualified faculty members who are committed to teaching well, publishing high-quality research papers, and developing excellent programs for our students.
We have caring staff members who are student-centered and faculty-sensitive.
We have bright students who are well-prepared and can perform well both inside and outside of the classroom.
We have alumni who are actively engaged in the life of the school and committed to ensuring its success.
These are the factors that will inspire you to reach for the unimaginable!
The Business Matters! Symposium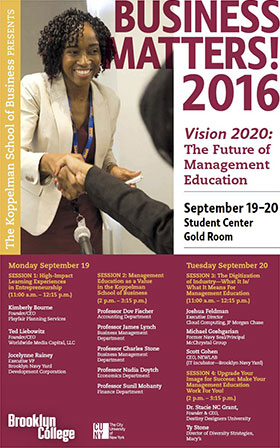 Vision 2020: The Future of Management Education
September 19-20, 2016
Student Center, Gold Room
11 a.m. – 3:15 p.m.
A two-day event that includes networking with alumni and executives from many companies, panel discussions on internships and careers, a keynote presentation on doing business in the digital age, and presentations on dressing for success.
No reservation required.
The Herbert Kurz Business Consortium in Rockland County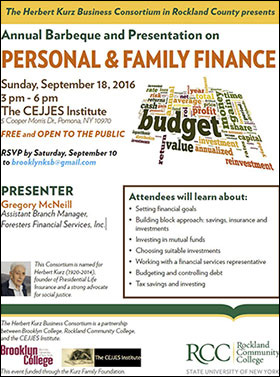 Annual Barbeque and Presentation on Personal and Family Finance
Sunday, September 18, 2016
The CEJJES Institute
5 Cooper Morris Dr., Pomona, NY 10970
3 – 6 p.m.
Presenter: Gregory McNeill, Assistant Branch Manager, Foresters Financial Services, Inc.
Free and open to the public.