Events
Career and Investment Opportunities in a Challenging Economic and Market Environment
Wednesday, November 9, 2022
5-7 p.m.
Keynote Speaker – Martin D. Sass
Panel Participants – John Morrison, Sebastian Komuda, and Kelly Alvarez (alumni of Brooklyn College who participated in MDSII and took Security Analysis (FINC 5330)
Marty Sass, graduate of Brooklyn College, is Founder, Chairman and CEO of M.D. Sass, a leading independent investment management firm. He will candidly present his views on the following:
Risks of a significant global economic recession ahead.
Why this bear market will offer great investment opportunities.
Signs of a sustainable stock market bottom.
Analyzing and identifying exceptional investment opportunities.
How the MDSII can help KSB students distinguish themselves in pursuing careers in finance and investments.
Following his presentation Marty will be pleased to answer questions.
RSVP
RSVP as soon as possible to Vincent.Lai@brooklyn.cuny.edu or 718.951.5012 to reserve your place at this special dinner hosted by the MDSII at the Koppelman School of Business.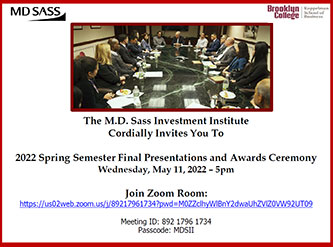 2022 Spring Semester Final Presentations and Awards Ceremony
Wednesday, May 11, 2022
5 p.m.
via Zoom
Company Presentations
API Group (APG)
Brunswick Corp. (BC)
East West Bancorp (EWBC)
Jazz Pharmaceuticals (JAZZ)
Microsoft (MSFT)
ON Semiconductor (ON)
Quanta Services (PWR)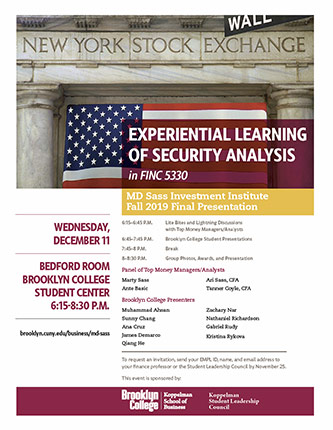 Experiential Learning of Security Analysis in FINC 5330, MD Sass Investment Institute Fall 2019 Final Presentation
Wednesday, December 11, 2019
6:15-8:30 p.m.
Bedford Room, Brooklyn College Student Center
6:15–6:45 p.m. - Lite Bites and Lightning Discussions with Top Money Managers / Analysts
6:45–7:45 p.m. - Brooklyn College Student Presentations
7:45–8 p.m. - Break
8–8:30 p.m. - Group Photos, Awards, and Presentation
Panel of Top Money Managers/Analysts
Marty Sass
Ante Basic
Ari Sass, CFA
Tanner Coyle, CFA
Brooklyn College Presenters
Muhammad Ahsan
Sunny Chang
Ana Cruz
James Demarco
Qiang He
Zachary Nar
Nathaniel Richardson
Gabriel Rudy
Kristina Rykova
To request an invitation, send your EMPL ID, name, and email address to your finance professor or the Student Leadership Council by November 25.
This event is sponsored by: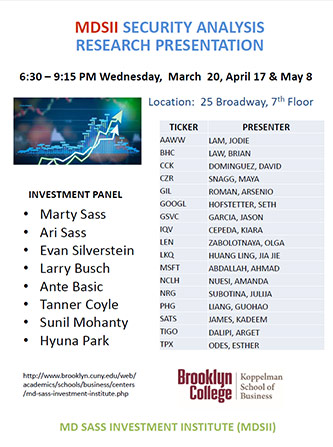 MDSII Security Analysis Research Presentations and Award Ceremony
Wednesday, March 20, April 17, and May 8, 2019
6:30–9:15 p.m.
25 Broadway, 7th Floor, Manhattan
Presentations
Jodie Lam—AAWW
Brian Law—BHC
David Dominguez—CCK
Maya Snagg—CZR
Arsenio Roman—GIL
Seth Hofstetter—GOOGL
Jason Garcia—GSVC
Kiara Cepeda—IQV
Olga Zabolotnaya—LEN
Jia Jie Huang Ling—LKQ
Ahmad Abdallah—MSFT
Amanda Nuesi—NCLH
Julija Subotina—NRG
Guohao Liang—PHG
Kadeem James—SATS
Arget Dalipi—TIGO
Esther Odes—TPX
Investment Panel
Marty Sass
Ari Sass
Evan Silverstein
Larry Busch
Ante Basic
Tanner Coyle
Sunil Mohanty
Hyuna Park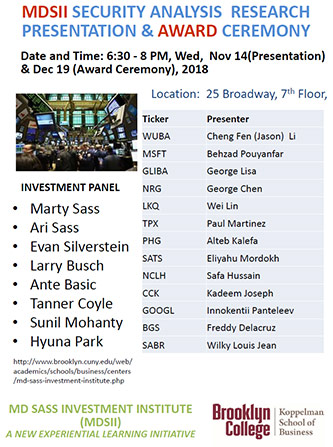 MDSII Security Analysis Research Presentation and Award Ceremony
Presentation: Wednesday, November 14, 2018
Awards Ceremony: Wednesday, December 19, 2018
6:30–8 p.m.
25 Broadway, 7th Floor, Manhattan
Presentations
Cheng Fen (Jason) Li—WUBA
Behzad Pouyanfar—MSFT
George Lisa—GLIBA
George Chen—NRG
Wei Lin—LKQ
Paul Martinez—TPX
Alteb Kalefa—PHG
Eliyahu Mordokh—SATS
Safa Hussain—NCLH
Kadeem Joseph—CCK
Innokentii Panteleev—GOOGL
Freddy Delacruz—BGS
Wilky Louis Jean—SABR
Investment Panel
Marty Sass
Ari Sass
Evan Silverstein
Larry Busch
Ante Basic
Tanner Coyle
Sunil Mohanty
Hyuna Park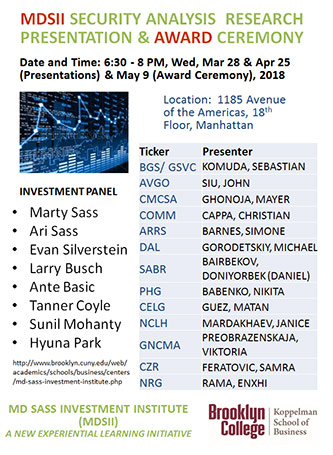 MDSII Security Analysis Research Presentation and Award Ceremony
Presentations: Wednesday, March 28, and Wednesday, April 25, 2018
Awards Ceremony: Wednesday, May 9, 2018
6:30–8 p.m.
1185 Avenue of the Americas, 18th Floor, Manhattan
Presentations
Sebastian Komuda—BGS/GSVC
John Siu—AVGO
Mayer Ghonoja—CMCSA
Christian Cappa—COMM
Simone Barnes—ARRS
Michael Gorodetskiy—DAL
Doniyorbek (Daniel) Bairbekov—SABR
Nikita Babenko—PHG
Matan Guez—CELG
Janice Mardakhaev—NCLH
Viktoria Preobrazenskaja—GNCMA
Samra Feratovic—CZR
Enxhi Rama—NRG
Investment Panel
Marty Sass
Ari Sass
Evan Silverstein
Larry Busch
Ante Basic
Tanner Coyle
Sunil Mohanty
Hyuna Park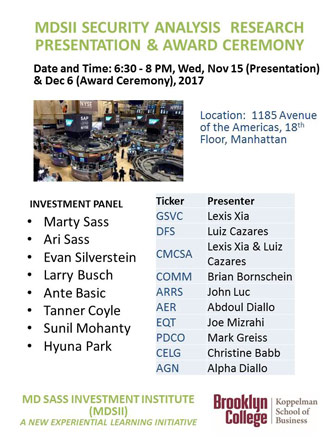 MDSII Stock Research Presentation and Awards Ceremony
Presentation: Wednesday, November 15, 2017
Awards Ceremony: Wednesday, December 6, 2017
6:30–8 p.m.
1185 Avenue of the Americas, 18th Floor, Manhattan
Presentations
Lexis Xia—GSVC
Luiz Cazares—DFS
Lexis Xia & Luiz Cazares—CMCSA
Brian Bornschein—COMM
John Luc—ARRS
Abdoul Diallo—AER
Joe Mizrahi—EQT
Mark Greiss—PDCO
Christine Babb—CELG
Alpha Diallo—AGN
Investment Panel
Marty Sass
Ari Sass
Evan Silverstein
Larry Busch
Ante Basic
Tanner Coyle
Sunil Mohanty
Hyuna Park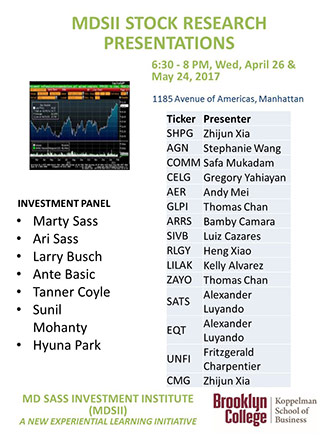 MDSII Stock Research Presentations
Wednesday, April 26, and Wednesday, May 24, 2017
6:30–8 p.m.
1185 Avenue of the Americas, Manhattan
Presentations
Zhijun Xia—SHPG
Stephanie Wang—AGN
Safa Mukadam—COMM
Gregory Yahiayan—CELG
Andy Mei—AER
Thomas Chan—GLPI
Bamby Camara—ARRS
Luiz Cazares—SIVB
Heng Xiao—RLGY
Kelly Alvarez—LILAK
Thomas Chan—ZAYO
Alexander Luyando—SATS
Alexander Luyando—EQT
Fritzgerald Charpentier—UNFI
Zhijun Xia—CMG
Investment Panel
Marty Sass
Ari Sass
Larry Busch
Ante Basic
Tanner Coyle
Sunil Mohanty
Hyuna Park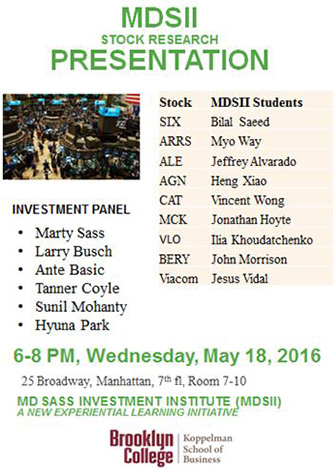 MDSII Stock Research Presentation
Wednesday, May 18, 2016
6–8 p.m.
25 Broadway, Manhattan, 7th Floor, Room 7-10
Presentations
Bilal Saeed—SIX
Myo Way—ARRS
Jeffrey Alvarado —ALE
Heng Xiao—AGN
Vincent Wong—CAT
Jonathan Hoyte—MCK
Ilia Khoudatchenko—VLO
John Morrison—BERY
Jesus Vidal—Viacom
Investment Panel
Marty Sass
Larry Busch
Ante Basic
Tanner Coyle
Sunil Mohanty
Hyuna Park