Fall 2016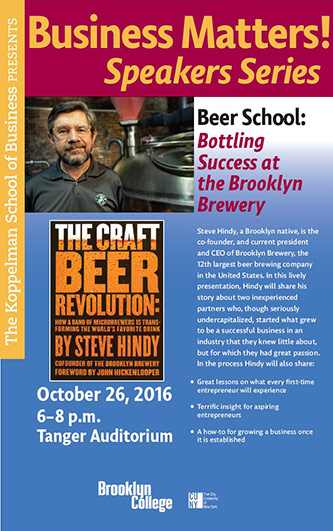 The Business Matters! Speakers Series
Beer School: Bottling Success at the Brooklyn Brewery
Wednesday, October 26, 2016
Tanger Auditorium, Brooklyn College Library
6–8 p.m.
Steve Hindy, a Brooklyn native, is the co-founder, and current president and CEO of Brooklyn Brewery, the 12th-largest beer brewing company in the United States. In this lively presentation, Hindy will share his story about two inexperienced partners who, though seriously undercapitalized, started what grew to be a successful business in an industry that they knew little about, but for which they had great passion. In the process, Hindy will also share:
Great lessons on what every first-time entrepreneur will experience
Terrific insight for aspiring entrepreneurs
A how-to for growing a business once it is established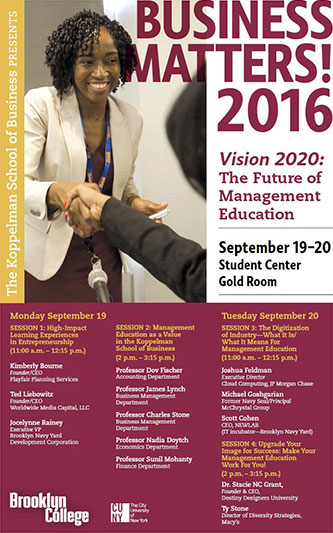 The Business Matters! Symposium
Vision 2020: The Future of Management Education
September 19–20, 2016
Gold Room, Student Center
11 a.m.–3:15 p.m.
A two-day event that includes networking with alumni and executives from many companies, panel discussions on internships and careers, a keynote presentation on doing business in the digital age, and presentations on dressing for success. No reservation required.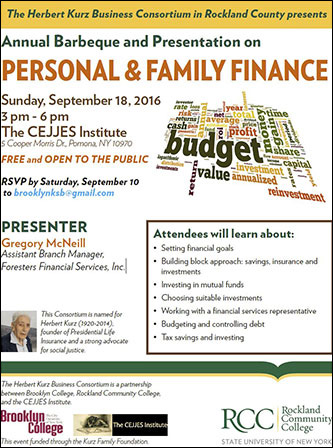 The Herbert Kurz Business Consortium in Rockland County
Annual Barbeque and Presentation on Personal and Family Finance
Sunday, September 18, 2016
The CEJJES Institute
5 Cooper Morris Drive, Pomona, NY
3–6 p.m.
Presenter: Gregory McNeill, Assistant Branch Manager, Foresters Financial Services, Inc.
Free and open to the public.