Spring 2017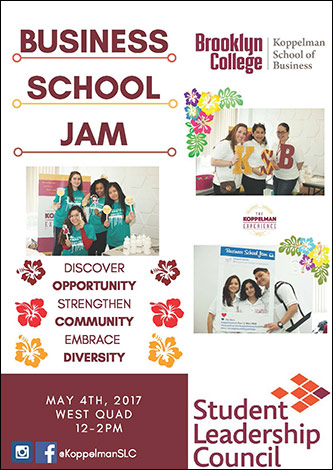 Business School Jam
May 4, 2017
Noon–2 p.m.
West Quad
Join us and
Discover Opportunity
Strengthen Community
Embrace Diversity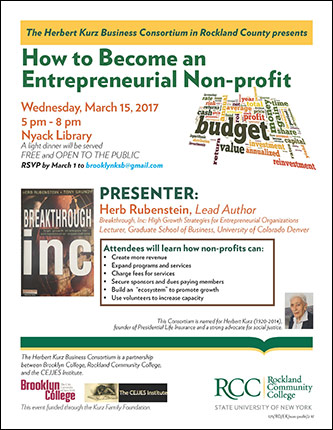 The Herbert Kurz Business Consortium in Rockland County
How to Become an Entrepreneurial Non-profit
Wednesday, March 15, 2017
5–8 p.m.
Nyack Library
Presenter: Herb Rubenstein
Lead Author, Breakthrough, Inc: High Growth Strategies for Entrepreneurial Organizations
Lecturer, Graduate School of Business, University of Colorado Denver
Attendees will learn how nonprofits can:
Create more revenue
Expand programs and services
Charge fees for services
Secure sponsors and dues paying members
Build an "ecosystem" to promote growth
Use volunteers to increase capacity
A light dinner will be served. Free and open to the public.
RSVP
RSVP by March 1.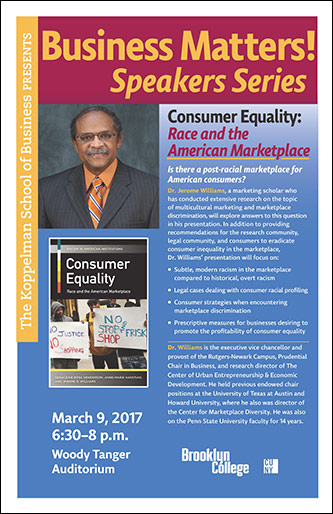 The Business Matters! Symposium
Consumer Equality: Race and the American Marketplace
Is there a post-racial marketplace for American consumers?
Thursday, March 9, 2017
Woody Tanger Auditorium, Brooklyn College Library
6:30–8 p.m.
Presenter: Dr. Jerome Williams
Jerome Williams, a marketing scholar who has conducted extensive research on the topic of multicultural marketing and marketplace discrimination, will explore answers to this question in his presentation. In addition to providing recommendations for the research community, legal community, and consumers to eradicate consumer inequality in the marketplace, Williams' presentation will focus on:
Subtle, modern racism in the marketplace compared to historical, overt racism
Legal cases dealing with consumer racial profiling
Consumer strategies when encountering marketplace discrimination
Prescriptive measures for businesses desiring to promote the profitability of consumer equality
Williams is the executive vice chancellor and provost of the Rutgers-Newark Campus, Prudential Chair in Business, and research director of The Center of Urban Entrepreneurship & Economic Development. He held previous endowed chair positions at the University of Texas at Austin and Howard University, where he also was director of the Center for Marketplace Diversity. He was also on the Penn State University faculty for 14 years.