Early Childhood Center Programs
Welcome Letter from Interim Director Colleen
Dear Families of the ECC,
Welcome to the Fall 2020 Semester of Remote Teaching and Learning. Thank you for your continued dedication and devotion to the Early Childhood Center at Brooklyn College. We are thrilled that you have continued your commitment of connection. We have 4 virtual classrooms open. The Infants, Twos, Threes and Fours.
Every classroom is designed to offer and support both synchronous and asynchronous learning experiences and activities for you to engage in with your child at home and for your child to engage in with their teachers in their "virtual" classrooms.
The teachers are also providing "office hours", either via email or phone. This is an opportunity to engage individually with one of your child's teachers and share questions and concerns as well as the challenges and joys of parenting during this unsettling time.
Again, thank you for joining us—your participation and presence is greatly appreciated.
Colleen Goddard, Ph.D.
Interim Acting Director
Virtual Classrooms for Fall 2020
The Early Childhood Center Programs at Brooklyn College invites you to enroll in their virtual classrooms for the Fall 2020 semester.
Letters to Families
Please read our "Letters to Families" which illustrates how our teachers are engaging your children in a variety of learning experiences which support their overall growth and development.
Every class is designed to deliver asynchronous and synchronous developmentally appropriate learning activities and play based experiences as well as offer support and resources to Brooklyn College student parents and families.
The ECC directors, teachers and staff will strive to provide your child with an education that recognizes them as a whole person, and that standard will remain the same, regardless of the virtual nature of our new classroom. We are dedicated to maintaining a positive relationship with each student and their family. We look forward to working together with you and your child for a successful distance learning experience.
The Early Childhood Center (ECC) Programs at Brooklyn College were established in 1953 as the Laboratory School of the Early Childhood School of Education.
The center provides a space for students to explore questions of child development and to study the contributions of educational, social, and cultural environments to support children's growth and learning. The Early Childhood Center Programs offer day programs for infants, toddlers, and preschool-age children. Parents and family members are actively involved in their children's education at the center. The ECC also offers instructional, observational, and research opportunities for students, interns, and faculty at Brooklyn College.
The learning experiences of our program follow developmentally appropriate practices both indoors and outside. Children learn and develop through play. At the ECC, outdoor time is considered a natural extension of the indoor work and play of the children. All developmental areas are addressed and learning is fully experienced within multiple domains of development—including but not limited to gross and fine motor explorations, cognition and perception, language and communicative skills, social/emotional development, and sensory integration.
Our indoor and outdoor environments support maximum creativity and imagination where bodies, minds, and spirits are fostered and informed by research and practices from a variety of local and international pedagogies that are committed to improving early childhood education and care for ethnically and linguistically diverse young children, with and without special needs, and their families. The ECC is rooted in a commitment to the inclusion and celebration of differences of all kinds, to multilingual and multicultural education, and to early intervention. In service of these goals the arts, aesthetic education, and play are at the heart of the ECC curriculum.
Early Learning Environments After COVID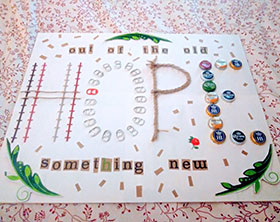 An Interview with Karina Casillas and Colleen Goddard
Early care and education providers are re-entering their classrooms and considering how to make them safe, welcoming places for young children. The staff at the Early Childhood Center at Brooklyn College transformed their classrooms in 2017 from traditional early childhood environments to minimalistic, child-led, sensory rich spaces. Karina Casillas, a pre-school teacher at the Center and Colleen Goddard, the center's educational director, joined me in conversation about how to approach the challenge of classroom environments post-COVID.
Contact Information
1604 James Hall
Brooklyn, New York 11210
P: 718.951.5431
F: 718.951.4658
Interim Acting Director, Educational Director
Office Manager
Administrative Assistant
Voices from the Center...
Reflective Responses on a Theme from the ECC Teachers
Brooklyn's Early Childhood Program Adapts to Online
Interim Acting Director / Educational Director Colleen Goddard and one of the Center's teachers, Samantha Baptiste spoke to the Vanguard about the challenges the ECC faces during the pandemic.
Enriching Education Through the Art of Play and Wonderment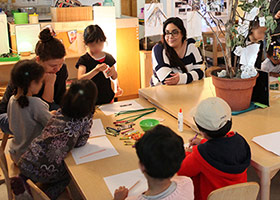 The Brooklyn College Early Childhood Center and the Early Childhood Education/Art Education Department have launched a new annual conference—and are spearheading a different approach to teaching.