Administrative Team
Welcome to the Early Childhood Center/Lab School at Brooklyn College, where we are dedicated to celebrating; honoring, respecting, and creating rich and meaningful play experiences and play environments for your children. The classroom inside and out is designed to support and encourage the process of inquiry, exploration, and discovery based on your child's innate interests, and where questions are welcomed, journeys of playfulness and curiosity joined, and approaches to learning from a multisensory, fully embodied, and meaningful way are deeply valued.
You will see documentation in our center—these are photos of moments where children are actively constructing meaning. The documentation can take the form of a photo, written words, reflections from teachers, or even a combination of all three. This is our way to make the children's learning visible.
"Documentation invites children to become aware of their own growth and learning—giving them a sense of value and belonging… their life and their work is valued, and they feel part of the community. To achieve this vision, we continually try to construct an alliance and coherent connection between the two worlds in which children live: home and school."
— Lella Gandini, Bambini: The Italian Approach to Infant/Toddler Care
Administrative Staff
Maryann Moran—Director
Colleen Goddard—Educational Director
Jahidah Diaab—Creative Arts Coordinator
Geeta Latchman—Office Manager
Cathleen Philbert—Administrative Assistant
Daniel Debonis—Grants Specialist
Jacqueline Shannon—Chair of the BC ECAE Programs
Andrew Lerner—Center Psychologist
Staff Bios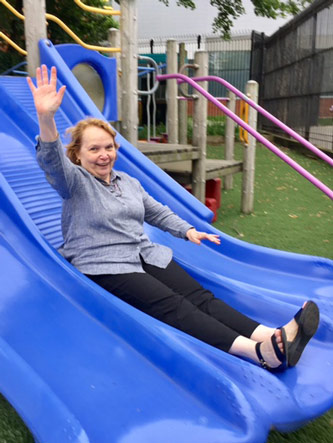 Maryann Moran—Director
"My head is full of children" sums up my professional and personal life. My professional life started when I completed my undergraduate and graduate course work at Brooklyn College. I was a classroom teacher for 22 years, working with children up to second grade. I was an educational director for 19 years and have been an adjunct lecturer at Brooklyn College since 2010. After a brief retirement that included caring for my infant granddaughter, I became the director of the Brooklyn College Early Childhood Center in June 2017.
I am the mother of four children and the grandmother of four grandchildren. I have been referred to as "The Baby Whisperer" and "Doctor Play Dough," both designations of which I am proud.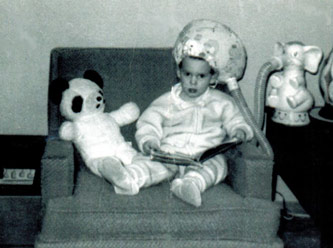 Colleen Goddard—Educational Director
Colleen Goddard is the educational director at the Early Childhood Center. She also works as a child development specialist/consultant at early childhood schools and centers in Manhattan and Brooklyn. She has more than 23 years of experience in early childhood education, having taught at Beginnings Nursery School, Rhythm and Glues and Corlears. Goddard received an Excellence in Teaching Award from the NYC Early Childhood Professional Development Institute in 2009, and she holds a master's degree in human development with a specialization in early childhood studies from Pacific Oaks College. She earned an additional master's degree in human and organizational studies from Fielding Graduate University, where she also received her Ph.D. in human/child development. Her dissertation explores the significance of transitional objects at the beginning and end of life.
Goddard is a contributing writer for the New York State Early Learning Guidelines as part of the New York State Early Childhood Advisory Council and has been published by Psychology Today Online and Changingminds.org. She parent/teacher educational workshops and staff development on a variety of topics: The Significance of Transitional Objects, Separation/Attachment/Attunement, Mindful Limits and Boundaries, Power Play/Empowering Play & Gender Play, and How Children Understand Loss and Death. She presented at the Little Chairs Big Differences Conference on "Transitional Objects as Story and Metaphor in Early Childhood Classrooms as Influenced by Indigenous Peoples." Goddard also worked as an adjunct professor at the NYU School of Professional Studies, Hunter College, Touro College, the NYU Steinhardt School of Culture, Education and Human Development, and currently teaches at Brooklyn College. She enjoys spending time with her 29-year-old son, especially when he cooks for her.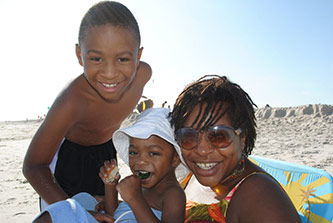 Jahidah Diaab—Creative Arts Coordinator
Jahidah Diaab has been working with young children ranging from severely autistic to the gifted for the past 20 years. Her teaching journey has taken her to various educational and diverse settings across the New York City area. She began her first introduction to children at the Herbert G. Birch School. She then went on to teach the arts at Hunter Elementary School for the Gifted, The Dalton School, Beginnings Nursery School and Ethical Culture Fieldston School. She joined the team of teachers at the Blue School during its developing stages. She now teaches as a Head 2's teacher at Chelsea Day School. Her role at the center is to make the children's learning visible through videography and documentation. Jahidah Diaab has a B.A. in fine arts and a master's in early education—birth through second grade. She enjoys writing and producing plays and short films in her spare time. She is raising two wonderful loving boys and enjoys all things that revolve around nature.
Geeta Latchman—Office Manager
Geeta Latchman migrated from the Caribbean to the United States, where she has been working at Brooklyn College for more than 15 years. While working at the College, she enrolled in and completed her B.A. in psychology with a concentration in child studies before moving on to complete her M.S. in education with a specialization in school counseling and leadership. Latchman believes that a good education is the most powerful asset a person can have that always stays with you.
Cathleen Philbert—Administrative Assistant
Cathy Philbert is the administrative assistant at the Early Childhood Center (ECC). She joined the team in 2015 after spending many years in education and financial printing companies. Philbert has worked with high-level executives, business owners, and nonprofit organizations. She has a bachelor's degree from the New York City College of Technology. She was born and reared in Brooklyn and has a son. In her spare time, she loves to volunteer with Dress for Success and NY Cares. The best part about working at the ECC is seeing the growth of the children as well as assisting the families.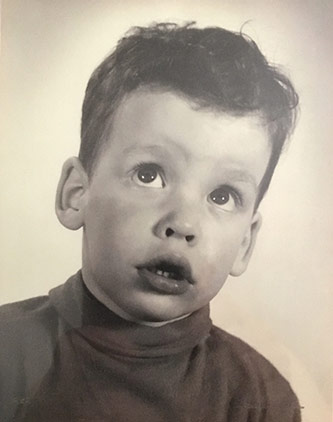 Andrew Lerner—Center Psychologist
As a school psychologist, it is my intention to encourage learning and offer support for all of the children, parents, and teachers of the Brooklyn College ECC community. I have spent many years working as a school psychologist, inclusive of time working for the NYC Department of Education with children with hearing and/or vision loss, autism, and learning disabilities. I have also taught courses in learning theory, cognition, and psycholinguistics at numerous institutions of higher learning within the region and am currently teaching a course in the value of play for the Early Childhood/Art Education Department at Brooklyn College. In spring 2018 I will be teaching a seminar course at NYU in designing an early childhood learning environment, and it is my hope to continue working in the field of early childhood, as I believe it to be the best and most important way of making the world a better place for all.