Fours Room
In the Fours Room, play is the main vehicle of learning. Children work in partnership with each other and take ownership of their classroom as well as their outdoor playground. Children can be seen constructing cities made of natural and found materials, studying the life cycle of snails, composing self-portraits with a variety of mediums, and exploring texture, sound, taste, and sensation through sensory experiences. The environment is seen as the third teacher where wonderment, delight, joy, and curiosity is nourished and fueled by common interests and in depth inquiries. In this way, play and learning join as spontaneous activity, movement and motion transform into active thought, and reflection, explosions of language, thought, and discourse are honored. As Fred Rogers suggests, "Play is an expression of our creativity and creativity, I believe, is at the very root of our ability to learn, to cope, and to become whatever we may be."
The Fours Classroom is inspired by the Reggio Emilia philosophy where the child is seen as fully capable and competent—as an explorer and scientist, an artist and an inventor, a designer and a creator, a curator and co-constructor of his or her own knowledge.
The environment for the children in the PreK classroom at the Early Childhood Center and Lab School is one where children can use physical space to create cognitive, perceptual, social, and affective understandings of the world. Where the child can take any material, form, or shape and create both a reflection of and response to their world, and where possibilities and potentialities are at the heart of every engagement, expression and creation.
Teachers
Karina Casillas
Nyasia Deas
Chris LaRosa
Kim Trapani
Teacher Bios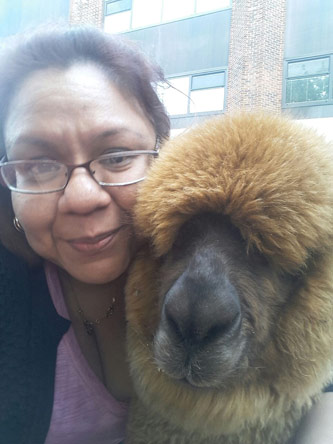 Karina Casillas
I am the assistant teacher in the pre-school. I've worked at the Early Childhood Center for a little over four years. During my time here I've had the privilege of working with almost every age group during the day or evening programs. This will be my third year in my home away from home, the Pre-K. I graduated with honors from BMCC with an associate's degree in writing and literature. While majoring in journalism at Brooklyn College I made the fateful decision to take some intro early childhood education classes and I have never looked back. I was very fortunate to have been offered a position at the ECC during my first semester as a student observer. I am currently completing my assistant teacher certification and am lucky to be able to continue to pursue my B.A. in early childhood education while spending my days in a classroom filled with children and adults whose enthusiasm and curiosity can sometimes rival my own.
Chris LaRosa
I am the music specialist at the ECC as well as a teacher in the Pre-K Room. I have been working at the ECC for almost 18 years, and with young children for over 20. During that time, I have worked with each age group from infants through 12 years. As the music specialist, I play drums and percussion, working with all of the children in our center. My music program promotes creative expression through music and movement, sound exploration, and instrument making. As a father of four children who have all attended the ECC, I am happy to call this place my home away from home.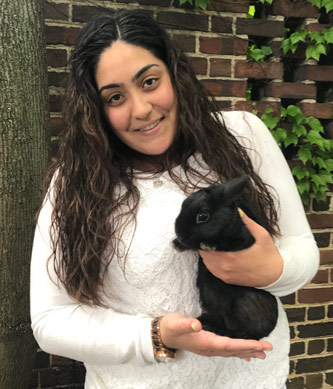 Kim Trapani
I am a teacher in the Fours Pre-K Classroom. I have been with the Early Childhood Center for about nine years. I have had the opportunity to work with all of the age groups in the center. My journey to the Fours began as a student teacher, and then I was a substitute teacher, then an assistant teacher, and finally a lead teacher. I love the age group and the endless possibilities that can be achieved! The Fours Room is filled with passionate teachers who love the children as if they were their own. We have created a classroom home that feels like a peaceful sanctuary. A goal of mine is to complete my master's degree; I'm almost done! I love being able to continue my education while working with children in the classroom. It allows me to put to practice all that I am learning, and the outcomes are amazing!