Amy Shoremount-Obra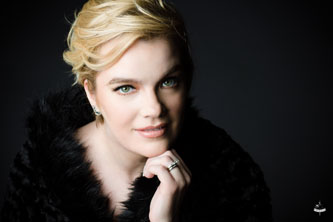 Adjunct Assistant Professor, Voice
Soprano Amy Shoremount-Obra has been garnering attention for her work on the operatic and concert stage, having recently been hailed by Opera News as having sung a "really outstanding (Donna) Anna, accurate and with exciting thrust, including the best vengeance aria I've heard since Carol Vaness' heyday." Her voice has been described as one that portrays "sensitivity yet full-throated power" (Huffington Post) while it "thrills with laser-like top notes" (BostonClassicalReview.com).
She began her career as a coloratura soprano, and made her European debut in 2004 as Ifigenia in Händel's Oreste in Spoleto, Italy. She also garnered attention for her portrayal as Mozart's infamous Queen of the Night in Die Zauberflöte, which was her New York City Opera debut in 2009, and she covered for three seasons at the Met, including Diana Damrau's final performances of the role. Eventually moving into more lyric and now dramatic repertoire, she made her much-anticipated Metropolitan Opera debut in October 2014 as First Lady in Mozart's Die Zauberflöte, a role that she reprised at the Met last fall (2017) in the English version of the opera and recently sang again in German with the Pacific Symphony in Costa Mesa, California, in early 2018. She returns to the role during the 2018–19 season at the Met in the English version of the opera. Specializing in the roles of Mozart, and more recently Verdi, Wagner, and Strauss, she has sung with such companies as The Metropolitan Opera (since 2007), New York Philharmonic, New York City Ballet, Opera Las Vegas, The Savannah Voice Festival, Venture Opera, Odyssey Opera of Boston, Annapolis Opera, New York City Opera, and Grand Harmonie, among other companies. Shoremount-Obra has appeared at Carnegie Hall as the soprano soloist in Fauré's Requiem, Brahms' Requiem, and Schubert's Mass in G. She made her David Geffen Hall debut in 2016 with the National Chorale as the soprano soloist in Verdi's Requiem and recently returned to the hall this spring (2018) as the Soprano Soloist with the National Chorale in Beethoven's Ninth Symphony and Vaughan Williams' Serenade to Music. Other concert engagements include her appearances as the Soprano Soloist in Rossini's Petite Messe Solennelle, Haydn's Lord Nelson Mass, Mozart's Coronation Mass, Vivaldi's Gloria, Gounod's St. Cecilia Mass, and Beethoven's Ninth Symphony. This fall she will make her solo Mexican Orchestral debut in a concert of Verdi, Wagner, and Puccini with the Orquesta Filarmónica del Estado de Chihuahua. She has performed in recital and concert throughout the United States including live on WFMT, Chicago's Classical Radio Station. A champion of new music, she has collaborated with and performed the works of some of opera's revered living composers, including Paola Prestini, Thomas Pasatieri, John Zorn, Tarik O'Regan, Robert Patterson, Sidney Boquiren, and Randall Eng, among others. She was a member of the American Opera Projects' Composer and the Voice program in 2011–12, where she collaborated with a team of composers and librettists, work-shopping and premiering new works.
Shoremount-Obra was the 2018 Top Prize Winner in the Gerda Lissner International Vocal Competition Wagner Division and was a 2004 National Semi-Finalist and New York Regional Winner in the Metropolitan Opera National Council Auditions. She holds bachelor and master of music degrees from Manhattan School of Music and an artist diploma from The Juilliard School (Juilliard Opera Center). Her teachers have included Hilda Harris, Marlena Malas, and currently, Diana Soviero. She is featured as the SoundBite in the May 2016 issue of Opera News and will be featured in a major Hollywood motion picture, The Upside, in 2018.
As a teaching professional, she was recently appointed adjunct assistant professor of voice at Brooklyn College Conservatory of Music. She previously held an adjunct position as a professor of vocal methods at The College of New Jersey and several artist-in-residency positions at Lawrence Conservatory of Music (Wisconsin) and at the Universidad Autónoma de Chihuahua in Mexico. She has given masterclasses at Lawrence, the New Jersey Governor's School of the Arts, the Universidad Autónoma de Chihuahua, and at various festivals and workshops throughout the United States. During summer 2018, she joined the faculty of Juilliard's Nord Anglia Vocal Program in Orlando, Florida, and returned to Mexico for the International Opera Workshop CUU in Chihuahua. During the fall, she will give a masterclass at Manhattan School of Music's Pre-College Division. She also maintains a private studio in both Manhattan and New Jersey.
Shoremount-Obra is the co-founder and co-director of Hawaii International Music Festival, a 501(c)(3) nonprofit organization, which presents unique interdisciplinary classical music events and educational outreach programs in the Hawaiian Islands.