Dalit Warshaw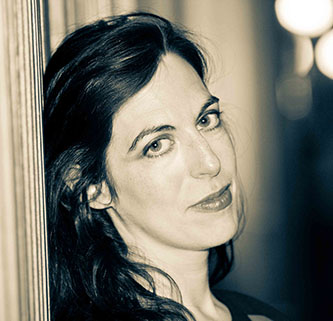 Adjunct Associate Professor, Composition
An internationally acclaimed composer, pianist, and thereminist, Dalit Warshaw's works have been performed by numerous orchestral ensembles, including the New York and Israel Philharmonic Orchestras (Zubin Mehta conducting), the Boston Symphony, the Cleveland Orchestra, the Houston Symphony, the Albany Symphony, and the Grand Rapids Symphony. Awarded a Guggenheim Fellowship in 2016, her theremin concerto, Sirens, was premiered in October 2019 by the Boston Modern Orchestra Project, featuring theremin soloist Carolina Eyck and conducted by Gil Rose. The work was subsequently performed by the Albany Symphony with David Alan Miller conducting. Sirens was listed among "Boston's Best Classical Music Concerts in 2019" by the Boston Globe.
As a pianist, she performed as soloist in the premiere of Conjuring Tristan, her "narrative concerto for piano and orchestra," with the Grand Rapids Symphony in 2015. She was described by the Grand Rapids Press as "a graceful and sensitive pianist [and] an intriguing orchestrator who draws a wealth of colors from an ensemble."
Since becoming the youngest winner of the BMI Award for an orchestral work written at the age of eight, additional awards include five ASCAP Foundation Grants to Young Composers, a Fulbright Scholarship to Israel, a Charles Ives Scholarship from the American Academy of Arts and Letters, and two BMI Awards. In 2017, she received an OPERA America Discovery Grant for Female Composers, in addition to the Goddard Lieberson Fellowship from the American Academy of Arts and Letters, given to mid-career composers of exceptional gifts.
Warshaw has performed widely as a soloist and chamber player, in venues as diverse as Avery Fisher Hall, Miller Theater, Alice Tully Hall, and The Stone, all in New York City. In addition to her performance with the Grand Rapids Symphony, she has played solo with the Rockland Symphony, Cheyenne Symphony, and the Misgav Chamber Players, under the direction of Lukas Foss. Having studied theremin with the renowned Clara Rockmore from an early age, she has appeared as theremin soloist with the Boston Modern Orchestra Project, the New York Festival of Song, and the San Francisco Symphony, also performing with the New York Philharmonic, the Boston Symphony, the American Symphony Orchestra, and the Royal Stockholm Philharmonic, among other ensembles.
Warshaw has held multiple residencies at the Yaddo and MacDowell Artist Colonies, and is a graduate of Columbia University and The Juilliard School, where she obtained her doctorate in music composition.
A full-time faculty member of the composition/theory department at the Boston Conservatory from 2004 to 2014, Warshaw currently teaches on the composition faculties of CUNY- Brooklyn College and the Juilliard Evening Division. Her CD, Invocations, was released in January 2011 and is available on Albany Records. Pending CD recordings include Sirens, to be released on the BMOP/sound label.