David Grubbs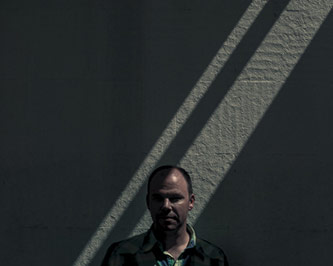 Associate Professor, Musicology and Music Technology
David Grubbs is an associate professor in the Conservatory of Music at Brooklyn College, where he also teaches in the M.F.A. programs in performance and interactive media arts (PIMA) and creative writing. He is the author of the forthcoming book Records Ruin the Landscape: John Cage, the Sixties, and Sound Recording (Duke University Press) and is one of five musicians profiled in Augusto Contento's documentary film Parallax Sounds.
Grubbs has released 12 solo albums and appeared on more than 150 commercially released recordings. His most recent releases include The Plain Where the Palace Stood (Drag City) and Frolic Architecture (Blue Chopsticks), a collaboration with poet Susan Howe. In 2000, his The Spectrum Between (Drag City) was named "Album of the Year" in the London Sunday Times.
Grubbs is known for his cross-disciplinary collaborations with such writers as Susan Howe and Rick Moody, and with such visual artists as Anthony McCall, Angela Bulloch, Cosima von Bonin and Stephen Prina. His collaborations with Susan Howe appear on three CD releases and have been presented in performance at MoMA, the Southbank Centre (London), the Walker Art Center (Minneapolis), Cambridge University, Harvard University and Yale University's Beinecke Library. Since 2003 he has worked with the novelist Rick Moody in a group called the Wingdale Community Singers.
Grubbs's collaborations with Anthony McCall have been exhibited at the Hamburger Bahnhof (Berlin) and the Sean Kelly Gallery (New York), and he created the sound design for ECLIPSE, the performance work by McCall and choreographer Jonah Bokaer that inaugurated the Brooklyn Academy of Music's BAM Fisher building in September 2012. Works by Angela Bulloch featuring soundtracks by Grubbs have been exhibited at the Solomon R. Guggenheim Museum (in the exhibition, theanyspacewhatever), the Centre Pompidou (in elles@centrepompidou), and the Städtische Galerie im Lenbachhaus, Munich. Grubbs and Bulloch will premiere a new performance work, The Wired Salutation, at the Centre Pompidou in 2013. Grubbs's music appears in two installations by Doug Aitken, and his sound installation "Between a Raven and a Writing Desk" was included in the 1999 group exhibition Elysian Fields at the Centre Pompidou.
Grubbs collaborated with Matmos on music for Thierry Jousse's feature film Les Invisibles and has contributed music to Augusto Contento's Parallax Sounds, Strade Trasparenti and Onibus; Gustav Deutsch's FILM IST. a girl & a gun; Braden King and Laura Moya's Dutch Harbor: Where the Sea Breaks its Back; and John Boskovich's North, as well as to the Red Krayola's soundtrack to Norman and Bruce Yonemoto's Japan in Paris in LA. Music by Gastr del Sol appears in the PBS television series The United States of Poetry, Hal Hartley's film The Book of Life and Doug Aitken's film The Diamond Sea. Grubbs composed the musical score for Karl Bruckmaier's radio adaptation of Peter Weiss's Die Ästhetik des Widerstands (Hessischer Rundfunk's "Hörbuch des Jahres 007") and contributed music to Bruckmaier's adaptation of Alexander Kluge's Chronik der Gefühle (Deutscher Hörbuchpreis 2010, Best Fiction). He appears in the Arte television documentary Lost in Music: Chicago Connections and the NHK (Japan) television documentary The Red Krayola.
David Grubbs was a founding member of the groups Gastr del Sol, Bastro and Squirrel Bait, and has performed with the Red Krayola, Will Oldham, Tony Conrad, Pauline Oliveros, Royal Trux, Loren Connors and many others. Live performances include the Solomon R. Guggenheim Museum, Foundation Cartier (Paris), MACBA (Barcelona, Spain), Museu do Chiado (Lisbon, Portugal), CAAC (Seville, Spain), P3 Art and Environment (Tokyo), Vienna Jazz Festival, Toronto Jazz Festival, Steirischer Herbst (Graz, Austria), Festival Musique Actuelle (Victoriaville), Musique Action Festival (Vandoeuvre-les-Nancy), STRP Festival (Eindhoven), SONAR (Barcelona, Spain), Playback Play Festival (Warsaw, Poland), Music Merge Festival (Tokyo) and What Is Music (Melbourne/Sydney).
Grubbs holds a Ph.D. in literature from the University of Chicago. From 1997 to 1999 he taught in the Sound and Liberal Arts departments of the School of the Art Institute of Chicago. Between 1999 and 2007 he regularly published music criticism in the Süddeutsche Zeitung. His criticism has appeared in Chicago Review, Texte zur Kunst, Frieze, Afterall, Modern Painters, The Wire, Bookforum, Tin House, Black Clock and Conjunctions.
Grubbs is a 2005–06 grant recipient from the Foundation for Contemporary Arts and a member of ISSUE Project Room's Artistic Advisory Board.
Selected Discography
Solo Recordings
The Plain Where the Palace Stood (Drag City, 2013)
Hybrid Song Box.4 CD (Blue Chopsticks, 2009) An Optimist Notes the Dusk CD/LP (Drag City/P-Vine, 2008)
Two Soundtracks for Angela Bulloch CD (Semishigure, 2005)
A Guess at the Riddle CD/LP (Drag City/FatCat/P-Vine, 2004)
Rickets & Scurvy CD/LP (Drag City/FatCat/P-Vine, 2002)
Act Five, Scene One CD (Blue Chopsticks/P-Vine, 2002)
The Spectrum Between CD/LP (Drag City/P-Vine, 2000)
The Thicket CD/LP (Drag City, 1998)
Banana Cabbage, Potato Lettuce, Onion Orange CD (Table of the Elements, 1997)
Collaborations
The Wingdale Community Singers, Night, Sleep, Death (Blue Chopsticks, 2013)
Frolic Architecture (with Susan Howe) CD (Blue Chopsticks, 2011)
Belfi/Grubbs/Pilia, Onrushing Cloud LP (Blue Chopsticks, 2010)
Souls of the Labadie Tract (with Susan Howe) CD (Blue Chopsticks, 2007)
Thiefth (with Susan Howe) CD (Blue Chopsticks, 2005)
The Harmless Dust (with Nikos Veliotis) (Headz, 2005)
Arborvitae (with Loren Connors) CD (Häpna, 2003)
Pauline Oliveros, Primordial/Lift CD (Table of the Elements, 2000)
Stephen Prina, Push Comes to Love CD/LP (Drag City, 1998)
The Red Krayola, Hazel CD/LP (Drag City, 1996)
Palace Music, Arise, Therefore CD/LP (Drag City, 1996)
Tony Conrad, Slapping Pythagoras CD (Table of the Elements, 1995)