Joe Burgstaller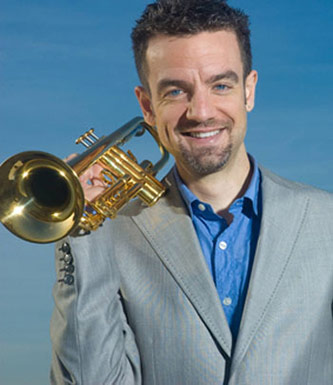 Brass Ensemble Director, Adjunct Assistant Professor
Formerly with CANADIAN BRASS (8 years as a featured trumpeter/arranger) and the avant-garde MERIDIAN ARTS ENSEMBLE (6 years), Joe Burgstaller has performed in front of more than 40 orchestras (Philadelphia, Minnesota, Detroit, Houston, Baltimore, New Jersey, Virginia, et.al), in more than 50 Music Festivals, and has performed and taught at over 80 universities, conservatories and colleges. His extensive discography includes his solo CDs License to Thrill and The Virtuoso Trumpet and three Top-10 Billboard hits with Canadian Brass. His last two CDs with his crossover group BM4 were Top-50 on the JazzRadio charts and the Roots Radio Report (under Paul Simon but right above the Beastie Boys).
Mr. Burgstaller tours worldwide as a soloist, with his hit crossover group BM4 (BurgstallerMartignon4), with the revolutionary NY Brass Arts Trio, and as a clinician and teacher. He is on the faculty at THE PEABODY INSTITUTE (The Johns Hopkins University) in Baltimore, MD, where he teaches trumpet, chamber music and a special Performance Class series for all instruments called "Change Your Mind, Change Your Playing". Every summer he teaches at the MUSIC ACADEMY OF THE WEST in Santa Barbara, CA.
Joe is a former full-time member and featured trumpeter with Canadian Brass, and holds the third longest tenure on trumpet in the history of that famed group. Joe toured worldwide with the Brass, performing in recital and with orchestra (Philadelphia, Minnesota, Detroit, Houston, Baltimore, New Jersey, Seattle, et al.) and contributed arrangements to the group as well. Recordings that spotlight Joe include a Juno-nominated release, Magic Horn, (AllMusicGuide.com heralded Joe's "superb set of arrangements" of Astor Piazzolla), and BACH (includes his pyrotechnical arrangement of the Bach-Vivaldi Concerto in D).