Joseph Loposky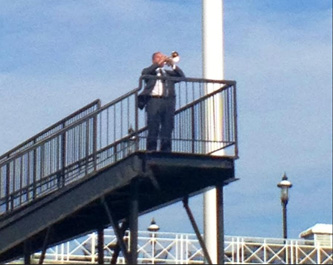 Adjunct Lecturer, Music Education, Brass Instruments
Joseph Loposky is a native New Yorker, born and raised in Endicott. He has had a wide and varied musical career. He has performed and conducted both nationally and internationally. He graduated from Wilkes College with a bachelor's degree in education and trumpet performance. He received a master's degree from Brooklyn College in trumpet performance. In 1993, he accepted the position of principal trumpet in the Orquestra Sinfonica de Guanajuato (Mexico State Symphony).
Upon returning to New York in 1994, Loposky accepted the position of director of music at Xaverian High School in Brooklyn, New York. At Xaverian, he was appointed to create and implement a music program, which ultimately yielded 19 performing groups and accompanying AP theory and technology courses. During his tenure at Xaverian, his groups have played twice at the White House, three times at the National Gallery of Art in Washington, D.C., several times at Madison Square Garden, the Barclays Center, at the Hammerstein Ballroom, and for Pope Benedict XVI's arrival in New York in 2008. He is also responsible for creating the "B" Bridges Program, a musical exchange program between Japan and the United States.
Loposky is active as a freelance musician in and around the New York area, having played with the New York Choral Society Orchestra, the Metropolitan Opera Trumpet Ensemble, and the Staten Island Chamber Players, among others. He can also be heard performing on Brooklyn and Staten Island public television, on MTV with the rock band The Fleshtones, and on Mexico National Television. He has recorded on the Trafalgar, Itchibon, Ace, and MCA labels with various groups. Locally, he was the trumpet instructor at Brooklyn College's Preparatory Center for Performing Arts and has held the position of executive director of the Sunset Park School of Music. He currently holds the position of principal trumpet in the Staten Island Philharmonic and the Metro Chamber Orchestra of New York.