Karl Kramer-Johansen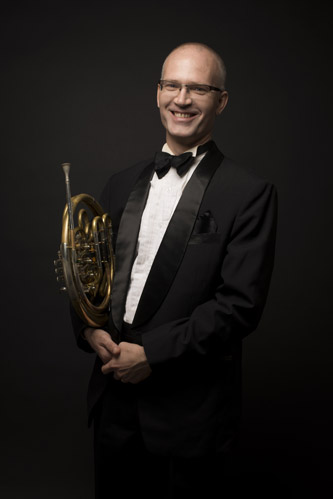 Adjunct Assistant Professor, French Horn
Norwegian horn player Karl Kramer-Johansen is a much sought-after chamber musician, soloist, and recitalist. As a member of the Jupiter Symphony Chamber Players and the Dorian Wind Quintet, he performs regularly in New York City as well as touring across the country. A champion of new music, Kramer-Johansen is a member of Ensemble PI, and a guest with Parnassus, Sequitur and Argento. He has premiered works by Marc-Antonio Consoli, Kile Smith, Wolfgang Plagge, Eric Moe, Billy Childs, David del Tredici, Amanda Harberg, and others. As principal horn of the Jupiter Symphony for four seasons, he soloed in the well-known concerti by Strauss and Mozart as well as in rarities by Dubois, Reinecke, Chabrier, and Saint-Saëns. His most recent solo engagements include Mozart concerti in Moscow, Schumann's Konzertstück in New Jersey and Tennessee (first horn part), Strauss' Second Concerto in New York City, Bozza's En Foret with Rowan University Wind Ensemble (in his own orchestration), and Ligeti's Hamburgisches Konzert in Norway. He is a winner of many prizes and awards, including the American Horn Competition (twice), the George and Elizabeth Gregory Award for Excellence in Performance, and the American Scandinavian Society Cultural Award, as well as a 2010 working grant from the Northern Manhattan Arts Alliance. He has appeared as guest principal horn with orchestras across the world, including St. Paul Chamber Orchestra, Bergen Philharmonic, Munich Philharmonic, Norwegian Opera Orchestra, New York Pops, New Jersey Symphony, Orchestra of St. Luke's, Orpheus Chamber Orchestra, Chattanooga Symphony, and others.
Kramer-Johansen is active as a lecturer, conductor, and composer. In June 2010, he conducted the world premiere of John Eaton's opera Benjamin Button at Manhattan's Symphony Space, and, as music director for the Pocket Opera Players, he has lead world premieres of four operas as well as several cantatas and song cycles in New York City. For three seasons he has been composer-in-residence for Concerts in the Heights, the chamber music series in upper Manhattan/Bronx. He has recorded chamber music for the Philips, Summit, Aurora, and Polygram labels as well as for several major motion picture soundtracks. In addition to giving masterclasses worldwide, he was a faculty member at Rowan University in New Jersey, the University of Tennessee, and the University of Akron as well as at the International Festival-Institute at Round Top, Texas; Siena Summer Music in Siena, Italy; and the Chamber Music Conference at Bennington, Vermont.
Of his performances, The New York Times has said, "a perilously chromatic horn-line, played beautifully here by Karl Kramer" and "horn-lines played with a rich tone by Karl Kramer." The New York Times wrote of his performance of Milton Babbitt's Around the Horn,  "…is essentially a stand-up routine for a virtuoso soloist, excellently communicated by Karl Kramer." Leading Norwegian paper Verdens Gang wrote of his performance of Ligeti's concerto, "Especially impressive was the soloist Karl Kramer." Harry Rolnick (ConcertoNet.com) recently called him "one of the world's great horn players."
Other Links: