Keith Bonner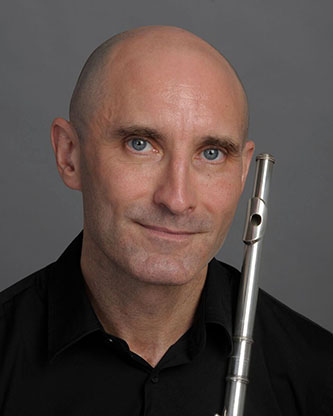 Adjunct Assistant Professor, Flute Studies
Flutist Keith Bonner has performed in a wide variety of ensembles, ranging from symphony and opera orchestras to chamber ensembles and Broadway pits, as well as groups assembled for movie and television soundtracks. 
Bonner is currently principal flute of the Riverside Symphony as well as flutist with the Borealis Wind Quintet. He has performed with both the New Jersey and Stamford Symphony Orchestras as well as the Orchestra of St. Luke's, New York City Ballet Orchestra, American Symphony Orchestra, and New York Symphonic Ensemble. Other positions have included principal flute with the Sarasota Opera Orchestra and the Ashlawn-Highland Opera Festival. As soloist, he has performed concertos by Nielsen, Gluck, Teleman, Bach, Doppler, and Mozart with various orchestras in the New York metropolitan area and across Japan with the New York Symphonic Ensemble. Bonner has also performed much chamber music for flute with the Lenape Chamber Ensemble, Carolina Chamber Music Festival, and Wind Soloists of New York, and on the St. Alban's Recital Series.
Bonner can be heard performing in many of the pit orchestras on Broadway. He recently completed the run of the 25th anniversary production of Les Miserables. He has traveled the country as principal flute of the National Touring Company of Andrew Lloyd Weber's Phantom of the Opera and as flute soloist during the 2005 Tim Janis Ensemble's PBS Tour of America. He can also be heard as a member of NBC's Orchestra for the live productions of The Sound of Music (2013) and Peter Pan (2014).
Bonner holds a bachelor's degree from the Manhattan School of Music and a professional studies diploma from the Cleveland Institute of Music. He is on the faculty of the Conservatory of Music of Brooklyn College, 92nd Street Y, and Special Music School in NYC. He was a board member of the New York Flute Club from 2006 until 2012.