Marina Rosenfeld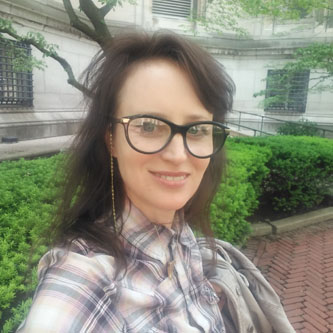 Adjunct Professor, Sonic Arts
Marina Rosenfeld is a composer and artist based in New York. Her works have been presented by institutions including the Park Avenue Armory, the Museum of Modern Art, the Guggenheim Museum, The Kitchen, the Stedelijk Museum, the Serralves Foundation, the Tate Modern, the Secession, and the Arnold Schönberg Center; festivals including Wien Modern, Ultima, Borealis, and the Holland Festival; the Whitney, Montreal, PERFORMA, and Liverpool biennials; and many others. During 2017 she has had solo exhibitions at Portikus (Frankfurt) and the Bard Center for Curatorial Studies/Hessel Museum, and created new sound works for documenta 14 (Kassel and Athens) and Donaueschingen Musiktage.
Rosenfeld also performs frequently as a turntablist, alongside collaborators from Christian Marclay to Warrior Queen, and has created music for the Merce Cunningham Dance Company (2004-08) and choreographers Ralph Lemon (2014-15) and Maria Hassabi (2016-17). Her awards include a Foundation for Contemporary Arts Grant to Artists award and honors from Ars Electronica and the New York Foundation for the Arts, among others. Rosenfeld has been a faculty member of the Milton Avery School of the Arts at Bard College since 2005, and has co-chaired its department of Music/Sound since 2007.
More information at www.marinarosenfeld.com.