Sibylle Johner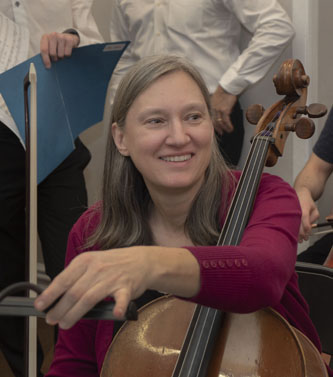 Adjunct Assistant Professor, Violoncello
Sibylle Johner, conductor and cellist, has performed extensively throughout North America and Europe (often as a member of the Damocles Trio). The Swiss Landbote wrote, "Whenever her eloquent cello spoke, one would suddenly pay attention, and immediately it became clear that a true artist was at work on this instrument."
Johner taught and performed at the Summer Chamber Music Institute at Ohio Wesleyan University. She taught at Third Street from 1994 to 2014 and served as chair of the string department from 2000 to 2007. From 2005 to 2014, she conducted the Third Street Philharmonia orchestra. In 2012, she joined the faculty of the Brooklyn Waldorf School as conductor and director of the music program; since 2014, she has been the director and conductor of the orchestra program at The Chamber Music Center of New York, as well.
For the past 27 years, Johner has taught students from the ages of three to 80 in every kind of setting: group classes, chamber music, string orchestra, symphonic orchestra, and one-on-one lessons. She works with a flexible approach tailored to the needs and abilities of each student or group. She believes students and teachers embark on a journey of learning together where both benefit and enjoy the music along the way while striving for the greatest depth possible. Her cello students have been accepted to institutions such as The Juilliard School, Eastman School of Music, Oberlin Conservatory, Michigan University, Manhattan School of Music, Berkley School of Music, Yale University, Wheaton College, Aspen Music Festival, Tanglewood Music Center, and The Juilliard School Pre-College.
Johner has studied music in Germany and Switzerland, at Drake and Rutgers universities, and at The Juilliard School, where she was awarded a doctor of musical arts degree. Among her teachers have been Rudolf Baumberger, Bernard Greenhouse, Stefan Kartman, Harvey Shapiro, and Jeffrey Milarsky.
Two critically acclaimed recordings are available on Claves Records, one of Turina's complete piano trios and quartet and the other Trios Brasileiros. A recording of Linda Dusman's Diverging Flints was released in 2012, and Johner can also be heard in the Naxos recording MONTSALVATGE, X.: Complete Violin and Piano Works/ Piano Trio.
A live performance of Shostakovich's Chamber Symphony, op. 110, performed by CMC Summer 2015 Program participants and conducted by Johner, was aired on WQXR's Young Artists Showcase on November 11, 2015. Other chamber music performances can be found on YouTube.