Stephanie Griffin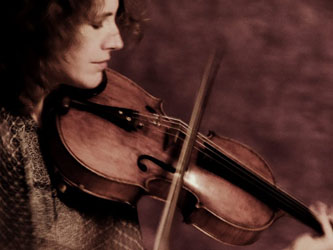 Adjunct Assistant Professor, Viola
Acclaimed by The New York Times for her "fiery, full-throttle performance" and "virtuoso flair," Stephanie Griffin has performed internationally as a soloist and a chamber musician. Her greatest commitment is to the music of Indonesian composer Tony Prabowo, with whom she has collaborated since 1997. As a soloist, she has worked closely with a wide variety of composers, among them Kee Yong Chong, Matthew Greenbaum, Arthur Kampela, Ursula Mamlok and Tristan Murail.
Griffin is a founding member of the Momenta Quartet, with whom she has performed more than 40 world premieres in four years and given concerts and workshops at some of America's leading academic institutions. She is also regular guest with Continuum, and member of Argento, Transfiguration, String Orchestra of New York City (SONYC), the Riverside Symphony and the Princeton Symphony, where she serves as principal violist. An active improviser, she has worked with traditional Indonesian musicians and free jazz legend Butch Morris and performs regularly with Carl Maguire's avant-jazz band Floriculture, whose new record will come out on Firehouse 12 next season.
Griffin has recorded for Aeon, Koch, Arte Nova, Centaur, Harmolodic, Siam Records and Aksara, an independent Indonesian label. She studied viola with William Gordon, Paul DeClerck, Wayne Brooks and Samuel Rhodes and holds a doctor of musical arts degree from The Juilliard School.