Professor Emeritus Douglas Hedwig, longtime faculty member, head of the Brass Department and director of the Brooklyn College Brass Ensemble, officially begins his retirement from Brooklyn College on Sept. 1, 2012.
/web/aca_visualmedia_music/FERMATA_Fall2012_Hedwig_94x60.jpg
A Special Message from Professor Emeritus Douglas Hedwig
Aug. 22, 2012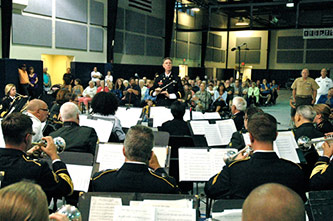 Professor Hedwig sends along the following bulletin:
Dear Friends,
I am pleased to inform you that I soon will be guest-conducting the United States Military Academy Band (the "West Point Band") in the world-premiere performance of my new musical composition, "Tone Poem on Taps." Attendance is free-of-charge, and I would like to invite everyone to attend!
This outdoor concert will take place at Trophy Point at West Point on Sunday, Sept. 2 (rain date: Monday, Sept. 3). The concert band performance (during which I will conduct my piece) is scheduled to commence at 8 p.m., but may start at early as 7:30 p.m. (depending on weather). The two pre-concert performances by the U.S. Army Field Music unit (bugles and drums) and by the jazz band the Jazz Knights will commence at 6 p.m. All audience attending are expected to provide their own portable chairs and/or blankets, as limited fixed seating is reserved for the Corps of Cadets at West Point.
Although there is plenty of space available, more than 10,000 people are expected to attend this concert, which includes a fireworks show at the conclusion of the performance. So, if you intend to come, plan to arrive early if you want to get close to the stage. You might even want to bring a picnic!
For concert information, cancellations and updates, call 845.938.2617 or visit the West Point Band website. Further information is available from the press release.
Information on "Tone Poem on Taps"
I composed "Tone Poem on Taps" in honor of the 150th Anniversary of the creation of America's most famous bugle call, "Taps," which was composed during the Civil War (June 1862) by New York Brigadier General Daniel Butterfield. General Butterfield is buried at West Point, and so it is altogether fitting that the premiere of this new work take place at West Point, performed by one of the finest musical organizations in the world — the United States Army Band at West Point.
Hope to see you there!
Douglas F. Hedwig, D.M.A.
Professor Emeritus
Brooklyn College, City University of New York
Major Douglas F. Hedwig
Commander and Conductor
89th Army Band, New York Guard
Back to Fermata - Fall 2012