After nationwide search, Arturo is the one!
http://www.brooklyn.cuny.edu/web/new_2016news/Arturo_OFarrill3.jpg
Arturo O'Farrill is the New Director of Jazz Ensembles
April 25, 2014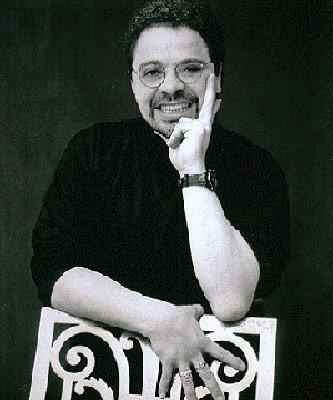 The Conservatory of Music is proud to announce that renowned Latin/Jazz pianist/bandleader Arturo O'Farrill has officially joined our faculty as the director of jazz ensembles, a position he has held until now on an interim basis following the departure of his predecessor, Salim Washington. O'Farrill has already infused our jazz ensembles with an enthusiasm and excitement that portends great things to come now that he has been given the permanent position. Chair Bruce MacIntyre made the announcement following an intensive nationwide search that produced a number of stellar candidates competing for the post:
"I am very happy to confirm now (at last!) that the work of our Jazz Search Committee has indeed been completed. I am thrilled to announce that Arturo O'Farrill has accepted the position of assistant professor in our department. Please help me thank all our colleagues in the Search Committee (Ray Allen, David Grubbs, Marianne Gythfeldt and Ursula Oppens) who joined me in the enlightening and thought-provoking process of reviewing, interviewing and observing the candidates. Arturo, we all look forward with great pleasure to having you join our official ranks and help us reinvigorate what we do here!"
Arturo O'Farrill
Arturo O'Farrill is a world-renowned, Grammy Award–winning pianist, composer and educator. In 2002 he created the Afro Latin Jazz Orchestra (ALJO) in order to bring the vital musical traditions of Afro Latin jazz to a wider general audience, and in order to greatly expand the contemporary Latin jazz big band repertoire through commissions to jazz and Latin jazz artists across a wide stylistic and geographical range. O'Farrill was born in Mexico and grew up in New York City, educated at the Manhattan School of Music, Brooklyn College Conservatory (from which he received the Distinguished Alumnus Medal), and the Aaron Copland School of Music at Queens College. He played piano with the Carla Bley Big Band from 1979 through 1983, then went on to develop as a solo performer with diverse, distinguished artists including Dizzy Gillespie, Lester Bowie, Wynton Marsalis and Harry Belafonte. O'Farrill has performed throughout the world both as a solo artist and with his smaller musical groups. He has recorded numerous CDs, several of them Grammy nominees, and on the soundtracks of two critically acclaimed films, Calle 54 and Chico and Rita. He and the ALJO received the 2008 Grammy for Best Latin Jazz Album album for Song for Chico, released on the ZOHO label. They were again jointly nominated for Best Large Jazz Ensemble Album in 2011 for 40 Acres and a Burro, also released on ZOHO. A celebrated composer with a frequent new ground-breaking and forward-looking perspective, O'Farrill has received commissions from Meet the Composer, the Big Apple Circus, the Philadelphia Music Project, Symphony Space and the Bronx Museum of the Arts. He has also composed music for films, including Hollywoodland and Salud. In 2007, O'Farrill established the nonprofit Afro Latin Jazz Alliance (ALJA) as a new institutional support for the orchestra with a yet more ambitious agenda. The mission of the alliance is to promote Afro Latin Jazz through a comprehensive array of performance and educational programs. O'Farrill is a Steinway Artist. He has taught at several institutions of higher education, including The Juilliard School, Queensborough Community College, University of Massachusetts at Amherst, The New School, SUNY-Purchase and Manhattan School of Music. He is currently an assistant professor in music at Brooklyn College.
Back to Fermata – Spring 2014