The exquisite Manhattan-based orchestra presents three 20th-century masterworks by Romanian-French composer Marius Constant
/web/aca_visualmedia_music/FERMATA_Fall2014_GeorgeRothman_94x84.jpg
Professor George Rothman and Riverside Symphony Release Seventh CD
October 9, 2014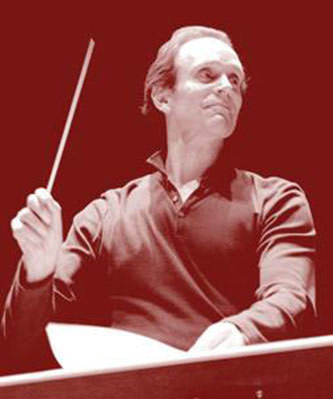 Press Release:
Riverside Symphony to Release Its Seventh CD: Three 20th-century Masterworks by Romanian-French Composer Marius Constant
Riverside Symphony Records' debut release to feature the noted French violinist Olivier Charlier
Riverside Symphony announces its debut release on Riverside Symphony Records, a collection of three major orchestral works by the late Romanian-French master Marius Constant. Under the direction of Music Director George Rothman, the orchestra performs three stunning works that epitomize the expressive depth, boundless imagination and sheer sonic beauty characteristic of this relatively unsung master's music: Turner, three movements each inspired by a different JMW Turner painting; Brevissima, a four-movement symphonic argument compressed into nine riveting minutes; and 103 Regards dans l'eau, a 30+ minute violin concerto comprising 103 vignettes inspired by poetic and philosophic observations of water and organized into four cohesive movements.
Widely known — if not by name — as the composer of The Twilight Zone's famed signature theme, Marius Constant emigrated to Paris from Bucharest in 1945 and became an important fixture in that city's musical life. He served as Roland Petit's Music Director at the Ballets de Paris for over 10 years and was in constant demand as a composer, conductor and teacher for the following 50+ years. Not unlike his close friend Henri Dutilleux, Constant, though by no means a reactionary, was overshadowed internationally by the ascent of the avant-garde, as exemplified by Pierre Boulez. In an 11-minute video feature (included on the CD), Riverside Symphony directors George Rothman and Anthony Korf explain their discovery of Constant's music and make a case for the composer's renewed legacy.
From The New York Times to Gramophone magazine to Fanfare, Riverside Symphony's past releases have been recognized by the international press with "Critic's Choices" and numerous accolades. The orchestra's Bridge Records CD devoted to Andrew Imbrie was nominated for a 2000 Grammy in the category of Best Classical Contemporary Composition.
Olivier Charlier is internationally recognized as an important representative of the French school of violin playing, joining such artists as Jacques Thibaud, Ginette Neveu and Christian Ferras. Showing precocious talent, he graduated with a Premier Prix from the Paris Conservatoire (CNSM) at the age of 14, then won acclaim at international competitions, including Munich, Montreal, Helsinki, Paris, Indianapolis and New York. Nadia Boulanger, Yehudi Menuhin and Henryk Szeryng are among the musical figures who encouraged the young musician early in his career. Charlier has performed with nearly 50 different French orchestras as well as with major orchestras around the world. His active recording career reflects his eclecticism; it includes violin concertos by Dutilleux, Lalo, Gregson and Gerard Schurmann as well as Mendelssohn and Saint-Saëns.
George Rothman, Music Director of Riverside Symphony since its inception, has guest conducted throughout the Far East, Europe, South America and the United States. He has led world and New York premieres of major American and European contemporary composers at Lincoln Center while championing emerging composers on an international scale through readings, workshops and recordings. In addition to the standard repertory, he has focused on lesser-known works by noted composers from all periods, ranging from the Baroque era to 20th-century masters, and has presented New York premiere performances of works by Prokofiev, Ravel and others.
A native New Yorker, Rothman trained at the Manhattan School of Music, The Juilliard School, Queens College's Aaron Copland School of Music, and, as a scholarship student, at Tanglewood Music Center, where he studied with Leonard Bernstein and Seiji Ozawa. Currently a member of Brooklyn College's Conservatory of Music faculty, where he serves as music director and conductor of the Conservatory Orchestra, his prior academic affiliations include Columbia and Yale Universities.
Riverside Symphony, co-founded in 1981 by Rothman and Anthony Korf, has been widely noted for its unique focus on discovery — discovery of young artists, unfamiliar works by the great masters, and important new pieces by living composers from around the world, for which it provides a rare forum at its annual Lincoln Center concert series at Alice Tully Hall. Critically acclaimed for its vibrant performances of music from all periods, the orchestra counts New York's finest instrumentalists among its membership.
Riverside Symphony CDs have brought international acclaim, including a Grammy nomination and Editor's Pick from Great Britain's Gramophone and The New York Times. The orchestra can be heard on Bridge Records (9057 Ruders; 9091 Imbrie; 9112 Davidovsky; 9294 Korf) and New World Records (383 Davidovsky, Korf, Wright).
Back to Fermata – Fall 2014