The Conservatory Says Goodbye to Two Family Members: Prof. Emeritus Dorothy Klotzman and Graduate Student Daniel Filstrup
/web/new_2016news/Dorothy_Klotzman_BW_(3).jpg
Obituaries
Jan. 2, 2015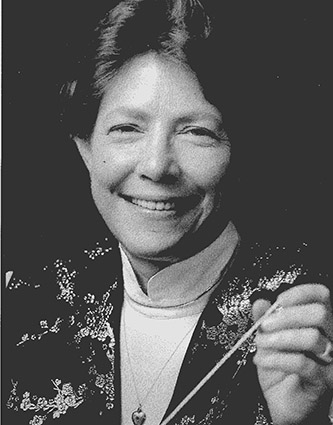 The end of 2014 brought some sad news as we learned that we had lost two members of the conservatory family: Professor Emerita Dorothy Klotzman and current graduate student, trumpeter Daniel Filstrup.
Dorothy Hill Klotzman
We were saddened to learn that Professor Emerita and former Director of the Conservatory of Music Dorothy Klotzman, 77, died on Dec. 6, 2014, in Seattle. A distinguished American conductor, composer and educator, Klotzman was professor of music at Brooklyn College, where she taught music (1962–89) and served as the chairman/director of the college's Conservatory of Music (1972–89) and executive director of performing arts for BCBC (1989–92). Under Klotzman's inspired and astute leadership, the Department of Music hired many superb performance faculty (including Itzhak Perlman, Agustin Anievas and Tania León, among many others), raised its standards and, in 1981, was renamed as the college's Conservatory of Music, when Brooklyn College President Robert Hess named her its first director. Under her guidance, the Brooklyn College Preparatory Center for the Arts was founded in 1978. As the conductor of the Conservatory Orchestra, she was musical director for the Brooklyn College Opera Theater, including the gala 200th-anniversary production of Mozart's Don Giovanni in 1987.
Klotzman was the first woman to conduct the famed Goldman Band, one of New York's oldest and most revered musical organizations from 1918 until its demise in 2005. She led this group in numerous concerts at Lincoln Center and throughout the greater metropolitan area. In addition, she conducted other ensembles in the United States, Romania, Hungary, South Korea and the Republic of China (Taiwan).
Born in Seattle, Klotzman crossed the continent to study at New York's High School of Music and Art and continued her musical education at the world-renowned Juilliard School, where she earned B.S. and M.S. degrees in music composition. Her principal teachers were William Bergsma and Vincent Persichetti; as a graduate student, she was assistant to Richard Franko Goldman. At the Aspen School of Music in Colorado she was a student of Darius Milhaud.
In 1970, while active as a clarinetist, she expanded her interest in the symphonic wind ensemble repertoire by founding the Brooklyn College Symphonic Band. Now called the Conservatory Wind Ensemble, it was and remains noted for its diverse repertory, performances of contemporary music and world premiere performances of pieces commissioned by Klotzman and the conservatory.
Dorothy Klotzman was the recipient of numerous awards and prizes for her work as a musician and educator, including the Harbison Award for gifted teaching from the Danforth Foundation. In 1980, the Institute for Studies in American Music (now the Hitchcock Institute) at Brooklyn College published her edition of Richard Franko Goldman: Selected Essays and Reviews, 1948–1968. Klotzman's symphonic band arrangements have been in the active repertory of the Goldman Band and were recorded. Her compositions were published by Mercury Music.
After her retirement from Brooklyn College, Klotzman lived in Seattle, where in 1997 she became a co-founder of the Academy of Music Northwest.
New Scholarship in Professor Klotzman's Memory
The Conservatory of Music has established the Dorothy Hill Klotzman Scholarship in Music in memory of the conservatory's founding director, composer-conductor Dorothy Klotzman (1937–2014). This scholarship will be awarded to a currently matriculated music major who exhibits extraordinary gifts in the performance or composition area and who also has demonstrated outstanding leadership potential in the field of music. Donations to this scholarship should be sent to the attention of Bruce MacIntyre, Director, Conservatory of Music, Brooklyn College, with checks made out to:  Brooklyn College Foundation (with D. Klotzman Music Scholarship on the memo line).
Since Klotzman began the earliest efforts to increase and improve conservatory spaces, the department expects to further honor her service with a memorial event during the opening of the new Leonard & Claire Tow Center for the Performing Arts in 2016–17. 
Daniel Filstrup
The conservatory was deeply saddened to learn that its current music education student Daniel Filstrup, 38, died on Dec. 4, 2014, after a recent illness. A double major in performance and music education, he was on the verge of completing his final courses for certification as a K–12 music teacher in New York State. From 2009 to 2011, Filstrup studied trumpet with professors Douglas Hedwig and Kyle Resnick; he presented his conservatory-approved recital in fall 2011.
Filstrup was born on Oct. 15, 1976, in Peoria, Ill., and was raised in Concord, Calif. From an early age, he played trumpet, including performances with the Diablo Valley High School marching band as well as multiple jazz ensembles and salsa orchestras. Before coming to Brooklyn College in fall 2007, he completed his associate in arts at Contra Costa College in San Pablo, Calif. (June 1998) and also took courses in jazz at William Paterson College in New Jersey. At Brooklyn College he played trumpet in Wind Ensemble (under Professor Emily Moss), Brass Ensemble (under Professor Hedwig), and Orchestra (under Professor George Rothman). He took music education courses with professors Brian Abrams, Riki Braunstein, Donald Christensen, Emily Moss and Brian Willson.
Filstrup was a dedicated, helpful, spontaneous and compassionate musician in all his performance and educational work. The children he taught were deeply inspired to learn from all he offered. Among many other things, he will be remembered for his creativity, his generosity in sharing his knowledge, his love of cooking and cats, and a boundless sense of humor.
On Dec. 29, 2014, his widow, Adriana Filstrup, led a beautiful memorial in Studio 312 that brought together several of his friends who gave moving eulogies to the many genuine gifts and talents that Dan exhibited for them.
Back to Fermata — Fall 2014