Jazz Director's 2014 Release, "The Offense of the Drum," wins the award for Best Latin-Jazz Album at the 57th annual Grammy Awards
/web/new_2016news/Arturo_ArticleTeaser.jpg
Arturo O'Farrill Brings Home the Grammy!
February 9, 2015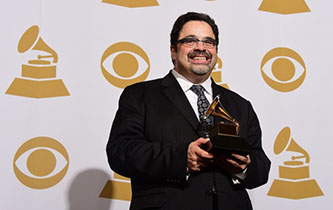 It was a momentous night for Arturo O'Farrill and his Afro Latin Jazz Orchestra as their 2014 release The Offense of the Drum won the award for Best Latin Jazz Album at the 57th annual Grammy Awards on Sunday, Feb. 8, 2015, in Los Angeles. The Conservatory and Brooklyn College are thrilled and proud that one of our faculty should receive so prestigious an honor and wish him our heartfelt congratulations.
NY1 had just recently taped an interview with Arturo, profiling him and his work at Brooklyn College: One on 1 Profile: Grammy-Winning Musician Arturo O'Farrill Builds a Bridge to Cuba, by Budd Mishkin.
Back to Fermata — Spring 2015