Prof. Lewis' Ravel Seminar class and other Conservatory students produce a concert of the composer's ouervre along with a Ravel-inspired original work
/web/new_2016news/ravel_teaser.jpg
Conservatory Students Present All-Ravel Concert to Conclude Eventful Semester
May 27, 2015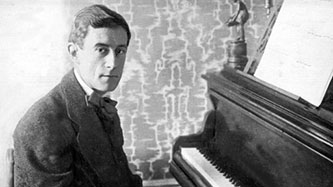 On Monday, May 18, just as Finals Week was swinging into gear to conclude what has been a most eventful semester — what with 40 student degree recitals on top of our usual busy ensemble season — students from Professor Alexie Lewis' Ravel Seminar produced an evening showcasing the composer's work, which managed to incorporate pieces that numerous other conservatory students had been working on over the course of the term. It should not be forgotten that the first spring orchestra concert featured Ravel's Ma mère l'oye, and so it was that the concert — and the semester — concluded with a mesmerizing performance of the two-piano arrangement by graduating master's student Brian Lam and Professor Lewis. Other works featured on the program that received inspired treatments were three movements of The String Quartet in F major, played energetically by violinists Jonathan Bloomfield and Sainatee Suárez, violist Dwayne Beach and violoncellist Ansel Cohen; a scintillating Shéhérazade performed by mezzo Shawn Palmer accompanied by Matthew Lobaugh; and the chamber version of Chansons madécasses, beautifully interpreted by baritone Hasan Ozcan with flutist Eni Karahoda, cellist Cohen and pianist Evgeni Ninov. Also on the program were the early song Sainte performed by tenor Jason Lim with pianist Emily Wong, and Lam's eloquent interpretation of the gorgeous Jeux d'eau. In an interesting twist, the concert also featured the full-length premiere of conservatory composer Alex Eisenhauer's new work, From: Footage of Lovebirds, which Alex describes as having been inspired by Ravelian techniques and which found a comfortable niche among the composer's later works. It received a dynamic performance from violinist Adam von Housen, Karahoda, clarinetist Matthew Siringo, Cohen and pianist Kyungmin Kim.
Professor Lewis has written of the evening:
"Dear Colleagues,
I am writing to let you know about a wonderful concert that took place last week featuring our conservatory students (and I even got a chance to play). As a grand finale for the Ravel seminar I led this semester, we mounted an all-Ravel program that included major instrumental and vocal works as well as a world premiere by Alex Eisenhauer (the single exception to our theme). Alex wrote a special chamber piece that drew upon Ravelian devices and gestures but, in the end, sounded completely Eisenhauer. The music-making was of a high level and, given the difficulty of performing anything that Ravel wrote, this was quite an accomplishment. The entire concert proved an extremely satisfying experience and finale to the semester for all and showed off the conservatory's talent in a most favorable light. Please look for an excerpt from the concert on our website."
The concert, which ran just under two hours, was an inspiring and satisfying finale to a full school year and allowed the students an opportunity to truly shine.
Back to Fermata — Spring 2015