O'Farrill is honored guest at opening of U.S. Embassy in Havana on August 14
/web/new_2016news/Cuba_Trip_2015_teaser.jpg
Tania León, Arturo O'Farrill, and BC Administration Travel to Cuba
August 13, 2015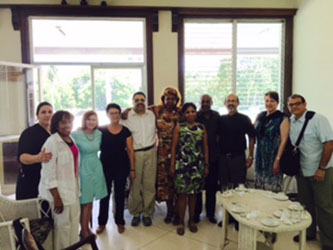 On a recent trip to Cuba in the wake of thawing relations between the United States and that country, a historic meeting was held between representatives of Brooklyn College (including President Karen Gould, Dean Maria Conelli of the School of Visual, Media and Performing Arts, composer Tania León and Director of Jazz Studies Arturo O'Farrill) and the Instituto Superior De Los Artes, the premier conservatory for the arts in Cuba.  Discussions were held to enter into an exchange program between the two schools. The Brooklyn College party was also treated to a tour of the facility as well as a student concert, and was in attendance when Professor O'Farrill gave a concert for the Cubadisco Conference, at which he also received The Cubadisco award for Best International Recording for the Offense of the Drum, which recently won a Grammy.
O'Farrill was subsequently invited by the U.S. State Department to attend the official opening of the U.S. Embassy in Havana on Friday, August 14, as an honored guest.
Pictured from left to right: unidentified ISA faculty member, Distinguished Professor Tania León, President Gould, Dean of International Relations ISA, Arturo O'Farrill, Dean of the Arts ISA, Afro Latin Jazz Alliance Executive Director Marietta Ulacia, President of the Institute for Cuban Music Orlando Vistell, Dean Maria Conelli, President of ISA.

Back to Fermata – Spring 2018