More accolades for dynamic pianist and Advanced Diploma candidate
/web/FAN_Official_Photo_teaser.jpg
Chen-Shen Fan
January 11, 2019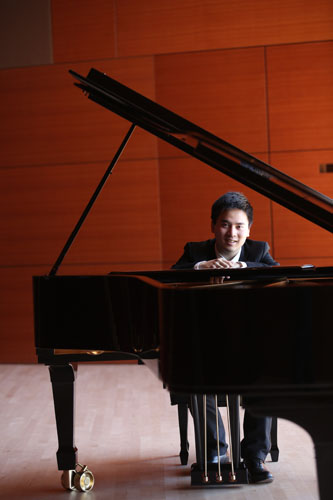 Pianist and Advanced Diploma candidate Chen-Shen Fan, who currently studies with Ursula Oppens at the Conservatory of Music, has been accumulating numerous international accomplishments and accolades over the past year, having received much support and recognition from educational institutions, piano competitions, and music festivals:
December 2017: Musician career lecture and solo piano recital at the Department of Music of the Tainan National University of the Arts in Taiwan.
January 2018: Piano Recital at Steinway Piano Gallery in Paramus, New Jersey.
February 2018: Winner and Outstanding Performance in Bach Award of The 7th Metropolitan International Piano Competition. Winner of the 2018 Brooklyn College Concerto Competition.
March 2018: Semi-finalist of the 2018 Dallas International Piano Competition.
April 2018: Third Prize Winner of the 2018 Pittsburgh International Piano Competition with Invitation to perform at Carnegie Hall in July 2018. Beethoven Piano Concerto in B-flat major appearance with Brooklyn College's Conservatory Orchestra led by Maestro George Rothman.
May 2018: Full-scholarship recipient of the 2018 Art of the Piano festival in Cincinnati. Piano Recital at the Conservatory of Music of Brooklyn College.
June 2018: Enlight Prize Winner presented by the 2018 Art of the Piano festival. Adjudication at the Chung-Hsin Junior High School Piano Jury in Taiwan.
July 2018: Associate Faculty and Piano Program Coordinator at the Amalfi Coast Music and Arts Festival in Italy. Joint recital with Professor Wei-Lung Li from Tainan National University of the Arts and Professor James Giles from Northwestern University in Italy.
October 2018: 8th Annual Franz Liszt Birthday Gala Concert on October 27 at Nichols Concert Hall. For more information on the concert, follow this link and see the article in the Chicago Tribune. The performance is here and here.
Chen-Shen writes that the American Liszt Society Chicago/Midwest Chapter is currently working with WFMT, the leading classical broadcast station in Chicago, to feature his Liszt performance.
Back to Fermata – Spring 2018