Noted Clarinetist and Faculty Member Succumbs to Parkinson's and COVID-19; Prominent Voice Faculty Member Lost
/web/Paul_Shelden1.jpg
Faculty Obituaries
April 22, 2020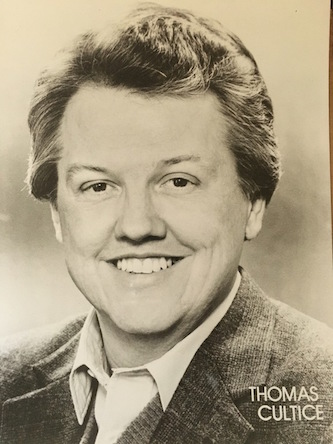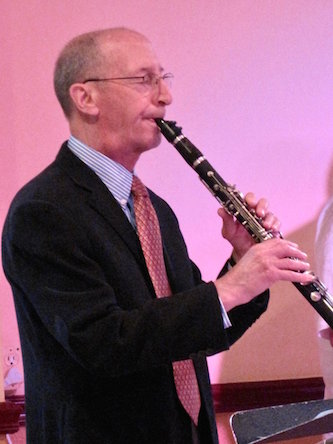 Thomas Cultice, voice
We just learned of the recent death of Adjunct Professor Thomas Cultice, a longtime member of the Conservatory's noted voice faculty. His obituary reads:
"Tommy Gordon Cultice, son of Gordon and Lenora Cultice, was born in South Bend, IN on May 4, 1939 and lived in Culver, IN. While Tom was very young, his family moved from Culver following Gordon who was in the military. The family did return to Indiana though where Tom went through public school with a strong interest in music. He played trombone in the high school marching band, studied piano and voice privately, enjoyed custom cars and worked at the Culver Military Academy during the summers.
"Tom attended the University of Michigan where he earned a BS in Music and met his wife Theora Mae Disher of Ohio who was working on her Master's Degree. Both being musicians, after graduation they decided to move to Eau Claire, WI, take jobs in the university music department, start a family and David, Daniel and Nathan were born.
"Tom then set his sights on New York City where his dream of singing on the stages of Lincoln Center and establishing his own private voice studio waited. After moving the family to White Plains, NY, in 1974, he realized his dream of singing in major opera houses, teaching award winning talent and running opera programs in multiple countries.
"After losing his son David in 1999, Thomas focused on his adjunct professor status at both Mannas School of Music and the Brooklyn College Conservatory of Music ultimately retiring at the family home in White Plains, NY with his wife Theora.
"Thomas passed away quietly at home and is survived by his wife Theora of White Plains, New York, and his sons, Daniel of Pleasantville, New York and Nathan of Santa Barbara, California. He will be greatly missed."
His immense contributions to the vocal program will be fondly remembered.
Paul Shelden, clarinet
Professor Emeritus Bruce MacIntyre wrote us to inform us of the sad passing of our fondly remembered colleague, Dr. Paul Shelden:
"I am sorry to report that, on April 17, 2020, Dr. Paul M. Shelden, 79, passed away after a long battle with Parkinson's disease, recently complicated by a fractured hip and the Covid-19 virus. Paul was a gifted and respected clarinetist, saxophonist, flutist, conductor, arranger, and educator. 
"As Professor of Music, he taught for 34 years at the Conservatory of Music at Brooklyn College (CUNY), where he also served as Director of Music in its former School of General Studies (SGS) in the 1970s, as well as later as Assistant Director for Graduate Music (1989-98), and as the college's Assistant Dean for Research and Graduate Studies (1998-2006).  During the 1970s-90s Dr. Shelden directed the Brooklyn College Wind Ensemble and founded the Conservatory's Clarinet Quartet.  He received his B.S. and M.S. degrees in clarinet performance from The Juilliard School, where he was a scholarship student of Arthur Christmann and Joseph Allard.  He received his D.M.A. from the University of Maryland at College Park.  
"Cited as a 'strong stage personality' by Backstage Magazine, Paul performed premieres of works by Hindemith, Aitken, Etler, Starer, Erb, Brown, Zukofsky, and others – with many of the works expressly written for him.  He also appeared in orchestras for many Broadway shows and played in many well-known chamber music groups and regional orchestras.  
"Dr. Shelden was a respected educator, appearing as adjudicator and clinician throughout the U.S. and giving woodwind master classes and workshops in both the U.S. and Canada every spring.  He participated in many outstanding commercially released recordings and published articles for professional and academic journals.  In recent years, Dr. Shelden had founded and developed the highly regarded Diplomatte Musical Instruments (www.diplomattemusic.com).   As a conductor-musicologist, he will be long remembered for his good humor, his caring teaching, and his excellent, cogently designed wind-ensemble programs as well as his inspired, entertaining children's concerts that allowed students to come up to the podium and 'out-conduct' their teachers.  
"Donations in memory of Dr. Shelden may be sent to:   Conservatory of Music Scholarship Fund, Conservatory of Music, Brooklyn College, 2900 Bedford Avenue, Brooklyn, NY  11210 (payable to Brooklyn College Foundation, with Conservatory of Music/Shelden Scholarship Fund on memo line). For further information see  'Donations' at www.bcmusic.org.  
"Condolences may be sent to his family at the following addresses:  
Pam Shelden, 1405 Sturl Avenue, Hewlett, NY  11557 (pamshelden@gmail.com) 
Seth Shelden, 30 Greenwich Avenue, Apt. 2D, New York, NY  10011  (seth@icanw.org)     
Loren S. Napoli, 64 Grandview Avenue, White Plains, NY  10605 (lorennapoli@gmail.com)
"You may contact Boulevard-Riverside Chapels in Hewlett, NY (Tel. 516-295-3100) about plans for a possible later memorial service."
Paul will be greatly missed by all who had the pleasure to work with him and experienced his generosity.
Back to Fermata – Spring 2018