Master of Fine Arts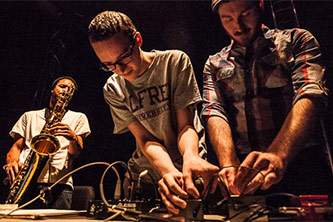 Our two new graduate composition degrees offer flexibility and artistic freedom with practical skills for employment.
Media Scoring
Composition and production of music for moving images.
Courses are held at the Barry R. Feirstein Graduate School of Cinema at Brooklyn College, located at Steiner Studios, a 15-acre fully professional, Hollywood-style media production lot.
Curriculum includes cinema, composition, conducting, technology, and music business.
Intended for students with an undergraduate degree in music composition or equivalent.
Sonic Arts
Creation of music or sound art using new technologies, from electronic improvisation to electroacoustic music, installations, sound design, and multimedia.
Courses are held at the Feirstein Graduate School of Cinema and the Brooklyn College main campus.
Curriculum is a flexible/customizable menu of courses.
The program is open to students with a bachelor's degree in music or in another subject.
For more information, visit the Brooklyn College Center for Computer Music.