Douglas Geers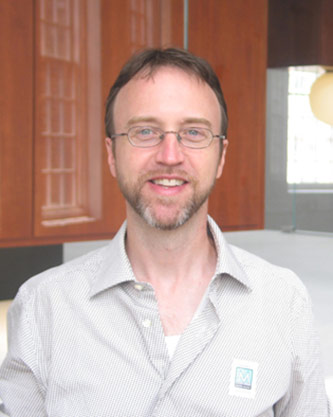 Associate Professor of Music Composition, Director of the Center for Computer Music.
Douglas Geers is a composer who works extensively with technology in composition, performance, and multimedia collaborations, focusing on creative integration of new technologies and multimedia dimensions into concert music, with a continuing emphasis on interactive electroacoustic works.
Reviewers have described Geers' music as "glitchy... keening... scrabbling... contemplative" (Steve Smith, New York Times), "kaleidoscopic" (Andrew Lindemann Malone, Washington Post), "fascinating...virtuosic...beautifully eerie" (Jim Lowe, Montpelier Times-Argus), "expertly showy" (David Cleary, New Music Connoisseur), "Powerful" (Neue Zuericher Zietung), "arresting...extraordinarily gratifying" (Dierdre Donovan, TheaterScene.net), "rhythmically complex, ominous" (Karen E. Moorman, CVNC), and have praised its "virtuosic exuberance" (Computer Music Journal) and "shimmering electronic textures" (Kyle Gann, Village Voice.)
Geers' works include Inanna, a 90-minute multimedia theater piece (2009, Zürich); an opera, Calling (2008, New York); Sweep, written for the Princeton University Laptop Orchestra (2008, Chicago); a violin concerto, Laugh Perfumes, commissioned by Festival Unicum for the RTV Orchestra of Slovenia (2006, Ljubljana); Gilgamesh, a 70-minute multimedia theatrical concerto; and numerous works of acoustic and electroacoustic concert music.
Mr. Geers' music has been performed worldwide, on concerts in North and South America, England, Ireland, Scotland, Norway, Sweden, Denmark, Finland, Belgium, France, Germany, Spain, Switzerland, Austria, Italy, Slovenia, Croatia, Greece, Romania, Singapore, Hong Kong, Korea, China, Australia, as well as TV, radio, and the Internet.
Geers' works have been played by musicians including Ensemble Fa, Speculum Musicae, Ensemble Pi, the NODUS Ensemble, The Radio-Television Orchestra of Slovenia, the Experimentalstudio des SWR, the Centre Henri Pousseur, the Princeton University Laptop Orchestra (PLOrk), the Verge Ensemble, Choral Chameleon, Sønreel, the NEXt Ens, Zeitgeist, the Electric Music Collective, Maja Cerar, Izumi Okubo, Jinsoo Lim, Lisa Bahn, Saul Bitran, Erin Lesser, Jed Distler, Esther Lamneck, Kamala Sankaram, Roland Burks, James Rollins, Shiau-uen Ding, Chihiro Shibayama, Regie Cabico, Jenna Espisito, Darryn Zimmer, Matthew Polashek, Steve Cohn, and Greg Beyer.
Geers has won numerous grants and awards, including a 2009 Bush Foundation Fellowship Finalist award, a 2008 Argossy commission award, 2007 McKnight Composer Fellowship, a 2007 Jerome Foundation Composers Commissioning Project award, a 2001 Jerome Foundation Composers Commissioning Project award, and grants from organizations including the Ditson Fund, the Roth-Thomson Foundation, the Hochscule für Musik und Theater Zürich, (Switzerland), NYSCA, Meet the Composer (now New Music USA), and the American Composers Forum.
Geers studied via full-tuition scholarships at Xavier University (B.A. in English and Music), the Cincinnati College-Conservatory of Music (Master of Music), Columbia University (Doctor of Musical Arts, 2002), and at the NoTAM Computer Music Center of the University of Oslo, Norway (research fellowship 2000-2001 via a Fulbright Foundation award.)
At Columbia University, Geers studied composition, computer music, and music theory with Tristan Murail, Fred Lerdahl, Brad Garton, and Jonathan D. Kramer. From 2002-2009 Geers taught on the faculty of the University of Minnesota, Minneapolis, and while there he founded the Spark Festival of Electronic Music and Arts, which he directed 2003-2009.
From 2009 to the present, Geers has been an Associate Professor of Music Composition at the City University of New York Graduate Center and the Conservatory of Music at Brooklyn College, where he is Director of the Center for Computer Music (www.bc-ccm.org).