Harold Jones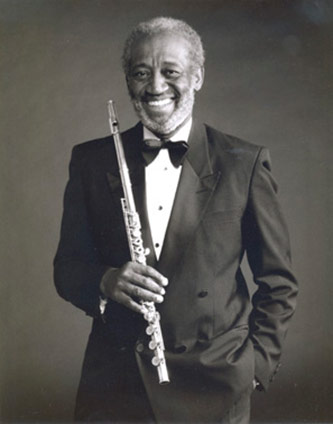 Flute.
Born in Chicago, Harold Jones began his musical education as a violin student at the age of ten, but when he heard another student play the piccolo, he decided that the flute was the instrument he wanted to play. He studied flute with David Underwood while attending DuSable High School, and later won a scholarship to Sherwood Music School in Chicago. He then became a member of the Chicago Civic Orchestra under conductor George Schick.
Mr. Jones came to New York in 1955 and was awarded a scholarship to the Juilliard School of Music, where received the "Outstanding Woodwind Player" award prior to graduation. He continued his studies with the renowned Marcel Moyse and in 1966 made his New York recital debut at Town Hall, later appearing at CAMI Hall, Carnegie Hall, Alice Tully Hall, Lincoln Center and at Jordan Hall in Boston. He has been a soloist with numerous orchestras, including The Bach Aria Orchestra, The New York Sinfonietta, American Symphony Orchestra, Brooklyn Philharmonia, National Orchestral Association, Municipal Concerts Orchestra and Symphony of the New World. He has appeared frequently with Today's Artists in New York, San Francisco and at the Yachats Music Festival in Oregon. He performs in recitals across the country as well. As a recitalist and teacher he participated in the 1988 and 1989 Manhattan School of Music International Summer Youth Festival in Taiwan. Recently, Mr. Jones was honored at a performance in Jackson, Tennessee, where he was presented with the Key to the City by the Mayor.
Mr. Jones is on the faculties of Westchester Conservatory of Music, Manhattan School of Music, the Manhattanville College, and he is a past president and a current member of the New York Flute Club. He has also collaborated with the prize winning Audobon Quartet, Fresk Quartet, internationally renowned pianist Leon Bates and guitarist Peter Segal. He recorded the Vivaldi flute concerti for the Library of Recorded Masterpieces and has four solo albums to his credit including three on Antara Records: From Back to Bazzini, Afternoon Fantasies and Let Us Break Bread Together. His most recent releases Let Us Break Bread Togther, Just As I Am and Lil Lite O'Mine are on CD.