Kyle Resnick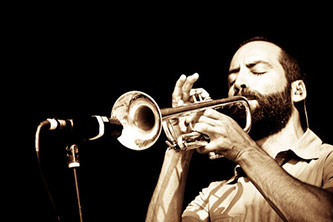 Trumpet
Kyle Resnick is a New York-based trumpet player who has a multifaceted career as a soloist, chamber musician, orchestra member, contemporary specialist, and Rock and Jazz performer, working in venues ranging from Carnegie Hall and Lincoln Center to Joe's Pub and Madison Square Garden. He has appeared with such groups as EOS Orchestra, the Orchestra of St. Luke's, American Symphony Orchestra, American Ballet Theater, The Knights, International Contemporary Ensemble, New York Virtuosi Chamber Symphony, Mark Morris Dance Group, Opera Orchestra of New York, Russian National Orchestra, League of Composers and various Broadway shows. He records and tours worldwide with the Indie-Rock bands The National, Beirut, and has recorded and toured extensively with singer/songwriter Sufjan Stevens. He has also worked with the band Spoon, and performed and recorded with The Clogs and My Brightest Diamond.
Kyle has held Principal Trumpet or Solo Cornet positions in the New York City Opera National Company, S.E.M. Ensemble, Paragon Ragtime Orchestra and the Ostravska Banda International Chamber Orchestra, among others.
He attended Indiana University, completing his Bachelor's of Music degree, studying with Bernard Adelstein and John Rommel. He received his Master's Degree in Trumpet Performance from the University of Michigan, where he studied with Charles Daval.
Kyle can also be heard on commercially available recordings of the Spoleto Festival Orchestra (on Chandos Records), the Paragon Ragtime Orchestra (Rialto and New World Records), the S.E.M. Ensemble, and the Argento Chamber Ensemble, as well as many recordings of Rock and Pop artists.
In addition to performing, Kyle enjoys teaching and is on the faculty for trumpet instruction at Brooklyn College, as well as the prestigious St. Ann's School.
Kyle currently resides in Brooklyn, New York.