Ursula Oppens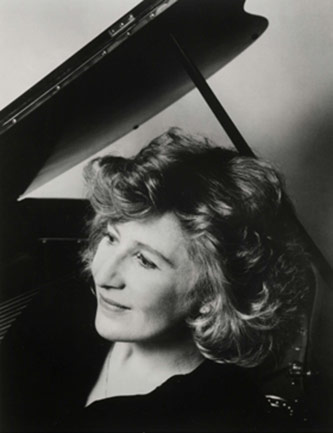 Distinguished Professor, Piano.
Ursula Oppens has long been recognized as the leading champion of contemporary American piano music. In addition her original and perceptive readings of other music, old and new, have earned her a place among the elect of today's performing musicians.
During the 2012-2013 season Ms. Oppens performed at Carnegie Hall's Stern Auditorium with SEM Ensemble, at Le Poisson Rouge with Fred Sherry and Ensemble LPR in a memorial concert for Elliot Carter, and at Bargemusic with pianist Jerome Lowenthal. She will appear with Jed Distler at Hamilton Stage NJ and will take part in the annual marathon at Symphony Space, where she will perform the New York premiere of a work by the distinguished British-American composer Bernard Rands, Memo 5. Later this season Ms. Oppens will release a recording of Mr. Rands's music.
In 2012, Ms. Oppens captured a Grammy Award nomination - her fourth to date - in the coveted category of "Best Classical Instrumental Solo" for the highly praised album Winging It: Piano Music of John Corigliano, released in April 2011 on Cedille Records. The disc featured the world premiere recording of John Corigliano's work by the same name, which had its debut performance by Ms. Oppens at New York's Symphony Space in May 2009. Other works on the album, all by Mr. Corigliano, include Chiaroscuro (1997), Fantasia on an Ostinato (1985), Kaleidoscope for two pianos(1959), and Etude Fantasy (1976). Ms. Oppens is joined on the recording by pianist Jerome Lowenthal for Kaleidoscope. Journalist Tom Huizenga from the Washington Post praised Ms. Oppens s interpretation: "Her rigorous, unforced performances again prove that few pianists of any era can claim a hold on contemporary piano music as she does" (August 2011).
Earlier Grammy nominations were for Oppens Plays Carter a recording of the complete piano works of Elliott Carter for Cedille Records (which also was named a "Best of the Year" selection by The New York Times long-time music critic Allan Kozinn), her Piano Music of Our Time, featuring compositions by John Adams, Elliott Carter, Julius Hemphill, and Conlon Nancarrow for the Music and Arts label, and her legendary cult classic The People United Will Never Be Defeated, by Frederic Rzewski on Vanguard.
Ms. Oppens recently released a two-piano CD for Cedille Records devoted to Visions de l'Amen of Oliver Messiaen and Debussy's En Blanc et noir, performed with pianist Jerome Lowenthal. Over the years, Ms. Oppens has premiered works by such leading composers as Luciano Berio, William Bolcom, John Harbison, Julius Hemphill, Tania Leon, György Ligeti, Witold Lutoslawski, Harold Meltzer, Conlon Nancarrow, Tobias Picker, Frederic Rzewski, Joan Tower, Amy Williams, Christian Wolff, Amnon Wolman, and Charles Wuorinen.
Ms. Oppens has performed with virtually all of the world's major orchestras, including the New York Philharmonic, the Boston Symphony Orchestra, the Los Angeles Philharmonic, the American Composers Orchestra, and the orchestras of Chicago, Cleveland, San Francisco, and Milwaukee. Abroad, she has appeared with such ensembles as the Berlin Symphony, Orchestre de la Suisse Romande, the Deutsche Symphonie, the Scottish BBC, and the London Philharmonic Orchestras. Ms. Oppens is an avid chamber musician and has performed with the Arditti, Juilliard, Pacifica, and Rosetti quartets, among others.
During a performance in Lisbon on April 25, 2011, the 37th anniversary of the Carnation Revolution which saw the overthrow of the authoritarian Estado Novo regime, Ms. Oppens caused a furor of approval by playing the Portuguese national anthem as part of her performance of Frederic Rzewski's The People United Will Never Be Defeated.
Ursula Oppens is a Distinguished Professor of Music at Brooklyn College and the CUNY Graduate Center in New York City. From 1994 through the end of the 2007-08 academic year she served as John Evans Distinguished Professor of Music at Northwestern University in Evanston, IL. Ms. Oppens lives in New York City.