Student achievements from the 2017–18 year.
/web/aca_naturalsciences_cis/NEWS-180605-Students-94x84.jpg
Student Achievements
June 5, 2018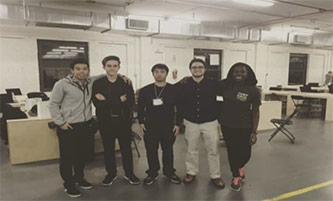 CUNY Hackathon
Brooklyn College's CUNY Hackathon team—Yvan Pangilinan, Kevin Cybura (Hunter College), Hui Lin (Queens College), Christopher Menedes, and Truth Opaleye—won three prizes:
Best Hack Using IBM Cloud Technology
Best Hack Using NYC Open Data
1st Place Overall
The team designed a full-stack Web platform that provides centralized homelessness prevention services to those in need.
Two of our very own Brooklyn College WiCS students, Estefanía Barrón and Frances Shnaidman, won first place and $25,000 in the Standard Chartered Women + Tech4NYC Prize category of the Zahn competition for their app CakeWLK. The app connects college students with new friends via safe, reliable, publicly shared walking routes based on crime statistics. They are conducting experiments and consumer research, such as offering free walks, to find out if there is a need or want for their product.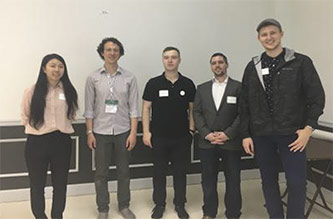 Science Day
Associate Professor Mandel's Students
Christian Sarcona: creating private voice recordings using acoustic echo cancellation
Oleksandr Loyko: beamforming with neural networks for multichannel speech recognition
Xiaowen Huang: extracting drum sounds from a song
Dzmitry Kasinets: concatenative resynthesis for extracting bass parts from songs
Assistant Professor Kletenik's Students
Philip Gringer: ANTI-SET and Artificial Intelligence
Alyssa Caputo: Bias Against Algorithmic (AI) Music? This work was also accepted to the National Conference on Undergraduate Research.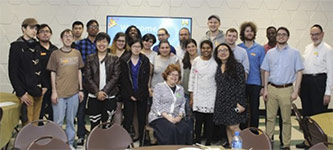 End-of-Year Party
The Computer Science Club, Women in Computer Science Club, and CIS Department sponsored a well-attended and well-stocked End-of-Year Party for graduating seniors on May 15 in the Student Center. The students planned the evening, and it was quite a fun time, with CIS faculty joining in.