Aya Shohat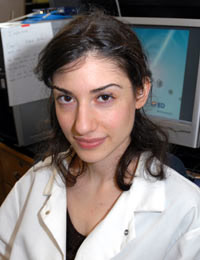 For doctoral student Aya Shohat, it's all in the genes. Her dissertation research involves looking into how those long strands of DNA affect cell division. Using yeast to observe the process of cell division, she hopes to identify genes and mechanisms that play a role in that process, a discovery that could have a wide variety applications for other researchers, including those who are trying to understand cancer better.
"If we find that a gene is important for cell division in yeast, there is probably a more advanced version of that gene that plays a role in cell division for humans," she explains.
Shohat works in the lab of Professor Dan Eshel, deputy chairperson of the Biology Department and head of Brooklyn College's doctoral consortium in the field. Born in Israel, she moved to Brooklyn when she was 13. She attended Brooklyn College for her undergraduate studies and stayed on as a graduate student in order to work with Eshel, her biology professor during her freshman year.
"I like the freedom he gives me to pursue whatever specialty I want to study," she says. "We get a set of results in this lab, and it's up to the graduate students to take different directions. He really encourages us to be independent and to find out what interests us."
Shohat plans to finish her studies next year and hopes to go on to a postdoctoral program. Her long-term goal is to lead her own lab at a university.
"What's gratifying about my research is the possibility of discovering a novel process or a gene product whose function was previously unknown and that other researchers who are studying, say cancer, can build on to make further discoveries," she says.