Event Archive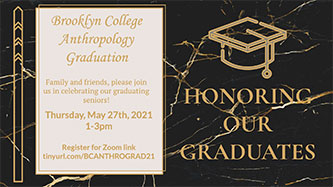 Anthropology Graduation
Family and friends, please join us in celebrating our graduating students!
Thursday, May 27, 2021
1-3 p.m.
Changing How Archaeology Is Done in Native American Contexts: An Ndee (Apache) Case Study
A talk by Nicholas Laluk, assistant professor of anthropology, Northern Arizona University
Thursday, April 22, 2021
2:15–3:30 p.m., as part of Assistant Professor Kelly Britt's ANTH 1400 / CLAS 3210 class
E-mail Assistant Professor Britt to register for the event.
The White Mountain Apache Tribe Cultural Heritage Resource Best Management Practices present and delineate in guideline form cultural heritage resource definitions, management, and necessary steps before, during, and after project implementation for any ground-disturbing projects potentially adversely affecting cultural heritage resources on Ndee (Apache) trust lands. However, since the tribe's adoption of the practices, the application of Ndee tenets found within the guidelines to real-world cultural and archaeological methods and practices remains scant. Embedded in the Ndee cultural tenets is the tenet of "respect," which I will argue can be used as a tool by non-Ndee researchers to critically reflect on their own research agendas and to guide research projects with Ndee communities. By foregrounding respect within various ongoing archaeological project-related occurrences contemporary Ndee experiences, defining Ndee material trait lists, superiority statements, archaeological categorizations, and stereotypical underpinnings, better paths forward for collaborative research with Ndee and other Native American communities can be highlighted.
Article
Laluk, N.C. 2000. "Changing how archaeology is done in Native American contexts: An Ndee (Apache) case study." Journal of Social Archaeology 0(0): 1-21.
Black Bodies Matter
A talk by Aja Lans, Ph.D. candidate in anthropology, Syracuse University
Tuesday, March 23, 2021
2:15–3:30 p.m., as part of Assistant Professor Kelly Britt's ANTH 1400 / CLAS 3210 class
E-mail Assistant Professor Britt to register for the event.
Aja Lans' lecture will focus on the movements #BlackLivesMatter and #SayHerName, and will consider how bioarchaeology can be used to transform our understanding of the long history of violence against Black women in the United States by studying the skeletal and archival remains of Black women who were dissected in New York City during the Progressive Era, many of whom lived through various social reform movements. She will reflect upon how, as a Black woman and an anthropologist, she is living through and witnessing events similar to those that transpired over a century ago and consider what else these women's bodies might tell us about our current moment.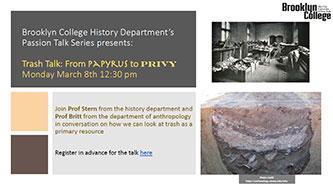 Trash Talk: From Papyrus to Privy
Monday, March 8, 2021
12:30 p.m.
Join Professor Stern from the Department of History and Assistant Professor Britt from the Department of Anthropology in conversation on how we can look at trash as a primary resource.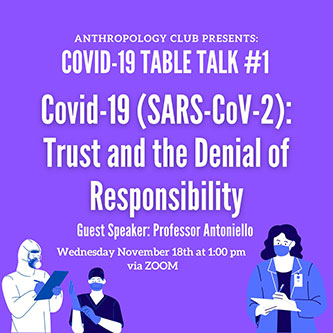 COVID-19 Table Talk
COVID-19 (SARS-CoV-2): Trust and the Denial of Responsibility
with Professor Antoniello
Wednesday, November 19, 2020
1 p.m.
via Zoom (After registering, you will receive a confirmation e-mail containing information about joining the meeting.)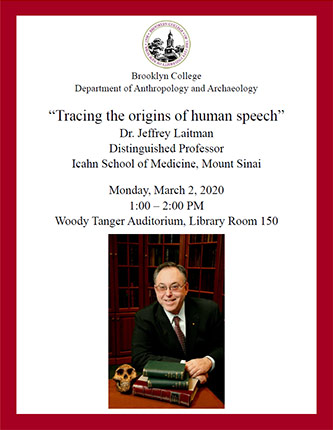 "Tracing the Origins of Human Speech"
with Dr. Jeffrey Laitman
Distinguished Professor, Icahn School of Medicine, Mount Sinai
Monday, March 2, 2020
1-2 p.m.
Woody Tanger Auditorium, Library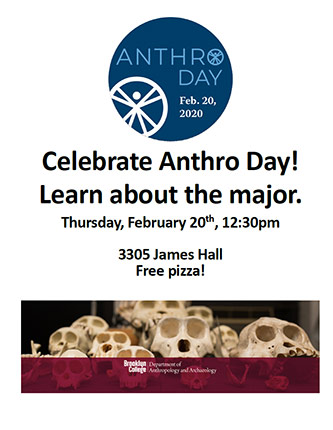 Celebrate Anthro Day!
Learn about the major.
Thursday, February 20, 2020
12:30 p.m.
3305 James Hall
Free pizza!
Welcome Back Party and Anthropology Club General Interest Meeting
Hosted by the Department of Anthropology and Archaeology
Tuesday, September 17, 2019
12:15–2 p.m. (common hours)
3305 James Hall
Whether you're a new or returning student, don't miss this event to meet new people and have some awesome food!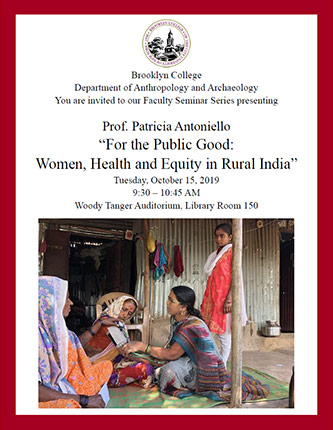 "For the Public Good: Women, Health and Equity in Rural India"
with Professor Patricia Antoniello
Tuesday, October 15, 2019
9:30–10:45 a.m.
Woody Tanger Auditorium, 150 Brooklyn College Library
Faculty Seminar Series
"Bronze Age Tin in the Balkans," With Professor Arthur Bankoff
Tuesday, May 7, 2019
9:30–10:40 a.m.
Woody Tanger Auditorium, 150 Library
Student-Faculty Series
Why Be an Anthropology Major?
Tuesday, March 26, 2019
12:30–2 p.m.
3305 James Hall
Pizza, pizza, pizza!
We'll talk about requirements for the major and what you can do with a degree in anthropology (spoiler alert: you can do a lot). Anthropology major Anumta Raheel will share her experiences from a recent UN conference in Poland on climate change.
All are welcome!
So, You're Thinking About Graduate School?
Tuesday, March 5, 2019
12:30–2 p.m.
3305 James Hall
Lunch will be served...free food!
Special guests who will help demystify applying to graduate school:
Karen Cuevas '17
Esra Paget, Ph.D. student, CUNY Graduate Center
Anthropology majors are encouraged to attend.