Fieldwork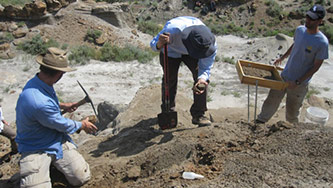 Sixty-six million years ago, the Cretaceous-Paleogene (K-Pg) mass extinction event affected biota all over the globe. Although this event is mainly known for the disappearance of the non-avian dinosaurs, it is also one of the most significant events in mammalian evolutionary history. Following this extinction event, mammalian faunal composition changed dramatically and mammals underwent an adaptive radiation in the early Paleocene. The oldest known putative primate, Purgatorius, has been documented in the earliest Paleocene of Montana, and it is still known only from dental and tarsal remains (see Chester et al. 2015 PNAS).
Chester co-leads summer paleontological expeditions in the Hell Creek and Fort Union Formations, Montana, with Tyler Lyson (Curator of Vertebrate Paleontology, Denver Museum of Nature and Science) and Eric Sargis (Curator of Vertebrate Paleontology, Yale Peabody Museum of Natural History). They are investigating mammalian faunal composition across the K-Pg boundary, and testing whether previously documented patterns of mammalian turnover across the K-Pg extinction event are local or more geographically widespread.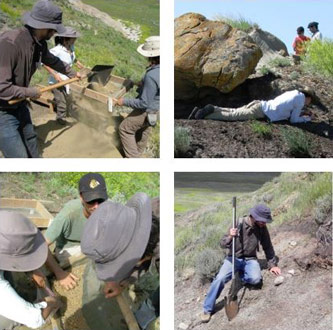 Top Left: Chester and students screen for early Paleocene mammals and other small vertebrates.
Top Right: Tyler Lyson (center) crawls a microsite in search of small vertebrate fossils.
Bottom Left: Eric Sargis and students collect matrix that will be brought back to the lab for further sorting.
Bottom Right: The most recent dinosaur specimen known was discovered directly below an earliest Paleocene microsite rich in mammal fossils.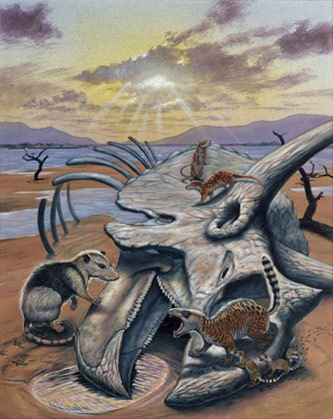 Our team discovered the most recent dinosaur specimen known while screen-washing for fossil mammals at an early Paleocene site in eastern Montana. The specimen is a ceratopsian brow horn and it was found only 13 cm below the K-Pg boundary. This find is significant because it demonstrates that the "3 meter gap" previously thought to be devoid of non-avian dinosaur fossils does not exist. This discovery suggests that at least some dinosaurs did not go extinct until the asteroid impact event 66 million years ago (see Lyson et al., 2011). This research was covered by various news sources including Nature and Science, and was considered the 35th top story of 2011 by Discover magazine.