ANTH 3016 Field Work in Anthropology, Summer 2019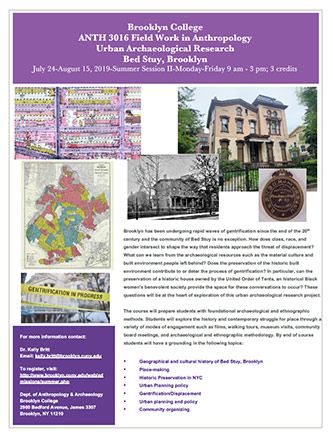 Urban Archaeological Research
Bedford-Stuyvesant, Brooklyn
July 24–August 15, 2019
Summer Session II
Monday–Friday: 9 a.m.–3 p.m.
3 credits
Brooklyn has been undergoing rapid waves of gentrification since the end of the 20th century, and the community of Bed-Stuy is no exception. How does class, race, and gender intersect to shape the way that residents approach the threat of displacement? What can we learn from the archaeological resources such as the material culture and built environment people left behind? Does the preservation of the historic built environment contribute to or deter the process of gentrification? In particular, can the preservation of a historic house owned by the United Order of Tents, a historical black women's benevolent society provide the space for these conversations to occur? These questions will be at the heart of exploration of this urban archaeological research project.
The course will prepare students with foundational archaeological and ethnographic methods. Students will explore the history and contemporary struggle for place through a variety of modes of engagement such as films, walking tours, museum visits, community board meetings, and archaeological and ethnographic methodology. By end of course students will have a grounding in the following topics:
Geographical and cultural history of Bed-Stuy, Brooklyn
Place-making
Historic preservation in New York City
Urban planning policy
Gentrification/Displacement
Urban planning and policy
Community organizing
Register
To register, visit Brooklyn College's summer session page.
More Information
Assistant Professor Naomi Schiller
E: NSchiller@brooklyn.cuny.edu
Assistant Professor Kelly Britt
E: kelly.britt@brooklyn.cuny.edu