Fall 2019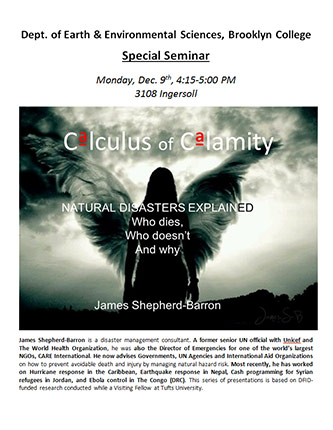 Calculus of Calamity—Natural Disasters Explained: Who Dies, Who Doesn't, and Why
with James Shepherd-Barron, Disaster Management Consultant
Monday, December 9, 2019
4:15–5 p.m.
3108 Ingersoll Hall
James Shepherd-Barron is a disaster management consultant. A former senior UN official with UNICEF and the World Health Organization, he was also the director of emergencies for one of the world's largest NGOs, CARE International. He now advises governments, UN agencies, and international aid organizations on how to prevent avoidable death and injury by managing natural hazard risk. Most recently, he has worked on hurricane response in the Caribbean, earthquake response in Nepal, cash programming for Syrian refugees in Jordan, and Ebola control in the Congo (DRC). This series of presentations is based on DFID-funded research conducted while a Visiting Fellow at Tufts University.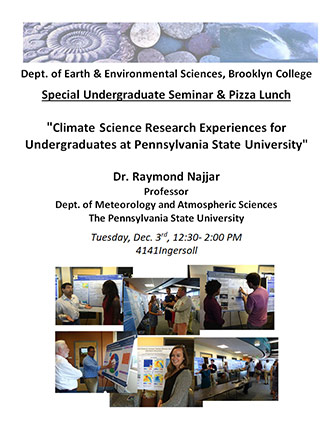 Climate Science Research Experiences for Undergraduates at Pennsylvania State University
Special Undergraduate Seminar and Pizza Lunch
with Dr. Raymond Najjar, Professor, Department of Meteorology and Atmospheric Sciences, The Pennsylvania State University
Tuesday, December 3, 2019
12:30–2 p.m.
4141 Ingersoll Hall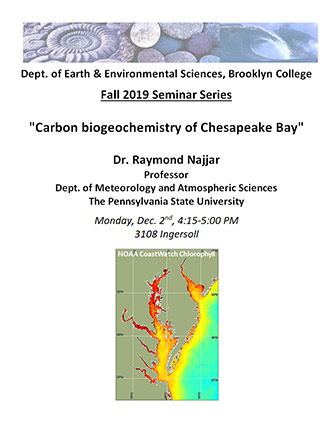 Carbon Biogeochemistry of Chesapeake Bay
with Dr. Raymond Najjar, Professor, Department of Meteorology and Atmospheric Sciences, The Pennsylvania State University
Monday, December 2, 2019
4:15–5 p.m.
3108 Ingersoll Hall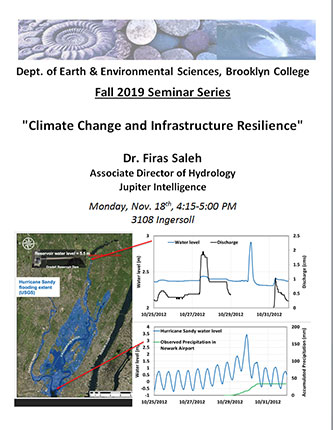 Climate Change and Infrastructure Resilience
with Firas Saleh, Associate Director of Hydrology, Jupiter Intelligence
Monday, November 18, 2019
4:15–5 p.m.
3108 Ingersoll Hall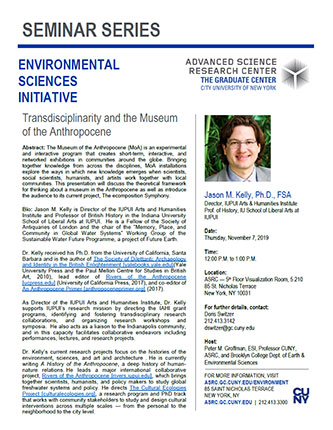 Transdisciplinarity and the Museum of the Anthropocene
with Jason M. Kelly, Ph.D., FSA, Director, IUPUI Arts and Humanities Institute, Professor of History, IU School of Liberal Arts at IUPUI
Hosted by Peter M. Groffman, ESI, Professor CUNY, ASRC, and Brooklyn College Department of Earth and Environmental Sciences
Thursday, November 7, 2019
Noon–1 p.m.
ASRC—5th Floor Visualization Room, 5.210
85 St. Nicholas Terrace
New York, NY
The Museum of the Anthropocene (MoA) is an experimental and interactive program that creates short-term, interactive, and networked exhibitions in communities around the globe. Bringing together knowledge from across the disciplines, MoA installations explore the ways in which new knowledge emerges when scientists, social scientists, humanists, and artists work together with local communities. This presentation will discuss the theoretical framework for thinking about a museum in the Anthropocene as well as introduce the audience to its current project, The Ecomposition Symphony.
Jason M. Kelly is director of the IUPUI Arts and Humanities Institute and professor of British history in the Indiana University School of Liberal Arts at IUPUI. He is a Fellow of the Society of Antiquaries of London and the chair of the "Memory, Place, and Community in Global Water Systems" Working Group of the Sustainable Water Future Programme, a project of Future Earth.
Kelly received his Ph.D. from the University of California, Santa Barbara and is the author of The Society of Dilettanti: Archaeology and Identity in the British Enlightenment (Yale University Press and the Paul Mellon Centre for Studies in British Art, 2010), lead editor of Rivers of the Anthropocene (University of California Press, 2017), and co-editor of An Anthropocene Primer (2017).
As director of the IUPUI Arts and Humanities Institute, Kelly supports IUPUI's research mission by directing the IAHI grant programs, identifying and fostering transdisciplinary research collaborations, and organizing research workshops and symposia. He also acts as a liaison to the Indianapolis community, and in this capacity facilitates collaborative endeavors including performances, lectures, and research projects.
Kelly's current research projects focus on the histories of the environment, sciences, and art and architecture. He is currently writing A History of the Anthropocene, a deep history of human nature relations. He leads a major international collaborative project, Rivers of the Anthropocene, which brings together scientists, humanists, and policy makers to study global freshwater systems and policy. He directs The Cultural Ecologies Project, a research program and Ph.D. track that works with community stakeholders to study and design cultural interventions across multiple scales—from the personal to the neighborhood to the city level.
More Information
Doris Switzer
P: 212.413.3142
E: dswitzer@gc.cuny.edu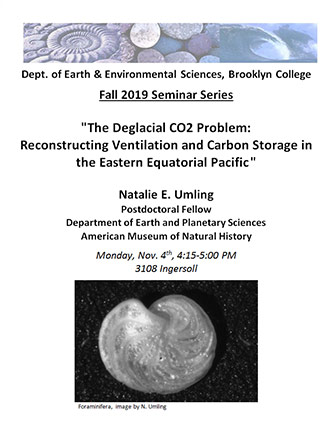 The Deglacial CO2 Problem: Reconstructing Ventilation and Carbon Storage in the Eastern Equatorial Pacific
with Natalie E. Umling, Postdoctoral Fellow, Department of Earth and Planetary Sciences, American Museum of Natural History
Monday, November 4, 2019
4:15-5 p.m.
3108 Ingersoll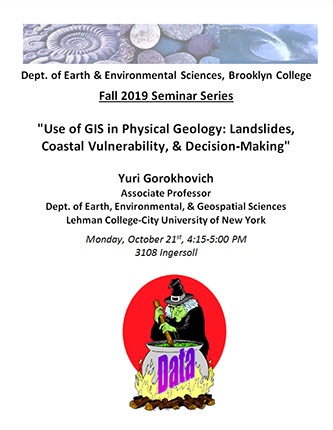 Use of GIS in Physical Geology: Landslides, Coastal Vulnerability & Decision-Making
with Yuri Gorokhovich, Associate Professor, Department of Earth, Environmental & Geospatial Sciences, Lehman College (CUNY)
Monday, October 21, 2019
4:15–5 p.m.
3108 Ingersoll Hall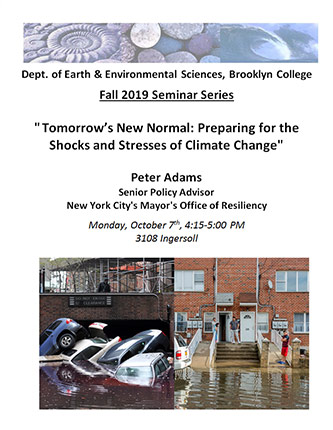 Tomorrow's New Normal: Preparing for the Shocks and Stresses of Climate Change
with Peter Adams, Senior Policy Advisor, New York City's Mayor's Office of Resiliency
Monday, October 7, 2019
4:15–5 p.m.
3108 Ingersoll Hall
Peter Adams is a senior policy advisor in the New York City's Mayor's Office of Resiliency, where he develops standards and policies to address climate change risk through design. Prior to joining the Mayor's Office, Adams worked at the Port Authority of NY and NJ as a climate resilience specialist in the Engineering Department. Previously, he was a project manager at Acclimatise, a consultancy that specializes in climate adaptation. Across these roles, Adams has spent 10 years working with governments, corporations, development organizations, and indigenous communities on strategies to address risk from extreme weather and climate change. He wrote a graduate thesis on South Asian water resource management in a changing climate, and holds a master's in geography from McGill University.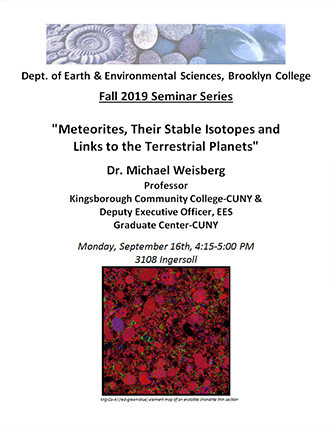 Meteorites, Their Stable Isotopes and Links to the Terrestrial Planets
with Michael Weisberg, Professor, Kingsborough Community College (CUNY), and Deputy Executive Officer, EES, CUNY Graduate Center
Monday, September 16, 2019
4:15–5 p.m.
3108 Ingersoll Hall