Adjunct professor and mentor, a man of many talents, touched the Brooklyn College community.
/web/aca_naturalsciences_health/Kenneth_Axen_94x84.jpg
Faculty, Friends, and Family Remember Kenneth Axen
January 29, 2021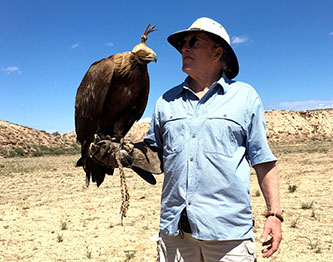 Kenneth Axen, Ph.D., beloved husband and father, scientist, professor, artist, and photographer, died on September 3, 2020. His wife, Kathleen; their children, Christine, Marie, and Nils; his daughter, Laurel; and his grandchildren, Lucia, Saachi, and baby Axel (born August 27) mourn him.
Axen earned his doctorate in biomedical engineering (1972) and his MEE (1965) from New York University and his BEE (electrical engineering) from City College (CUNY) (1964). His published work utilized mathematical modelling of data from human subjects with neuromuscular disease or spinal cord injuries to understand their impaired regulation of breathing and to deduce mechanisms of normal regulation. He authored 37 articles in prestigious scientific journals and four books, as well as numerous chapters, and made presentations at scientific meetings.
Axen taught physiology and exercise physiology at Brooklyn College; New York University, where he was a tenured clinical associate professor of rehabilitation medicine; Hunter College (CUNY); Long Island University; Pacific College of Oriental Medicine; and the National Yang-Ming Medical College (Taiwan). He was known as a compassionate, available teacher who maintained contacts with many students long after they were in his class, supporting them in their lives and careers. His original thinking and ability to integrate math and basic science into his explanations made him a stimulating research mentor to undergraduates as well as doctoral candidates.
He was an accomplished illustrator of many books as well as a photographer who exhibited his work locally. His unique drawings, in pencil or pen, along with his photographs, have been joyously shared with his Instagram buddies. He was a person who loved to learn; for many years, he trained and performed theater improvisation with Ralph Buckley and "Just Say Yes!" He made many visually beautiful films while studying in the program at Brooklyn College; he proudly received an award from the CUNY Film Festival for Segues.
His lifelong passion for travel took him to more than 80 countries; most were long trips that he arranged himself. Trips often involved the family; summer camping in Europe included even the toddlers, and his dozens of bike trips ranged from a 1,000-mile journey through the Canadian Rockies (with Kathleen) to excursions through Southeast Asia and the Loire valley with older children.
As Kenneth would say, "Anyone who says 'Time is money' does not know the value of time." He surely knew.
A celebration of his life will be held in the spring or summer, once it is safe to do so.
Read What Kenneth's Departmental Colleagues Said About the Longtime Teacher, Mentor, and Friend
Former Chair David Balk: "Kenneth was a friend with a generous soul and understanding heart. He was courageous. He loved puns and had a very quick wit. He appreciated others' accomplishments. He expressed his gratitude when others did a favor for him or the people he cared for. He deeply loved his wife and children."
Raymond Weston: "Professor Kenneth Axen will be remembered by all as a dedicated husband and father, and an accomplished scientist, educator, photographer, and actor. He will be remembered with respect and love by those who were lucky enough to know him personally for his wry humor, his quick wit, and his kindness to those in need of a comforting word. May God welcome Professor Axen home, and shepherd his grieving family through this difficult time."
Jennifer Basil: "The world lost an exceptional human being. A dear friend, colleague, fellow improviser, world traveler, and expert in appreciating each moment. In fact it was he and his wonderful partner in all ways, my dear friend Kathleen, who invited me to improv. Generosity is at the core of their marriage, their family, and friendships. My heart is with Kathleen and their children. May we all strive to be as remarkable, generous, and kind. May his memory be a blessing."
Catherine McEntee: "Kenneth was highly respected by his colleagues who appreciated his positive support and encouragement in all their endeavors."
Jorge Caviglia: "I remember that Kenneth was always happy and up for a conversation. He would share his passion of photography, drawing, improv theater, and travel. He would talk about what he has done, what he was working on, and what he was planning to do. And often these activities involved his family: traveling with his family, drawing for his daughter's wedding, improv with his wife. What I remember the most is how often he would talk lovingly about his wife, Kathleen. It seems that they had a relationship that many people aim for."
Margrethe Horlyck-Romanovsky: "Dr. Kenneth Axen was a dear friend and mentor. He would always say, 'Sit down for a minute,' and although it was never a minute, it was meaningful and genuine. As a true mentor of both students and faculty, Kenneth directed a steady stream of students to do research in my lab. They were all outstanding research assistants and amazing people. Kenneth handed them off carefully and purposefully, like a baton in a relay race, having already gauged the fit and velocity. Kenneth mentored those of us applying for graduate school, medical school, Ph.D. programs, and postdocs. He said to all of us: 'When an opportunity presents itself, say yes!' He also taught us all that humor has a place in the classroom, and he was right. Kenneth, your warmth, humor, photographs and films, scientific rigor, adventurous spirit, and extraordinary meals are deeply missed. Thank you so much for everything!"
Kiyoka Koizumi: "Kenneth was a great educator and a friend to all of us. He taught with his brilliant brain/mind and with his big heart. When I had an opportunity to participate in his class, I felt his teaching was all about 'life's meaning,' even though he was teaching details of human physiology, each body part. He had a big heart and it showed in his teaching. I do miss his humor and jokes which were slightly cynical but affectionate at the same time. Seeing him in the hallway always gave me a feeling of warmth and comfort. I do miss Kenneth deeply."
Bayla Bryski: "I had the honor of having Professor Axen as my physiology professor during my undergraduate studies and then as a mentor over the next 10 years. Over the years, I've enjoyed our conversations tremendously. He shared insights into life, love, religion, and living in the now. I loved when he showed me photos from his trips around the world with his family. He taught me the concept of capturing moments and 'using what you have.' His photography is proof that Professor Axen was a man who truly lived. In one of his last messages to me he wrote about the concept of not being defined solely by your actions but by who you are. As he put it, he was trying to transform himself from 'human doing' to 'human being.'"
Betty Gadeloff: "Professor Kenneth Axen will be remembered in my mind forever as someone who made Brooklyn College feel like a home, not just a college campus or place of work. Running into him in Boylan Hall or in the HNSC Department office would brighten my day because he would always have a smile and humorous greeting that would start me laughing even before he started the conversation. He had a creative and unique imagination and was always working on some new artistic project, which he would eagerly share. He would then ask to see any new artistic works that I have completed or would be working on."
Arlene Dunbar: "Kenneth was one of a kind, full of energy and new ideas for exciting adventures. Every time I spoke to him he had a new story to tell! I especially admired how highly he spoke of Kathleen. I can never forget how kind he was to me throughout the years. I will miss his warm smile and his ability to always make me laugh. I loved knowing him and I miss him terribly."
Jerry Mirotznik: "I recall the first time I met Kenneth, close to four decades ago. I recall it because he startled me in a way that only Kenneth could. He left me speechless and struck by his brilliant mind, his sparkling, effervescent creative energy, and his wonderful sense of humor. Throughout these many years, Kenneth never disappointed. It was always exciting, engaging, and fun seeing and speaking with him. I walked away richer for those encounters. I will miss those moments with him, but I'm so thankful for knowing him."