Department Colloquia
Spring 2020 Schedule
All talks will be in the Physics Department Library (accessed from 3438 Ingersoll Hall) unless otherwise stated.
Check here for updates to the schedule as the semester progresses.
Thursday, February 13, 12:30 p.m. (Jointly hosted by the Biology Department)  **in 113 Ingersoll Hall Extension**
Speaker: Jasna Brujic, Department of Physics, New York University
Title: Imitating Protein Folding With Soft Matter

Abstract: We describe the self-assembly process of emulsion polymers. By varying the concentration of surface DNA, we tune the number of droplet-droplet bonds to assemble dimers, polymers, or even cross-linked networks. We observe that 96% of droplets assemble into either linear or branched polymers under optimized assembly conditions. We also find that linear polymers are freely-jointed and that the end-to-end length fluctuations follow the 2D Flory model of polymer scaling, while the 2D self diffusion follows Zimm scaling with polymer length. These polymers are then collapsed via triggered secondary interactions into compact clusters, allowing us to monitor the distribution of folded structures for a given chain length N.
Wednesday, February 19, 11 a.m. (Jointly hosted by the Philosophy Department)
Speaker: Robert P. Crease, Department of Philosophy, Stony Brook University [flier (pdf)]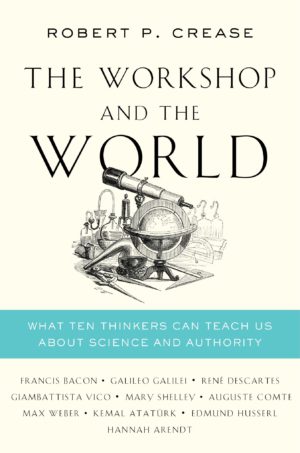 Title: Lights Out! The Rise and Fall of Scientific Authority
Abstract: Over the past 400 years, the US and other nations have built up what is now in effect a global scientific workshop which has made great contributions to human life. What went wrong? How has mistrust of science, its institutions, and its findings become an established feature of the political landscape? It is tempting to think that scientific authority is natural and will soon reassert itself, like a sturdy, self-righting boat knocked over by a rogue wave. But as I argue in The Workshop and the World: What Ten Thinkers Can Teach Us about Science and Authority, the very strengths of science create vulnerabilities that allow detractors to question scientific findings with a veneer of plausibility. In this talk I will review some experiences of early proponents of the authority of science, the resistance that they encountered, and how they responded, in order to help understand and confront modern-day science denial.
Thursday, March 12, 12:30 p.m.
Speakers: Nikesh Maharjan and Anthony Tantillo, Brooklyn College and The Graduate Center, CUNY
Research update by two doctoral students conducting research at Brooklyn College

This colloquium will be presented by two GC Physics Doctoral Program students who are conducting research with Brooklyn College Physics Department faculty.
Talk #1: Deep UV Photoluminescence and Chemical composition Analysis of Residual Impurities in Hexagonal boron nitride
Speaker: Nikesh Maharjan.
Abstract: Single crystal hexagonal boron nitride (h-BN) is an ultrawide (~6.0 eV) semiconductor under development for electronic, optoelectronic and nanophotonic devices. A key issue in these applications is the effect of impurities, especially oxygen, on its properties. Here the properties and compositions of h-BN and oxidized h-BN were compared. The deep UV photoluminescence spectra from h-BN samples were oxidized at 900 degrees C in ambient air, had strong phonon-assisted band edge emissions along with a sharp atomic-like emission line at 4.09 eV, and its phonon replicas at 3.89 and 3.69 eV. The sharp emission line and phonon replicas were not observed in unoxidized sample. Comparative chemical composition analysis of the residual impurities was carried out using X-ray photoelectron spectroscopy (XPS) in order to identify the impurities related to the sharp transition. Our results of atomic like features could have potential applications in the solid-state single photon source for quantum information technologies.
Talk #2: Applying Materials Informatics Insights to Magnetocaloric Materials Screening and Discovery
Speaker: Anthony Tantillo.
Abstract: The underlying physical principle for magnetic refrigeration (MR) is the magnetocaloric effect (MCE), by which a magnetic material experiences a temperature change when a magnetic field is applied or removed.  Magnetocaloric materials (MCMs) with a large MCE go through a magnetic phase transition at their Curie temperature (TC) between a high magnetization state and a low magnetization state.  MR relies on the field-driven temperature change of a material.  The order of the phase transition is important.  Magnetization can change in a "first order" phase transition (FOPT) when the magnetization sharply jumps from a high value to a low value over a very short temperature range, whereas a "second order" phase transition (SOPT) is a smoother, more gradual transition over a broad temperature range.  The entropy change at the transition (∆S), which relates to the change in the amount of energy dedicated to magnetic ordering, is directly related to the slope of the magnetization-versus-temperature transition.  Therefore, a FOPT is more desirable for energy-conscious applications because it yields a larger (negative) value for ∆S. The goal, therefore, is to construct a predictor for ∆S which will provide a robust and generalizable approach to MCM material discovery. By combining prior work in the field of high-throughput MCM discovery with a wide breadth of theoretical background, this work will apply a data-driven approach to the discovery of new, high-performance magnetocalorics for MR. 
Thursday, April 2, 12:30 p.m.
Speaker: Matthew Sfeir, Advanced Science Research Center and The Graduate Center, CUNY
Title: Manipulating Exciton Dynamics for Energy Conversion Applications
Abstract: TBC
Thursday, May 7, 12:30 p.m.
Speaker: Steven Vallone, Department of Physics, Brooklyn College and The Graduate Center, CUNY
Title: TBC
Abstract: TBC
Tuesday, May 12, 12:30 p.m.
Speaker: Min Xu, Department of Physics, Hunter College and The Graduate Center, CUNY
Title: Random Photonics for Biomedical Sensing and Imaging
Abstract: TBC
More Information
Please direct any enquiries to Karl Sandeman.