"Researchers get bogged down in the theoretical," she notes, and points out that more can be done in studying in modes of treatment and intervention. "There is a gap that needs to be bridged between the didactic and the clinical..."
/web/aca_socialsciences_general/CT_April2019-Audrey-Hazamy_94x84.jpg
Professor Audrey Hazamy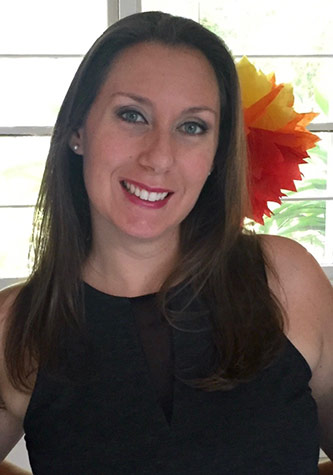 4400 Boylan is not just a room location on the Brooklyn College East Quad. The number is also used to designate the long-lived newsletter of the Department of Communication Arts, Sciences, and Disorders (CASD). CASD, formerly known as the Department of Speech Communication Arts and Sciences, proudly introduced Assistant Professor Audrey Hazamy to the community in the 2016 issue of 4400 Boylan. Hazamy, who had just completed her Ph.D. in communication sciences and disorders the previous year, and who was trading the warm and sunny beaches of Florida for the bundled-up winters of Brooklyn, promised that she would "endeavor to develop the same independent critical thinking skills and a sense of professional responsibility in students, as my mentors imparted to me."
Hazamy explains the connection between independence and critical thinking further in her interview for the School of Humanities and Social Sciences newsletter, Critical Thinking. "In a clinical setting, you constantly have to think on your toes. You have to always rethink, reevaluate. You can never go in to a client thinking you know exactly what you will be doing. What you have been told may not be what you discover." Furthermore, she adds, "out in the field you may be the only speech pathologist in a facility. You have to work independently, and not have other colleagues nearby for consultation." Hazamy admits that reminding her students of this may be a little scary, but she says the students "should be scared!" While working in her own fellowship, she saw her supervisor only once a week for an hour. In the workplace you are very likely to be the one speech pathologist on site. "Being just you alone will make you more confident," she encourages her students to realize as they prepare for their profession.
The students who come through the Brooklyn College CSAD program will be diversifying the faces of the speech pathology profession, according to Hazamy. And diversity is part of what makes teaching Brooklyn College students such a delight. The college's speech pathology program is hard to get into, and the students who make it are "at the top of their game," according to Hazamy. In addition to changing the demographic imbalance in the overall workforce (only 7 percent of speech pathologists are bilingual, and 7 percent are from racial minorities), Brooklyn College students who major in CSAD will be going back to their own communities with a sound education and specialized skills that are needed among all ages of the population.
Beyond working with an increasingly diverse, racially and ethnically mixed student population, Hazamy has also taught second-career, returning college students. Often these students have worked as classroom aids. As a testimony to the professionalism they have seen in the speech pathologists working with students in their classrooms, they are making a career change themselves to enter the profession. They tend to be very confident students, eager to participate in class. Hazamy credits these returnees for the world knowledge they bring and their unique perspective. "They keeps me on my toes," she comments. "I see how I myself need to evolve based on what I learn from them."
Evolution is a word that well describes Hazamy's own education. She originally pursued psychology, and completed a master's in that field with an emphasis on cognition. Her mentor in her Ph.D. program was a linguist with an interest in the interaction between language and cognition. Her graduate work propelled her to turn her focus from a more theoretical emphasis to one that is more clinically grounded. "Researchers get bogged down in the theoretical," she notes, and points out that more can be done in studying in modes of treatment and intervention. "There is a gap that needs to be bridged between the didactic and the clinical," and she very much hopes to work with her students on realizing how they can bridge that gap.
A significant portion of Hazamy's research has been focused on patients with Parkinson's disease. Hazamy notes the complexity of the disease. Traditionally, Parkinson's has been seen as a movement disorder, but it is becoming more apparent that the disease is more complex. Much is happening in the brains of Parkinson's patients, and speech pathologists are working with them at ground zero looking at issues surrounding swallowing, voice, and cognition. Hazamy is generally drawn toward issue in speech and cognition in later-life populations. She is also interested in patients with dementia. She is currently working with a colleague at Temple University on acquired language disorders.
Audrey Hazamy is happily settled into life in New York. She gave up her Florida license plates and sold her car before she moved to Brooklyn. Now in the city, she walks as much as she can. Nonetheless, Brooklyn might not be cold enough for this Michigan native. She travels back to the chilly Midwest when she can to visit her mother, sister, and nephew. When not on the road, however, she is content tucking in with a good book or binging on a Netflix Nordic Noir crime series to pass away the cold nights. Characterized, in part, by simple and precise language, watching these detective programs may be the perfect counterpoint in the life of a researcher fully immersed in the complexity of language.
Back to Critical Thinking — April 2019