Learn about the Children and Youth Studies interdisciplinary program and the Department of Political Science.
http://www.brooklyn.cuny.edu/web/aca_socialsciences_general/CT_December2017_OpenHouse_94x84.jpg
Departments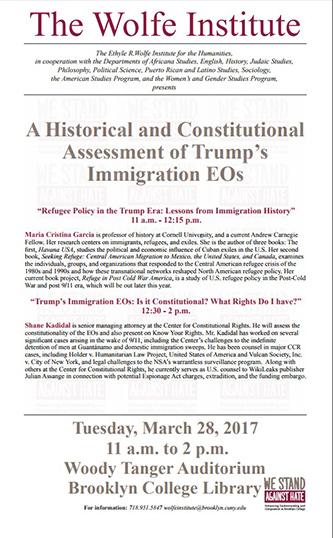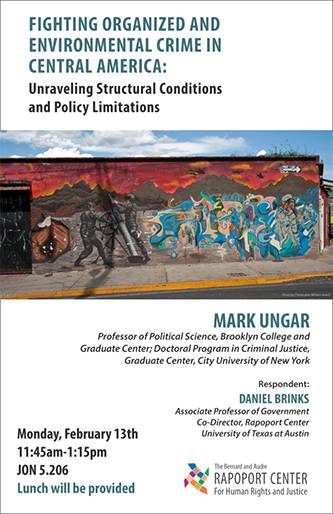 Political Science
The term critical thinking is as central to the masthead and philosophy of this publication as it is to the teaching focus of the Brooklyn College Department of Political Science. According to Professor Mark Ungar, the department's graduate program in international affairs and global justice "applies the School of Humanities and Social Sciences' mission of critical thinking on a worldwide scale. Together, faculty and students in political science aim to understand the problems and crises that roil the world. Classes, discussions, events, and policy work focus on nearly every current challenge, from armed conflict to economic development."
Ungar became chair of the Political Science Department in 2017, following his 19-year tenure as the deputy chair of the M.A. program, which recently sharpened its focus on international affairs. It is no wonder, then, that Ungar often views the department through the experiences of it graduate students and the faculty teaching in the graduate program. Nonetheless, as Ungar observes, "the political science faculty also brings this global critical thinking to the undergraduate program. Our 215 majors are only too aware of the challenges—from climate change to nuclear proliferation—that will become even more threatening tomorrow without more concerted action today. Our introductory courses leap right into those challenges, giving students the analytical tools to critically assess each issue, centered on the objective analysis and reasoned debate that are lacking among actual policymakers."
The faculty in Political Science cover every major region and every issue from war and violence to democracy and civil rights.
The breadth of teaching talent includes:
The Political Science Department is also fortunate to have Anjali Kamat teaching in 2017–18 as the Belle Zeller Visiting Professor. Kamat is a Peabody-winning and Emmy-nominated independent journalist who has worked for Al Jazeera as well as "Democracy Now!" and has reported extensively from the Middle East and other regions.
Students from around the world and a range of backgrounds are drawn to the political science program at Brooklyn College. In addition to their classroom experience, the department looks to provide them with real-world opportunities to bring about global change. Model UN forums, internships with refugee groups, study abroad opportunities, and involvement with the many organizations working to change policy provide students with much needed experiential learning.
The students in political science are also preparing to be scholars themselves. The Brooklyn College Journal of International Affairs is a graduate student publication with issues dedicated to security, climate change, and the Trump presidency. The M.A. program is also the home of the Human Rights in Iran Unit (HRIU), which is the investigative arm of the United Nations Special Rapporteur on Human Rights in Iran. Through the HRIU, students have interviewed people in Iran who have suffered rights abuse and written annual reports for the UN General Assembly and the Human Rights Commission. Without a doubt, a major in political science at Brooklyn College prepares students to be thoughtful agents of change.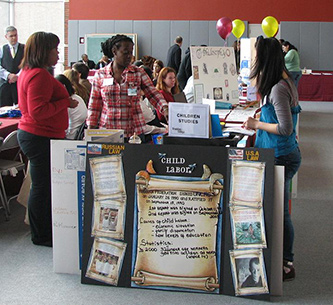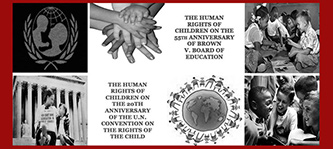 Children and Youth Studies
When the Brooklyn College sociologist Gertrud Lenzer was interviewed for an Education Update column, "Women Shaping History," in 2014, she reported that "[d]espite the generally accepted child-friendly attitudes in society and the claim that children are the future, the most astonishing phenomenon is the general invisibility of children in our societies. This invisibility is joined by a widely held sentiment that children are really inferior and do not matter."
A number of years earlier, Professor Lenzer had set out to bring children into focus and to prove that they did matter. An article published in 1991 led to the establishment of a Sociology of Children field, and by 1992, Lenzer, teaching at Brooklyn College, became the first person to teach a course in the subject in any academic institution in the United States. That same year Lenzer and other faculty at Brooklyn College formed a Children's Studies Faculty Committee to establish a Children's Studies Program. The Children's Studies minor became available in 1994, an education concentration became available in 2001, and a college-wide major was first offered in 2009. In 2011 the program evolved into the Children and Youth Studies Program (CHST), and in 2014 Professor Jeremy Porter became the new director. The program currently supports 258 majors, 142 education concentrators, and 57 minors.*
2017 marks a special year for CHST as it celebrates its 25th anniversary at the college. A 2015–16 grant from Vartan Gregorian, president of the Carnegie Corporation of New York, enabled plans for a Social Justice for Children Lecture Series. The inaugural lecture held this past spring featured Roni Natov of the Department of English speaking about "Children's Literature and the Courage to Imagine." The second lecture in the series, "What's Your Issue: Creating a national participatory survey of intersectional desires, activisms and struggles by and for LGBTQ and gender expansive youth," featured guest speakers Michelle Fine, Distinguished Professor of Critical Psychology, Women's Studies and Urban Education at the CUNY Graduate Center, and Maria Elena Torre, founding director of The Public Science Project and faculty member in critical psychology, CUNY Graduate Center. The event was held in late November.
As an interdisciplinary program, CHST derives its strength from bringing together scholars from many disciplines. According to Porter, "The field of children and youth studies is relatively young and quickly transitioning as it continues to take form as an academic discipline. At Brooklyn College we are lucky to drawn on a young and talented faculty from interdisciplinary fields who are experts in the various areas attached to the CHST. This interdisciplinary focus has allowed us to provide students with a well-rounded curriculum that will prepare them for their next step in the field after graduation."
Faculty from the departments of Africana Studies, Anthropology and Archaeology, Economics, Education, English, Film, Health and Nutrition Sciences, Psychology, Puerto Rican and Latino Studies, and Sociology have all taught courses for CHST. Currently, assistant professors Erika Niwa and Madeline Fox, of the departments of Psychology and Sociology, respectively, are both teaching within the CHST program and distinguishing themselves as scholars. Niwa has received an Annie E. Casey Foundation Emerging Scholars Making Connections Research Fellowship for her work, "The spaces between: A longitudinal examination of parents' perceptions of neighborhood cohesion and child well-being." Fox received an award from the Red Hook Initiative via the Langeloth Foundation for a project that is investigating young adult experiences and perspectives on violence.
As varied as are the fields that contribute to the education in Children and Youth Studies, equally wide-ranging are the fields where program graduates find themselves. In preparation for these many career possibilities, the program offers a course CHST 3700, Career Paths for Working with Children and Youth. Current speakers, including program alumni, come from SCO Family of Services, the Center for Alternative Sentencing and Employment Services, Art Start and the Children's Museum of the Arts. All have shared information with students about what they might do with their degree.
Given its mission to "provide a superior liberal arts and science education as well as promote applied and practitioner-based skills," the Children and Youth Studies Program is well positioned to carry out the CUNY goal to encourage experiential learning. Ask any CHST major who has interned at the Brooklyn District Attorney's Office, the New York City Department of Health and Mental Hygiene, Hedrick Martin Institute, or the United Nations. Children and Youth Studies gets students out into the city, and out into the world. Now how is that for increasing the visibility of children and their champions?
Back to Critical Thinking — December 2017