Find out what our students and alumni are up to.
http://www.brooklyn.cuny.edu/web/aca_socialsciences_general/CT_December2017_RabiaMehmood_94x84.jpg
Our Students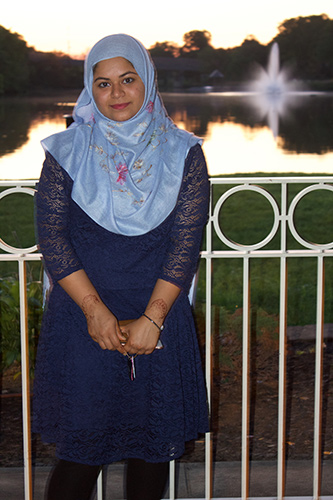 Rabia Mehmood, Spanish and Biology
Rabia Mehmood is a junior in the Macaulay Honors College with a double major in Spanish and biology. She plans to get both an M.D. and a Ph.D. and wants to do a residency in surgery. The combination of a humanities and science double major makes perfect sense for her and offers a good argument for why there is always a place for studying the humanities, no matter what your career path. "As a physician in New York City, I will encounter a great number of Spanish-speaking patients, primarily from Latin America. With a second major in Spanish, I intend to decrease the language barrier between me and many of my future patients in order to gain their trust and increase my potential as a successful physician," she says.
Mehmood is one of the 10 2017 Rosen Fellows. She used her fellowship to shadow doctors in Spain through the Atlantis Project. The Atlantis Fellowship is an international shadowing internship for pre-med students. Mehmood always dreamed of visiting Spain. She was first introduced to the country through images, and is happy to say that "Spain is even more beautiful than it appears in pictures." Mehmood has been encouraged to continue her Spanish studies, even though she finds longer works of literature challenging. Assistant Professor Alonso of the Department of Modern Languages and Literature has been her adviser.
Despite the challenges of a very busy schedule, Mehmood says she still manages to maintain an active social life. For her, the second major outside of the sciences and pursuing other interests helps to make her a more interesting person. This is one pre-med student who says, "I would encourage other pre-med students to go for that major in the humanities or social sciences. As medical students, we will be taking science classes throughout medical school, and science is our future. But until that future arrives, work on making yourself a more interesting individual. Become someone that everyone is interested to learn about."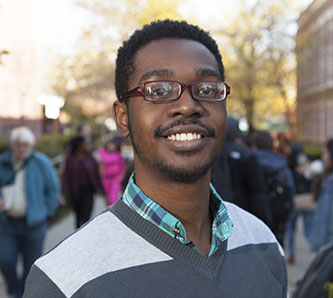 Chukwunonso Nwasike, Biology and Philosophy
Chukwunonso Nwasike is a dual major in biology and philosophy who is used to aiming high and in many directions as he reaches for the gold ring. During his senior year at Midwood High School he earned a Gold Medal in Short Story as well as an Ambassador of the Year Award for exceptional service as an Academic, Cultural, Technological and Scientific Olympics (ACT-SO) recruiter. That was the same year Nwasike participated in the Intel Science Talent Search, was awarded an honorable mention in the 19th Annual New York City Section of the American Chemical Society and St. Joseph's College High School Research Poster Session, and won the Michael Register High School Award from the Department of Cell Biology at SUNY Downstate Medical Center for outstanding research.
Then Nwasike crossed the street to Brooklyn College. He entered the college with a Brooklyn College Foundation Presidential Scholarship and has continued on his path of stellar achievement and broadening interests as part of the Scholars Program. Now a junior, he has more recently been awarded the Seymour Richman Memorial Scholarship and the David and Jessica Hammer '38 Memorial Scholarship from the Biology Department and a $5,000 scholarship from the Virginia B. Toulmin Foundation in recognition of his work with the Sunrise Association at a summer camp for children with cancer.
Nwasike's busy academic schedule still leaves him time to continue his interest in creative writing and to work as a volunteer with children both in his church and in the New York City public schools. He also spent this past summer as a Rosen Fellow, working on healthcare in Nigeria. Nwasike's family is from Nigeria, but this trip was only his second time visiting. Asked about how he manages to become engaged in so many directions, Nwasike says, "I feel that I can continue to extend myself because I'm doing things that I enjoy and have passion for. None of the activities that I engage in feel like a burden, so I make sure that I have time for them and they don't tire me out."
Doctors are sometimes criticized for taking a clinical view of people, but Nwasike, who aspires to be a pediatric oncologist, says of his major in philosophy that it has a "huge impact" on how he looks at the practice of medicine. His course in medical ethics broadened his views and helped him to see and appreciate many of the factors that go into making difficult medical decisions. "Philosophy provides me with a space to ask the tough questions and to think critically about issues of ethics, humanity, and duty, all of which are critical to the practice of medicine," he has concluded. Nwasike is grateful to his mentor Associate Professor Christine Vitrano for her openness to students and her lack of rigidity on the subject of ethics. Vitrano encouraged students to "engage with the material as real people." Vitrano had enough faith in Nwasike to encourage him to submit a paper, "A Case for Increased Medical Paternalism for Incompetent Patients with Unspecified Advanced Directives," to the Great Lakes Philosophy Conference in 2017, where he received the award for best undergraduate paper. He also won the Hinez Essay Award for the same paper from the Brooklyn College Department of Philosophy.
Nwasike is appreciative of scientists with whom he works who remember that there are real people with real lives behind the diseases they try to cure. Of his mentor at the SUNY Downstate Medical Center, Dr. Christopher Roman, he says, "He really cares about how the research he did in the immune system could be used to help people. That's one of the things that we really bonded over; the application of scientific discovers to the tangible benefit of people's lives. It wasn't just about learning more, it was about doing more."
Nwasike has some good advice for Brooklyn College pre-med students about why they should consider a second major in the humanities or social sciences. "Do it," he says emphatically. "Not only will it look really good to medical schools, but it will actually make you a stronger academic, future physician, and honestly, I feel, a better person. Learning the basic sciences engages one set of skills and learning the humanities and social sciences engages another. Both of these are important to being a physician in that you will need a large body of knowledge and analytical skills but also interpersonal, cultural, and emotional intelligence. The humanities and social science does well to foster the latter of these skills quite well."
Back to Critical Thinking — December 2017