"To understand the minds of others in ways that do not impinge on our own faith experience."
/web/aca_socialsciences_general/CT_Febuary2018_Religion_94x84.jpg
Studies in Religion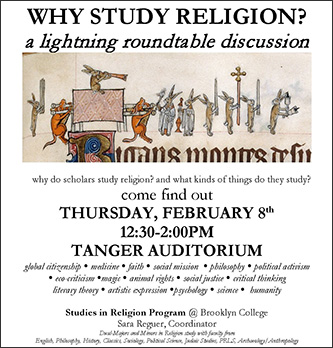 Professor Andrew Meyer of the Brooklyn College Department of History likes to tell the story of how if you explained what religion is to aliens from another planet—ritual, devotion, a place of worship, sacred objects—they will come back saying they have found a religion and it is called "baseball." This is manifested in Hampton Stevens' 2010 Atlantic article "Explaining Baseball to Aliens." Stevens' piece is a fictitious letter from "Giles Dub, Assistant Researcher from the Bureau of New Species, Cultural Studies Department, Ministry of Intergalactic Affairs." Giles concludes in his letter to his Excellency, the Galactic Consciousness Overload, that "our recent study of the highly popular Earth-being religion Major League Baseball suggests that the planet's dominant species—a semi-gelatinous, endoskeletal, sexually-reproducing biped—is not sufficiently evolved for consciousness absorption. Nevertheless, we do believe the religion of baseball deserves more study, offering a, rare, fascinating look inside a primitive belief system."
Brooklyn College offers its students and other earth-dwelling creatures an opportunity to study religion, as Associate Professor Karen Stern says, in order to "understand the minds of others in ways that do not impinge on our own faith experience." The Program in Studies in Religion offered a panel discussion in February for students who may be interested in pursuing the study as a second major or a minor. The panel brought together nine faculty members from six departments in humanities and social sciences who teach courses that focus on or address religion. Whether it be a course devoted to one religious group (e.g., Jews of Latin America, taught by Professor Allan Amanik in Judaic Studies, or Islamic Perspectives on Science, Politics and Culture, taught by Professor Bilal Ibrahim of History), or a course where the important individuals discussed can only be viewed accurately if understood as a people of faith (e.g., Civil Rights and Black Power, taught by Professor Jeanne Theoharis of Political Science) or a course that explores a theme in a panoply of religions (e.g., Gender and the Body in Ancient Religions, taught by Professor Brian Sowers of Classics, or Metaphysics, taught by Professor Andrew Arlig of Philosophy), the many courses offered through the program give one an opportunity to explore the issues of community versus solitude, suffering and death, good and evil, and personal meaning and identity.
An interest in having a religious studies program in Brooklyn College first emerged in the late 1970s among faculty in a number of departments that were already offering courses that focused on religion. In a 1981 letter of approval to President Robert L. Hess, the University Associate Dean for Academic Programs, Denis F. Paul, wrote, "because of the nature of the subject, some concern should be given to providing the Board both by way of the design of the curriculum and the manner of implementation, that the program will not become a forum for proselytizing." From the beginning, the proposed dual major sought balance. Two new courses, Religions of the West and Religions of the East, were developed and required as introductory courses for all majors. Professor Sara Reguer, chair of the Department of Judaic Studies, is currently the program director of Studies in Religion, but the program director has come from other departments including History, Sociology, and Political Science.
What might draw one to the study of religion? The faculty presenting at the February panel found themselves in this place after following a variety of paths. Assistant Professor Lauren Mancia, for example, said that she wanted to study religion because her own experiences of visiting some of the great churches of the world led her to want to know what had occurred in "these beautiful buildings with high ceilings." Mancia teaches history with a focus on religious representations in medieval and early modern Europe. For Stern, religion speaks to her from an earthier place. Stern has expertise in ancient Jewish history and ancient Mediterranean religions. More specifically, her research focuses on ancient tomb graffiti. You can hear her interviewed on NPR at a dig site in Beit She'arim in Southern Galilee. Stern's interest in the lives of these graffiti artists, commoners who might otherwise be forgotten by history, is matched by Lecturer Brian Sowers' interest in those marginalized by ancient Christianity. Sowers' expertise on magic in the ancient world informs a 2011 episode of the show Ancient Aliens on the History Channel, "Magic of the Gods." Karl Steel, a medievalist who teaches in the Department of English, relishes any opportunity he has to defend the time period, often seen as a theocracy, as a time of lively debate around what is the essence of being human.
Many Brooklyn College students have come to discover more about their own humanity by choosing to take a course in the Studies in Religion Program. Consider joining many of the other students in pre-med, pre-law, and pre-careers of all sorts who have learned so much about what Reguer calls "a primary expression of the human condition and a powerful force in shaping events around the world." This is the study of religion.
Upcoming Events Offered Through the Studies in Religion Program This Spring
March 6, 2018: Discussing Faith: What the Pre-Modern History of Jewish-Christian-Muslim Interactions Teaches Us. Alumni Lounge, fourth floor, Student Center, 12:30–2 p.m.
April 19, 2018: TBA, Shut Up in Darkness: Exposing Slavery and Injustice in Religious Texts
Back to Critical Thinking – February 2018