Department of Classics student, Niles Marthone, wins prestigious national award
/web/aca_socialsciences_general/CT-May21-Niles-94x84.jpg
Student Profile: Niles Marthone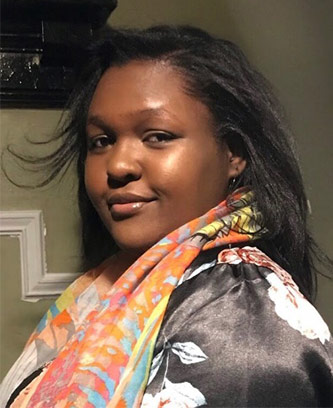 The School of Humanities and Social Sciences is understandably proud of Department of Classics major, Niles Marthone, one of only four North American recipients of a 2021 Frank Snowden, Jr. award given by the Society for Classical Studies (SCS). The purpose of the scholarship is to fund minority students' summer study of classics or classical archaeology, ideally in field schools in the Mediterranean or language training at institutions in the U.S., Canada, or Europe. In early 2020, the scholarships were renamed the Frank M. Snowden Jr. Undergraduate Scholarships in honor of the renowned black classicist and long-time chair of the Classics Department at Howard University. To receive the award, candidates are judged on their academic qualifications, abilities in fields that would prepare them for further study in Classics or archaeology, and the quality of their proposal.
Niles' award is a critical element in the career path she has been plotting for herself. She hopes to obtain a Masters in Classical Archaeology or Ancient History and then one in Museum Anthropology from Columbia University. Ideally, after securing museum internships, she hopes to become a Curatorial Research Assistant, an Associate Curator, get a PhD in Museum Anthropology, and then become a Curator of Greco-Roman Art. Marthone aspires to be a art curator, because as she says in her own words, I believe that art is a tool with which we can educate and unite. My goal is to engage in ethical curatorship, which prioritizes a comprehensive, social justice oriented approach to art. She closely follows two curators, Jasmine Wahi and Dr. Kelli Morgan, both of whom apply critical gender and race theories to their approach to curating art. Marthone believes that this approach encourages individuals to question the societal norms art both upholds and resists. When people are presented with art in this manner, she believes that reflection, conversation and societal change will follow. In sum she explains, I want to center my education around an interdisciplinary approach in order to become an ethical curator.
The Frank J. Snowden Award which Niles received is a big step toward achieving her goals. Niles made it clear that in order to be a competitive applicant to graduate programs and have a viable future in the field of Classics, she needs to rapidly gain linguistic proficiency in both Latin and Greek. Normally, to be a successful curator of Greek and Roman art, one must have studied Greek and Latin for years. As a student at New York City's specialized high school, Brooklyn Latin, she did indeed study Latin for several years, but never had the opportunity to learn Greek. But this summer, the Snowden award will fund Niles' attendance at the Intensive Greek Workshop at University of California-Berkeley (now virtual) which, since its founding over forty years ago, has guided thousands of students to proficiency in Ancient Greek. The course focuses on the dialect used in the literature of Athens and of Homer, but graduates of the workshop leave well prepared to read later texts as well, including the New Testament. This immersive ten-week program replaces more than two semesters of regular language work and requires a significant commitment of time and intellectual energy. In the first six weeks, students master the essentials of grammar, syntax, and vocabulary and in the last four weeks, they put their new knowledge to work reading extensively in selected texts of prose and poetry. Niles will have to spend several hours daily in study and homework preparation in addition to the in-class work. Niles' degree in Classics is her second Brooklyn College B.A. She entered Brooklyn College as an English major in 2016 and then in the Summer of 2019, added a Classics minor, but loved it and started shifting her course load towards Classics. In 2020, she received her B.A in English Literature, with a minor in Classics. Niles is without a doubt a successful student who has won the Classics Department's Procope S. Costas Award, has been inducted into the Phi Bea Kappa Honor Society, has made the Dean's List every semester since fall 2018, and will graduate cum laude in Classics in May 2021. Next year she will take up a position in Yale's prestigious post-baccalaureate research education program.
Her work credits include being a teaching assistant and undergraduate research assistant for the Department of Classics, an Art Teacher Assistant for Cultural Corps, and an intern at the Metropolitan Museum. As a teaching assistant, among other duties, she participates in class management by facilitating the class communication platform, Slack, reaches out to absent students, manages the grade book for 60 students, and provides feedback for their biweekly submissions. As the department's Kurz Undergraduate Research Assistant, she has been indexing the vocabulary for a Latin textbook.
As an intern and Art Teacher Assistant at the CUNY Cultural Corps: DreamYard Project in the Bronx, she facilitates a welcoming environment for students, serves as a liaison between students, parents, and the DreamYard staff to minimize absenteeism and finally, leads discussions regarding social justice initiatives to better connect the project to the community. At the Metropolitan Museum of Art, she serves as a Met Collective Cohort Ambassador. In this role she has curated relevant content for social media, interviewed participants of the Costume Institute's College Fashion Design Competition, created content for social media that showcases their designs, and has lead cohort group discussions regarding ethical practices in cultural institutions.
Niles is effusive in her thanks to the Classics Department for their role in her achievements. I must give my praises to the entire Classics Department. It is wonderfully supportive, and joyfully advises students, pointing them towards amazing resources and opportunities. Professors Thibodeau, and Yarrow, have been particularly invaluable Professors and I see them as mentors. Professor Thibodeau put the Frank M. Snowden Jr. Scholarship on my radar and suggested that I apply. He and Professor Yarrow have also let me know of many other wonderful opportunities, and made a lot of important introductions. I am immensely grateful to the Department for its advice and support.
Marthone has set her sights on accomplishing all her goals and possesses the portfolio that indicates she will. With all of work and experiences, Marthone has set herself up not only for success, but as a role model for many. Though she is certainly an inspiration to others, Niles credits the College and its resources for setting her on a path to future success. As she wrote, It is because of dedicated Professors, resources like the Magner Career Center that Brooklyn College has, and wonderful programs like the CUNY Cultural Corps that CUNY facilitates, that makes us students able to find what we love to do, thank you.
Back to Critical Thinking — May 2021