Jasmine Hansgen is a children and youth studies major, a star on the basketball team, and works full time.
/web/aca_socialsciences_general/CT_November18_Hansgen_94x84.jpg
Our Students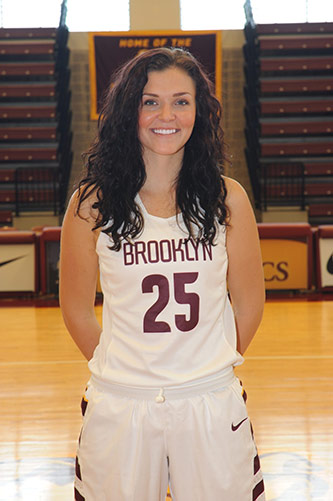 Jasmine Hansgen
You might think that being both a student and an athlete while in college would be difficult to juggle. You might worry that you wouldn't have time for one or the other and also be able to balance a social life. That is not the case for junior Jasmine Hansgen. This transfer student is doing well majoring in children and youth studies, playing basketball with the Brooklyn College Bulldogs, and working full time.
Her Brooklyn College experience has completely exceeded Hansgen's expectations, and her performance on the court has been a gift to the college. Hansgen has played an essential role on her team: During her first year, she was named 2017–18 City University of New York Athletic Conference (CUNYAC) Women's Basketball Player of the Week for games against the College of Staten Island (CSI) and Hunter College. Hansgen earned a total of 13 points and 14 rebounds for the win against CSI. In the match against Hunter, she earned 13 points and 12 rebounds. On average, she played 25 minutes per game, scored 7.7 points, and achieved 8.7 rebounds. She is currently one of the most successful players on the team. Besides being on her A game with basketball, Hansgen was also part of the gold team at her former school.
When Hansgen graduated from high school in Salt Lake City, she headed west. She decided to go Highline Community College (HCC) in Seattle to experience something new. At HCC she played on both the basketball and golf teams. For her next step, Hansgen continued looking into senior colleges in different states and came across Brooklyn College. What caught her eye and led her to choosing Brooklyn College is the infinite possibilities that New York City could provide. In addition, she learned that women's basketball team Coach Alex Lang had a fantastic coaching record, and this confirmed her decision to attend school in Flatbush.
Hansgen is not just a star on the court. She has the highest grade point average (3.80) on the women's basketball team. She is also very enthusiastic about the faculty she has studied with in her academic subjects. She gives credit to professor of sociology, Irma Kramer, who she says got to "know her students more on a personal level and from that make the class much more fun." Hansgen also appreciates how Kramer is in tune with the subject she teaches and very passionate about it.
Hansgen works full time to support her education, happy to attend schools out of state for the new opportunity this has provided for her to meet individuals from diverse backgrounds. Once she graduates, Hansgen plans to become a child life specialist in a hospital. Child life specialists help children and their parents coping with a hospital stay. From sitting with the children through their treatment, preparing them for a big surgery, or helping both them and their parents prepare for their passing, she is going to be there for them when the worst comes or when there is good news to celebrate. Hansgen credits her father, who works in a hospital, for steering her in her career direction. Although she now lives nearly two thousand miles away from her family, this compassionate student does like to return home to Utah, where she enjoys hiking. She looks forward, however, to traveling to upstate New York to the Catskills or the Adirondack Mountains to test her stamina on the mountain ranges of the East Coast. Hansgen has a bright future ahead of her, wherever her legs take her. She will not only make the Bulldogs proud, but all of Brooklyn College proud to see her one day as an alumna.
Back to Critical Thinking — November 2018