HSS salutes English Department's adjunct faculty member
/web/aca_socialsciences_general/CT-October21-Lee-1-94x84.jpg
Adjunct Faculty Profile: Haruna Lee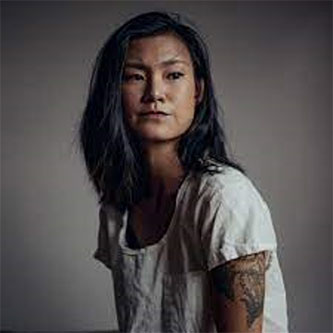 One of the English Department's many distinguished adjuncts is Obie Award winning playwright Haruna Lee, who won the Obie for Playwriting and Conception of Suicide Forest in 2020.  Haruna is this year's co-director of the Brooklyn College M.F.A Playwriting Program and is teaching the Playwriting Workshop focusing on individual tutorials for students who are writing their own works. Next year Lee will be a visiting artist and lecturer at Harvard University where they will teach a course entitled, "Main Stage Production & Dramaturgy on Asian American Performance."
Lee, a graduate of the Brooklyn College M.F.A. program, class of 2014, has pursued an outstanding career teaching, writing, producing, directing and acting since graduating from the NYU Tisch School of the Arts with a B.F.A in Acting/Performance in 2008.  Lee is also a scholar of Asian American theater-making whose extensive instructional and college directing experience took place while they produced their own work and ran their own company for ten years. Among Lee's teaching experiences include the Mohr Visiting Artist Fellowship for Theater and Performance Studies at Stanford University in 2020; adjunct instructor in the B.F.A Acting Program at NYU for five years; adjunct instructor at the Tisch School of the Arts Summer High School Program for two summers; guest director for the International Performance Ensemble at Pace University for two years; and adjunct professor and Guest Director at York College-CUNY for four years.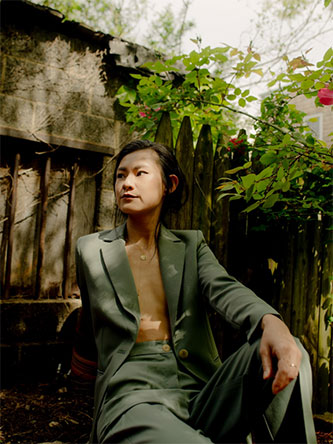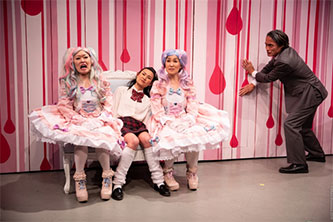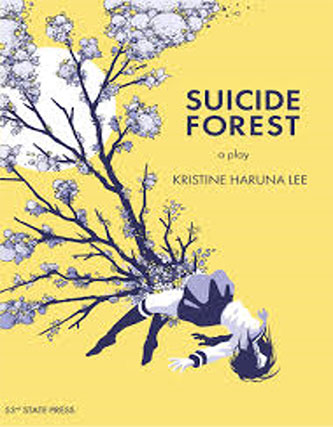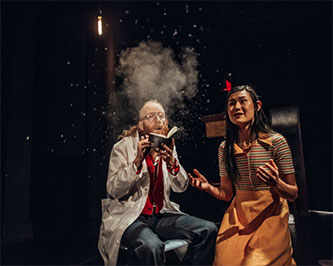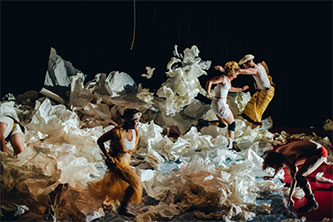 Lee mentioned that they wrote their Obie Award- winning play Suicide Forest while a student at Brooklyn College, and that at that time no one understood or was interested in publishing a play about the intergenerational dynamics of Japanese mothers and daughters. And indeed the play was not published until 2019. But Lee explained that meeting and beginning to collaborate with Aya Ogawa, a senior Japanese American theater maker gave new life and energy to the work. Lee was drawn to Ogawa's similar background, both having been born in Japan but raised in the United States and both feeling a sense of simultaneous relationships with Japan and New York. Ogawa specializes in translating Japanese language plays into English and working to both capture and reveal their imbedded cultural nuances to a wide audience. Suicide Forest delves into subtle tropes regarding suicide, assimilation, and mother-daughter conflicts that are at once novel and familiar to an American audience. The play developed through a five year process, including staged readings of the work directed by Ogawa, mounted in 2016, 2017, and 2018, as it moved toward its premier in 2019. A particularly impactful event was the presentation of excerpts of the play at the Prelude Festival at the CUNY Grad Center in front of 100 guests in 2018. Following the performance, Lee, Ogawa and the audience engaged in a lively Q and A which helped finalize the play both as a work of literature and as a staged performance.
Lee mounted several visually explosive and immersive productions through their own theater company, harunalee, from 2010 to 2020. The company comprised an ensemble of eight theater-makers who collaborated across artistic disciplines to create experimental plays and performances. Lee described the group as mainly designers who came together around their work to bring it from "page to stage." The company was hailed by the New York Times as "full of impulses and splendid, fractious energy." Harunalee theater produced Lee's play, Memory Retrograde in association with Ars Nova, and the Under the Radar Festival Incoming! Series in January 2019. The play explores memory and mysticism through the eyes its two main characters as they time travel through the past and the future revealing snippets of themselves to the audience and each other through memories of past lives. This play too evolved over a long period, from staged excerpts directed by Lee at the Food For Thought Danspace in 2013 to its world premiere in 2019.
Since 2013, the plays Lee has written and directed from Plum de Force in 2013 to Suicide Forest in 2020 have been widely reviewed and praised. Suicide Forest was a Sarah Collins-Hughes New York Times Theater Pick in March 2019. Helen Shaw of Vulture New York Magazine named Suicide Forest as "Best Theater of 2019" and one of "The 10 Best Theater Moments of 2020." When she was writing for Time Out New York, Helen Shaw named "War Lesbian" an LGBT Critic's Pick in 2014.
Lee has become a recognized scholar and theorist of feminist, queer and Asian American theater-making who has been invited to give presentations and facilitate workshops on these and related topics over the years. For example, they have an upcoming commitment as a panelist on the "Feminist Theatre Panel" at James Madison University, on November 18, 2021. They were the lead facilitator and co-founder of "Asian American Women-Trans-Femme-Non Binary Performance Makers' Potluck," a monthly community gathering meeting from 2018 to the present. They were the lead facilitator for the program, "Rooting into Healing & Liberation Work During a Time of Crisis," for the All Asian Arts Alliance student coalition at New York University in 2020 and a panelist, for "Suicide Culture & its Influences on Artists," at the Japan Society in 2019. A commitment to their field is further indicated by their memberships and affiliations which include the Ma-Yi Theater Company, New Georges, artEquity, and the Public's Devised Theater Working Group.
Lee's honors and awards since graduating from NYU are too many to list, but include the New Dramatists Van Lier Fellowship for Playwriting 2010-2012; the Dixon Place Mondo Cane! Artist Residency and Commission for War Lesbian in 2014; the Brooklyn Arts Exchange Artist-in-Residency from 2015-2017; the Ars Nova Makers Lab Residency for Lee's theater company, harunalee 2016-2017, The Lotos Foundation Prize for Directing in 2017; a National Endowment for the Arts grant for Suicide Forest in 2018; a Stanford Mohr Visiting Artist Fellowship in 2020; and this year both a Grants to Artists Award from the Foundation for Contemporary Arts and the Ollie Award from the Bret Adams & Paul Reisch Foundation.
Noting that Lee graduated with a degree in performance, unsurprisingly, they are also a prolific and enthusiastic stage performer. Lee explained that as a "body centric person" they must also use that body in space and perform. Indeed the section of their curriculum vitae titled "Selected Acting Credits," indicates that other than in 2013, they performed in plays every year from 2008 to 2021. For example, this year they played the role of Aya in The Nosebleed, written and directed by Aya Ogawa. At the 2019 world premiere of Suicide Forest, directed by Aya Ogawa, they played the lead role of Azusa. In the Obie award winning play Great Lakes by Kate Benson, they played the role of Gumbo. In their play, War Lesbian, Lee played the role of Ellen. And from 2010-2012, they performed in the play Mesujika/DOE by Trista Baldwin, playing the role of DOE in workshops in Tokyo, San Francisco, and Minneapolis.
Brooklyn College's students are indeed fortunate to be able to work with this gifted playwright and performer who is dedicated to both their craft and the scholarly world of cutting edge theater making. Furthermore, the Department of English can be understandably proud of this prodigiously talented graduate of their M.F.A program.
Back to Critical Thinking — October 2021