Office of the Dean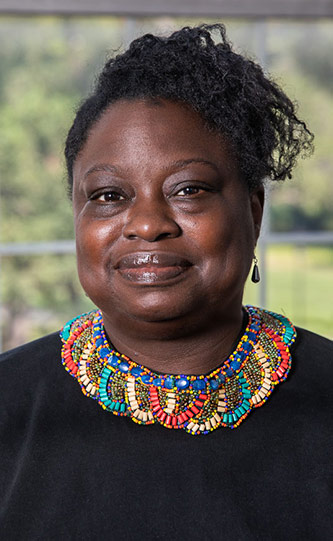 Rosamond S. King is a world-renowned scholar and a widely recognized poet and performance artist. Through teaching and mentoring, King enjoys helping people see beyond the limits placed upon us to become our best selves.
King's research challenges disciplinary boundaries and highlights the literatures and experiences of women and sexual minorities in the Caribbean and Africa. Her monograph Island Bodies: Transgressive Sexualities in the Caribbean Imagination was named "Best Book" by the Caribbean Studies Association. King's work has been instrumental in building the field of Caribbean sexuality studies, and a career highlight was its use in a 2013 court case that overturned an anti-"cross-dressing" law in Guyana. King co-edited Love | Hope | Community: Sexualities and Social Justice in the Caribbean and has published essays in popular press outlets such as LitHub, the Ms. Magazine blog, and The Progressive.
Her creative work presents nonliteral, culturally, and politically engaged interpretations of African diaspora experiences. Her poetry collections are All the Rage and the Lambda Award-winning Rock | Salt | Stone. Individual poems have been featured in over three dozen journals, blogs, and anthologies. Her performances have been curated into venues around the world, including the New York Metropolitan Museum, the Encuentro Festival, Gibney Dance, the Bocas LitFest, and the African Performance Art Biennial.
Like many Brooklyn College students, Rosamond S. King's parents immigrated to the United States. She was educated in public schools around the country and earned a self-designed Bachelor's Degree in literatures and linguistics of the African diaspora from Cornell University, summa cum laude, as well as a doctorate in comparative literature from New York University, with a specialty in performance studies. She has received grants or fellowships from the Ford and Mellon foundations, the National Endowment for the Humanities, and the Franklin Furnace Fund for Performance Art, among other entities.
The former director of the Ethyle R. Wolfe Institute for the Humanities and the Mellon Mays Undergraduate Fellowship Program, King is also a professor in the English Department and serves on the boards of the Digital Library of the Caribbean and the American LGBTQ Museum.